If you own a classic Mopar, you are aware that the car's torsion bar suspension is unique to our beloved A-, B- and E-body Mopars. Torsion bars have some advantages, but they are not as adjustable or customizable as modern coil-over systems. 
Let us examine the advantages and disadvantages of both Mopar torsion bar upgrades and coil-over systems to help you decide which choice is appropriate for you. First, let's take a brief look at the classic Mopar suspension. 
During the muscle car era, Mopar was one of the few manufacturers to utilize torsion bars instead of coil springs. Currently, there are two ways to improve your classic Mopar's suspension: a coil-over conversion system or by combining new tubular components with Mopar's original torsion bars.
Let's start with the more extreme option, which is the coil-over conversion system. This system offers various benefits, such as easier ride height adjustment, increased adjustability for drag racing or autocross, and improved header clearance. 
QA1 provides a much more modern design, incorporating a Mustang II spindle for readily available aftermarket brake options and rack and pinion steering for a contemporary feel. However, it's essential to note that the upgrade must be completed all at once. If you anticipate a future coil-over conversion, it's best to do it immediately before investing in components for your torsion bar suspension.
On the flip side, some enthusiasts prefer to stick with the original Mopar design and maintain their torsion bar setup. By upgrading the torsion bar components with tubular parts, you can still achieve substantial performance gains and have the flexibility to gradually build your system over time. 
QA1 offers solutions for this approach as well. By opting for their products, you can enjoy improved caster geometry for a more contemporary driving experience, and the tubular components are more robust than the OE stamped steel parts. Additionally, replacing your dynamic strut rods and shocks can lead to an immediate improvement in your ride. If you're willing to replace the entire front end, you can also enhance your K-member and control arms.
Both Mopar torsion bar upgrades and coil-over systems are completely bolt-in, so there's no need to modify your frame or chassis. You can even return the car to stock if you ever need to. However, both systems have some limitations. 
Torsion bar upgrades are still dealing with an outdated suspension design and have limitations of stock engine mounts, stock steering, and stock spindles, which offer fewer aftermarket brake options. Coil-over systems require an entirely different K-member, control arms, shocks, etc., and cannot be pieced together over time like torsion bar upgrades.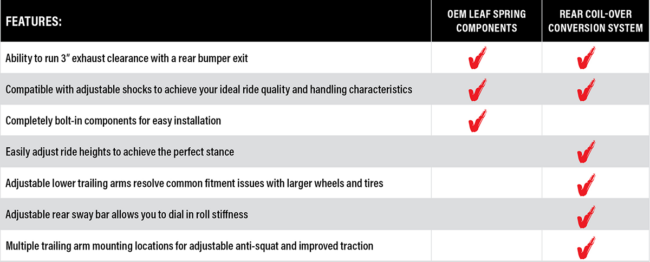 In conclusion, both QA1 Mopar torsion bar upgrades and coil-over systems have their advantages and disadvantages. If you want a more modern feel and increased adjustability, a coil-over conversion system might be the right choice for you. If you want to remain true to Mopar's original design and upgrade your system over time, upgrading your torsion bar components with tubular parts might be a better option. If you still have questions about which option is best for your application, give our tech line a call, or visit QA1.net/Mopar for more helpful information and suspension tips.