There is no doubt that the love and passion for Mopars is runs strong all over the World. We find quite a few Mopars making the trek across the water to various parts of Europe and Australia and into the hands of diehard Mopar enthusiasts. While this seems to be more common over the past ten or so years, Mopars have actually been "heading across the pond" since they were practically new.
While some people moan and groan seeing vintage Mopars leaving North America to go overseas, we just love to see them being enjoyed all over the world. After all, it's better to see them being enjoyed regardless of where in the world versus sitting in a field rotting away. Mopar enthusiasts worldwide deserve to enjoy these incredible cars.
Recently, David Tischer of Germany reached out to us to share his beloved survivor GY3 Citron Yella 1971 Dodge Charger Super Bee. Now, it's no secret that we absolutely love 1971 Chargers as well as GY3 Citron Yella so when we saw David's Super Bee, we jumped at the chance to feature it.
David's Super Bee was a very early production unit built at the Lynch Road Michigan plant with a scheduled production date of August 15th, 1970. Painted jaw-dropping Hi-Impact GY3 Citron Yella with a black bucket seat interior, it came optioned with the A36 Performance Axle package, A04 Charger radio group, V21 hood treatment, bright exhaust tips, hood pins, undercoating, hood insulator pad, center console, cigarette lighter, power front disc brakes and 14" Rallye wheels with raised white letter tires.
Under the hood was the Super Bee's standard 383 Magnum engine backed by a 727 Torqueflite automatic transmission. Out back was the standard 8 ¾ rear differential which was upgraded with a 3.55 geared SureGrip unit thanks to the optioned performance axle package. This package also gave the Super Bee a 26-inch radiator and extra-heavy-duty suspension.
Once it left the factory, it was shipped to Horning Dodge in New Holland, Pennsylvania. Here it is assumed that the dealership added the black vinyl canopy top as it was not available to order from the factory on a Super Bee. If someone wanted a canopy top, it was common practice for the dealership to install it, as such was the case with our friend Lyndon's '71 Charger R/T we featured a few years back.
In late August of 1970, a U.S Marine who served in Vietnam named Mr. Miller purchased the car from the dealership. David tells us it's unknown if he purchased the car before or after his tour of duty in Vietnam but it was common for many soldiers to purchase muscle cars after they returned home from duty. On the other end of the spectrum, we've heard many stories of soldiers owning a cool car, leaving for war and never returning. Regardless, Mr. Miller did.
Mr. Miller used the Super Bee as his daily driver until 1976 when a timing chain failed. For some reason, it was never fixed and instead was put away in his garage until 2015 when he sadly passed away. After his passing, his widow decided to put the car up for sale. Shortly after, a fellow purchased the Super Bee from the widow and put it up for auction to try and make a few bucks.
Once the auction had run its course, the successful highest bidder took possession of the car and over the water to Austria it went. The new owner had it until 2019 but for some reason, also didn't fix the engine. Through-out all of these years, the car still was not in running or driving condition, despite being in great shape structurally and visually.
In 2019, at the age of 23, David purchased the Super Bee with the goal of fixing it to drive and enjoy. He tells us, "I fell in love with the car from the very first moment I saw it. The styling lines, the bright Citron Yella paint and the black canopy vinyl top were all a great mixture of different elements that really stood out to me. I'm the type of person that is really interested in the story behind a car. It really adds to the car to me. Being as this one had a good story, it really resonated with me so I was very excited to own it."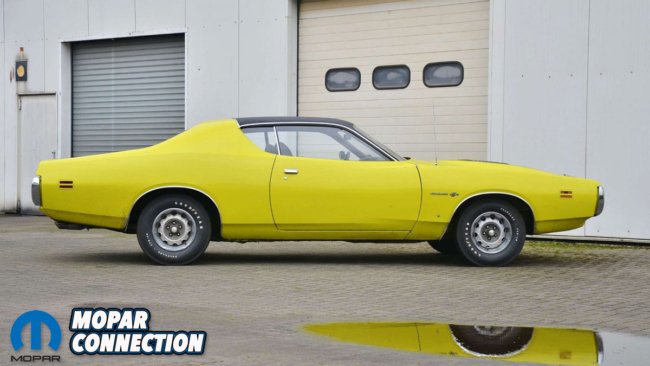 He continues to say, "Over the years, it was stored well so it was pretty much in factory condition as it left the assembly plant; a true time capsule survivor with original paint, interior and drivetrain among everything else. When I purchased it, it needed a lot of work to get it running and driving again. It took about 6 months of time and work to get it back on the road as well as around a years worth of my salary as a heavy duty mechanic to pay for the parts and likewise to do so. In Europe, everything is way more expensive versus in North America so fixing these old muscle cars over here really takes dedication. It was worth every cent though."
To get the Super Bee back on the road, a new timing chain was installed and the engine was examined to make sure it was good to go. To try and keep it as close to a survivor as possible, the original fuel tank was restored so it could be used again and the original carburetor was rebuilt. David says, "It was very important to me to keep the car as original as possible, but also to have a good reliable driving car."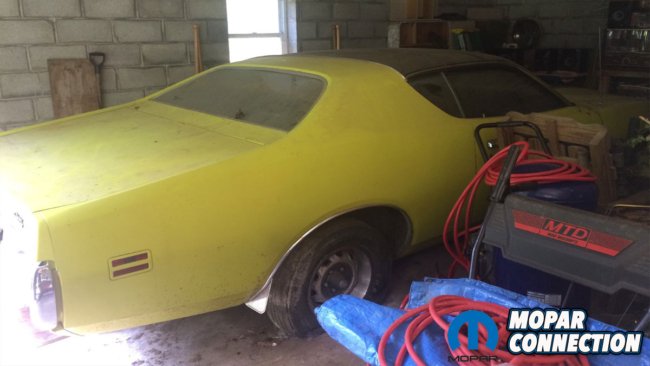 After working away on it, the Super Bee was finally ready to hit the road and David has been putting miles on it since. He shares, "A car should be driven. That's what they are built for; even if it's a survivor or rare. I love everything about the car; the smell, the sound, the colour. The aftermarket 8 Track player Mr. Miller installed still works to this day and I'm always buying 8 Tracks on eBay to listen to while I'm driving it."
"It's really a true time machine. Every time I drive it, it's like going back to 1971. Even though I'm only 25 years old now, driving it really gives you a feeling of what life and driving back in the 1970s must have felt like. I've driven restored muscle cars and driving a true survivor car is definitely a different experience. It's just plain fun and it puts a smile on my face every time I drive the car."