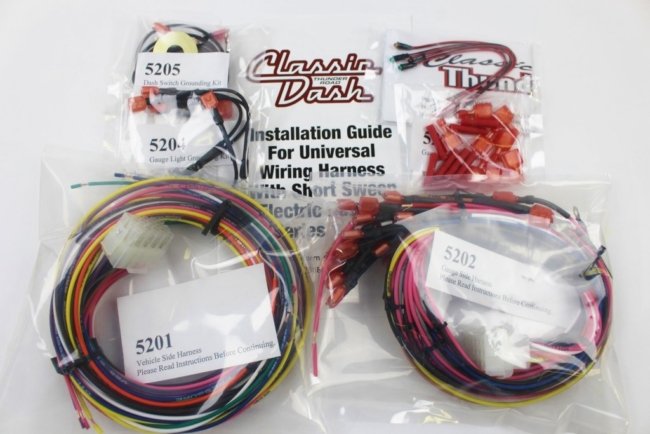 You may have seen our installation of Classic Dash's 1970-1976 Dart/Duster dash in Project Orange Crush a while ago. As the installation showed, everything went in smoothly, everything was labeled nicely and their product was top notch. What you might not have known is Classic Dash is not only offering multiple custom dash layouts for our classic Mopars, but also a plethora of other accessories to make life easier for you.
The biggest item that Classic Dash offers along side their dash inserts are their wiring harnesses. No need to run new wires or try and figure out the old harness. Classic Dash has went through and did all the hard work for us. For Orange Crush we opted for both the chassis and gauge harness. The chassis harness was easily spliced into the existing factory harness. The gauge harness was designed with all the appropriate ends to plug into our AutoMeter gauges and a nice plug that went right into the chassis harness. Everything was labeled nicely and the directions were not confusing at all. We hate wiring and Classic Dash made it a walk in the park for us.
They are also offering a few other items to help with your dash and gauge swap. With the increased popularity of digital gauges and speedometers, Classic Dash offers GPS speed modules, mechanical to electrical speedometer units, fuel gauge adapters, led dash light kits, and more. They understand that technology has changed and it can be difficult converting our classic Mopars. What they do not offer they have sourced from other brands allowing you a one stop shop for all your dash and wiring needs.
Do not forget that Classic Dash is making all of their products right here in the USA. No foreign cheap plastic knock off products here. You will only receive the best service and highest quality of parts from Classic Dash. From wiring harnesses to the dashes, Classic Dash wants to continue to be your number one stop for all your dash needs. Give them a call today to see what options they have for you.