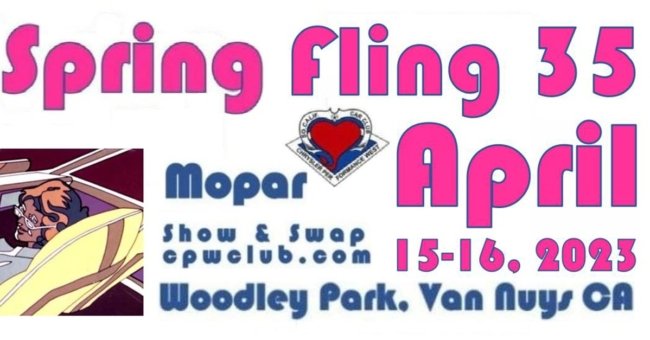 Finally that time of year is coming around and we can get our Mopar out of storage. Weather is changing and car show season is nearing. One of our favorite shows to start off the season is the Spring Fling 35.
The Spring Fling 35 offers a swap meet, track day, cruising and most of all is a car show. What better place to celebrate the changing weather than Woodley Park in Van Nuys, California.
You can start the Spring Fling 35 weekend on Thursday April 13th at Willow Springs Raceway for the Speed Festival. You can take your classic or modern Mopar around the track. For exact details, contact www.AllTimeRacing.com. You can enjoy all the racing from the sidelines for only $10.
Friday and Saturday offer multiple cruises, with Saturday marking the beginning of the show and swap meet. You can join over 500 of your Mopar friends in either a judged or non-judged show field. This year there is a special display for wing and aero Mopar cars.
If you are looking for last part for your Mopar project, you might find it here. With over 175 swappers and Manufacturer Midway,  there will be plenty of Mopar parts for sale. Classic Industries and Milodon are just a couple of the companies that can be seen on the Manufacturer Midway.
Sunday will bring an end to the show with award ceremonies starting at 2pm. You will have time in the morning to maybe scoop up a great deal on Mopar parts, but better get there early.
The Spring Fling 35 is going to be an awesome weekend packed full of fun stuff for you and your Mopar to do. Set the date now with events starting April 13th till the show on April 16th at Woodley Park in Van Nuys, California. Check out their website for all the details for the event.