It was 1995 and a fellow named Larry from Ontario, Canada was out for a drive when he came across a 1974 Plymouth 'Cuda for sale on the side of the road. He wasn't able to stop at that moment so he told himself he'd return the next day. When he came back the next day, the car was gone, however he noticed someone outside at the property.
"He asked the guy at the property about the 'Cuda that was for sale the previous day. The guy said he was tired of dealing with idiots so he put the car inside his shop. Larry asked if it was available still and the guy said yeah, it's still for sale," explains Jim McIsaac of British Columbia, Canada.
"The car was a roller with no engine or transmission. Larry made a deal to buy the car but he wasn't sure what to do about the missing drivetrain. The seller told him he had a 440 and a 4-speed sitting in the corner of his shop that he'd include for more money. Larry asked him if he'd be willing to install it in the car for him but the seller said if he wanted to do that, he would have done it himself and listed the car for more money. When Larry offered up a decent chunk of money to do it, the seller said he'd get to working on it for him," Jim laughs.
He continues to say, "He took the 'Cuda for a ride after it was together and noticed the transmission wasn't shifting properly. He brought it back and the guy put it up in the air and had the transmission out and on the workbench within 20 minutes. He zapped it apart, replaced a few parts and tossed it back in the car. Upon taking it back out, Larry noticed a whine in the rear end so back up in the air it went. Out came the rear center section and it was fixed and tossed right back in. All was great after that. The guy that he bought the car from and who put it together was absolutely crazy but man he knew his stuff."
Larry mentioned to the guy that he wanted to get it painted Plum Crazy Purple as he always liked that color. As it turns out, he had a friend who would throw a cheap paint job on it so Larry agreed and the 'Cuda went purple. He would spend the next number of years driving it and enjoying it.
Jim explains, "Larry and I met around 1985 when we were teenagers. He was driving a '70 Maverick and I was driving a '67 Dart with a 383. One day, Larry borrowed my Dart and let his girlfriend drive it. Unfortunately she lost control and crashed it. I basically told him it was a "you break it, you bought it" type of thing so he ended up buying it off of me. I did a good job turning him into a Mopar guy."
Eventually Larry moved across the country to Ontario but him and Jim remained best friends. The pair even took the 'Cuda to the Mopar Nationals back in 2006. A few years later, Larry decided to tear the 'Cuda apart for a full rotisserie restoration. It was at this time that he decided to turn the car into a 1971. "He started putting a lot of money into it.
Reproduction 1971 quarter panels and a tail light panel were sourced from Auto Metal Direct along with the gilled 1971 only 'Cuda fenders. He had always wanted a black 'Cuda so he decided to change up the purple and go all black with it," Jim shares.
Once the 'Cuda was painted, Larry brought it out to Jim in British Columbia to start the assembly. He says, "When I started assembling it, I realized that the shop that did the body and paint lost a bunch of parts. I assembled what I could and then Larry took it back to Ontario to continue working on it."
Over the next little bit, Larry did some additional work to it as well as he bought a survivor Tor Red 1971 Plymouth Road Runner with the rare orange Halloween interior. Upon driving the Road Runner, he realized that the 383 in it was tired and needed a rebuild so he reached out to Jim. He explained that the Road Runner needed an engine rebuild and that he didn't really have the energy to proceed forward with restoring the 'Cuda.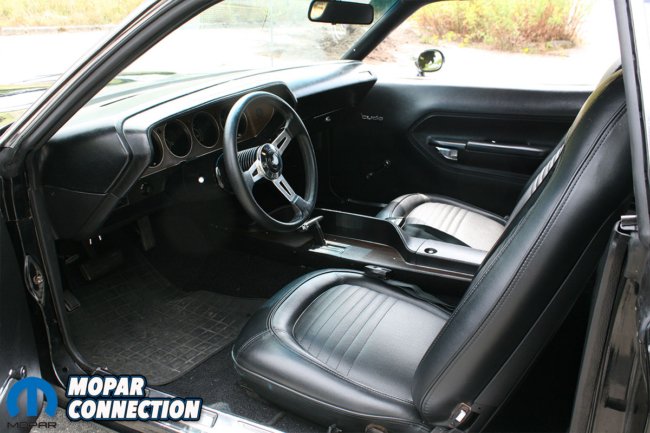 Always wanting a 'Cuda and having a lot of history himself with the car, Jim and Belinda decided that they wanted to buy the 'Cuda so a deal with made for the car in exchange for an engine rebuild for the Road Runner and some cash. Larry got his freshly rebuilt engine and the 'Cuda made another trip back across the country to the couple in British Columbia. With the car home now, Jim and Belinda got back to work with the assembly. Jim contacted quite a few of the local Mopar enthusiasts and purchased a number of parts including an original 1971 'Cuda grille. Within no time, the 'Cuda was back together and ready to hit the road.
"We built it to suit our tastes. It's not meant to be a perfect 1971 'Cuda replica. The seats are from our friend Les Murguly's 1970 'Cuda. He had his seats fully restored and then decided to go a different route. We actually like the 1970 seats better than the 1971 seats as they hold you in place better. The rear wing is a 1970 part as well," says Jim.
Under the hood, the 'Cuda's engine that was installed back when Larry bought the car was showing its age and was extremely tired. Since Jim was building a bigger engine for their '66 Plymouth Belvedere race car, he decided to take the current 440 out of it and install it in the 'Cuda. He explains, "The bottom end was a bit tired on that engine from the Belvedere but it was better than the one that was in the 'Cuda." However, shortly after, while out on a drive with a friend, the bottom end of the engine let go.
Out the engine came and off to Norm at Fortins in Chilliwack, B.C it went. Built by Jim and Norm, the current build is bored .55 over and features a forged bottom end, .620 lift solid roller cam, Mopac aluminum heads, MSD ignition system, Edelbrock intake manifold and QuickFuel carburetor.
Jim tells us, "Before the rebuild, this engine went 10.40 on just motor in my Belvedere. With the fresh rebuild and some upgraded parts, it's an absolute monster. I would imagine it would be a fair bit faster now." Backing the 440 is a 727 Torqueflite automatic transmission with a full manual valve body and a 3500 rpm stall converter. The power is put to the ground with a fully built Dana 60 from Strange with 4:56 gears and a Spool.
The 'Cuda rides on Weld Draglites with Goodyear Kelly tires (205/70R15) out front and Mickey Thompson ET Street drag radials (30×12.50-15LT) out back. "I'm sure not everyone likes the fact that it was converted to a 1971 but it doesn't matter to us. I build it to drive it; it will never waste away in the garage. After all, what's the point of owning it if you're just going to let it sit?" says Jim in closing.