It was January 1971 and a young Frank Jefferies walked through the doors of Armory Garage, a local Chrysler dealership in Albany, New York to buy his first car. After some negotiating, he rolled off the lot in a brand new F8 Green 1970 Plymouth AAR 'Cuda. Frank would daily drive the AAR throughout his teenage years and later attended Hudson Valley Community College where the car would be a common fixture in the parking lot. In fact, the HVCC parking pass stickers are still on the bumpers!
Sometime in February of 1972, Frank would put a rod through the oil pan of the original engine while on a top speed highway run outside of Clifton Park, New York. The car was subsequently towed back to Armory Garage for a replacement engine as it was still under warranty. A warranty engine was eventually sourced and installed from Keith Black Racing engines as the dealership could not find one in stock anywhere in the northeastern United States.
With his AAR back on the road, Frank would continue to love and drive the car as much as possible until the early 1980's when the center carburetor in the Six-Barrel set-up started to leak fuel. Frank would decide to park the car until he figured out what he wanted to do. Initially, the car was stored in a warehouse in downtown Albany. Knowing the dangers of being stored in a warehouse away from his home, Frank decided to put the original trim rings in the trunk and bought a pad lock that he would install through the hood pin to keep the hood locked shut.
In the early 1990's, Frank decided to finally bring the car home from the warehouse and put it in the carport in his backyard. However, by the late 1990's, the carport had begun to deteriorate and collapse slowly around the car. To avoid the risk of having it fall on the car, Frank moved the AAR out into the center of his grassy backyard and parked it on 2×8 pressure treated boards before wrapping it up in a thick tarp. This is where the car would sit for the next 20 or so years.
Over the time the car sat outside under the tarp, every local Mopar enthusiast would stop-by and attempt to buy the car from Frank. People left business cards, telephone numbers and knocked on his door relentlessly to try and buy it. After many attempts by the locals, word started to get around that the car was not for sale and never would be. Rumors went around about how Frank would chase people away and how he was an unapproachable grumpy old man.
Eventually, a young local Mopar enthusiast named Sal Pezzolla would come into the picture. Sal tells us, "I was born in 1998 to a family full of muscle car enthusiasts who were mainly into Pontiacs and Mopars. My father still owned his high school car, a 1970 Pontiac GTO and my grandfather used to have a 1971 Dodge Challenger R/T that was his first car."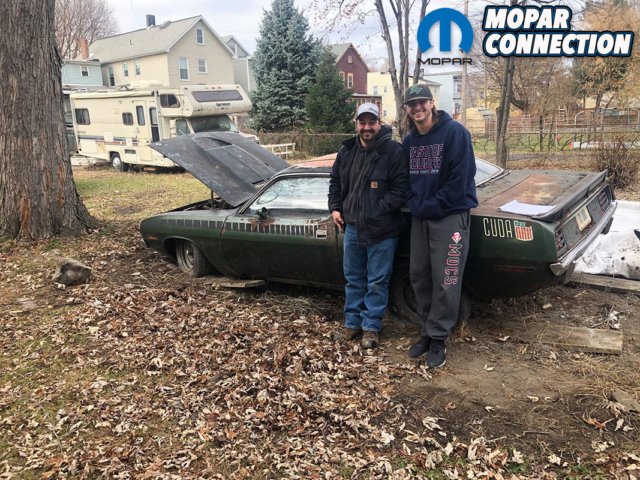 He continues to say, "From a young age, my father would take me for rides around town in the GTO and I was instantly hooked. Over time, I would fall in love with Mopar E-Bodies thanks to a neighbor named Don Kirsch who owns a 1971 'Cuda 340. During the summer, our windows would always be open and Don would rumble past our house in his 'Cuda."
"When I was around 8-years-old, my grandfather was diagnosed with cancer. After school almost every day, he would take me fishing down at the Hudson River. One night after fishing, we were driving down the road when we saw an old car under a tarp in a backyard that instantly caught my eye. As I would later learn, this was Frank's yard. From that point on, every time we went fishing, I'd make my grandfather drive past that house. Being as it was covered up, we would always guess what kind of car it was," he shares.
"A couple of years later, we drove by after a wind storm and much to our surprise, the tarp had blown up a bit and exposed half of the tail panel along with a tail light. Recognizing it right away, my grandfather explained that it was a 1970 'Cuda. I realized that it was similar to my neighbor Don's car so that begun my love affair for the 'Cuda in the yard. I told my grandfather that I would own that car one day."
Fast forwarding a number of years, Sal was a sophomore in college when he started buying and selling muscle car projects for extra income. After his junior year, he started a commercial landscaping business. One day on his way home, he decided to stop by Frank's on a whim to see if the 'Cuda was still there; which it was.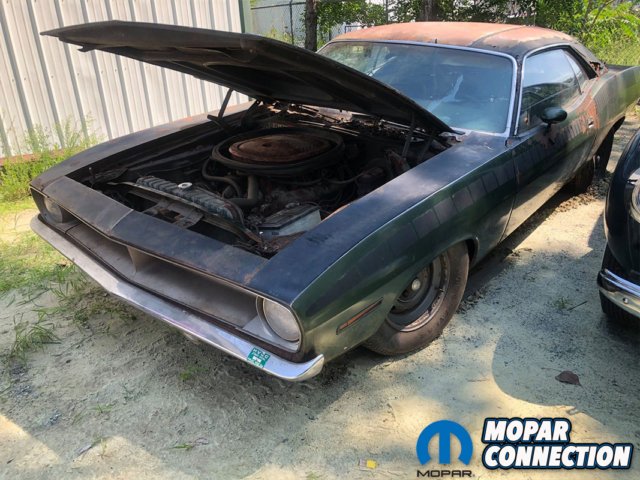 He tells us, "I decided to stop and give him a business card to see if I could mow his lawn for the summer and get to know him a little better. I was nervous after hearing all the grouchy stories about it but knocked anyways. Frank opened the door and was anything but grouchy. In fact, he turned out to be a really kindhearted man which would lead me to believe the stories about him being grouchy were made up by someone who wanted the car and didn't want anyone else asking about it."
"We arranged to have me cut his lawn every two weeks. I would mow around the 'Cuda but never touched it or tried to sneak a peek. After a couple of mows, I started up a conversation with Frank about my car collection and how my grandfather was a Mopar enthusiast. He smiled and said "you know; I have an old car." At this point my heart jumped because he was finally going to talk to me about his 'Cuda. He explained that it was an AAR and how he had bought it new. When I asked to see it, he told me that maybe someday we could take the tarp off."
Sal would continue to mow Frank's lawn all summer with no further mention of the 'Cuda. At the end of the summer, Sal asked Frank one more time to see the car before he went back to school but Frank declined. Sal understood and knew that Frank would show him when he was ready. Over the next little bit, Sal would save up whatever money he had in hopes of being able to try and buy the car off of Frank.
He explains, "With cash in my truck, I knocked on Frank's door and practically begged to see the car. He admired my will and enthusiasm and agreed to finally show me the car. After finally seeing the car for the first time, I pulled out an envelope of money and offered it to him. He brushed it off and continued to tell me about the car, acting like the money wasn't there. I respected his decision to not want to sell the car and left it alone."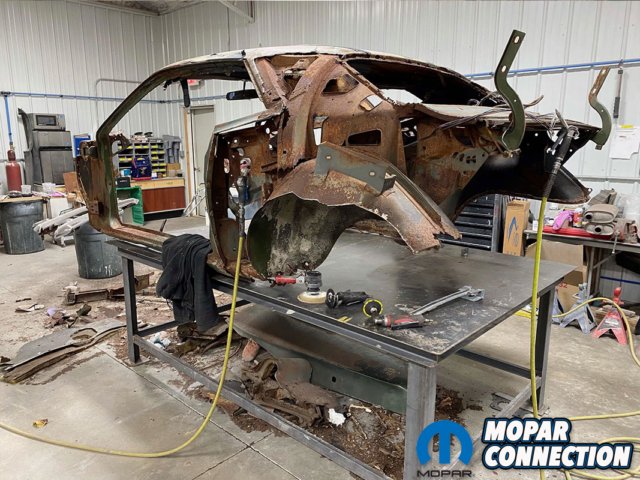 As the months went by, Sal would eventually purchase a 1973 Pontiac Trans Am. A couple of months later, Frank called Sal out of the blue and told him that he would sell the AAR to him on the terms that he restore it and keep it; not flip it for a quick profit. Sal agreed so Frank told him to come by when he was on break from school. A couple of weeks later, Sal brought his father and grandfather over to Frank's to see him and show them to the car.
Sal shares, "Frank's asking price was higher than my initial offer but not by much and more than two times the price that anybody else had ever offered. After some negotiating, we settled on a price we could both be happy with. Frank said that he wanted to ride in it again one day and he knew that the only way this would happen is if I were the one to restore it."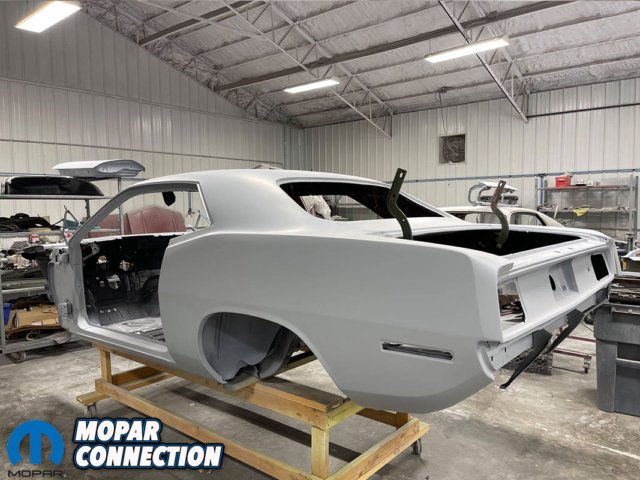 Once getting the car home, Sal would tuck the car away in storage while he collected the funds and parts to do a full restoration. He tells us, "I posted some pictures on Facebook and was quickly contacted by many people. Most of the people who contacted me were very rude saying that "I bought their car out from under them" and "I found that car first". It was actually quite comical but appalling considering Frank had no interest in dealing with anyone but me."
He continues to say, "However, there was one man who was extremely happy for me. This man was named Ed Margosian. Ed asked to come over and look at the car and verify everything for me. He ended up finding three broadcast sheets in the car as well as explained various things about it and how to go about starting a full restoration on it. Over the next while, Ed and I would become friends and he would convince me to meet with Menand's Classic Cars, a local shop that specializes in Mopar restorations."
After meeting with Tony, the owner of the shop, the car was delivered there and the metal and paint work portion of the restoration would be done by Tony, Dave Archambault and Brandon Mielenz. While the car was there, the engine was rebuilt by Chad Marchese. Recently, the car was brought over to Ed's as a painted shell where it will be reassembled.
Of course like most Mopar enthusiasts, one is never enough. This past August, Sal stumbled across a very rough factory FM3 Moulin Rouge AAR for sale on Facebook Marketplace in Pennsylvania. The car appeared to have been in a very bad head-on collision early in its life but looked all original and all there for the most part.
Sal explains, "I reached out to the seller and as it turns out, they had found a broadcast sheet in the car minutes before I called them. We made arrangements and the next morning, we arrived at the seller's house and started inspecting the car to see if it could be saved." Despite being pretty bent up from the accident and rusty from sitting outside all those years, Sal and his father determined the car would be repaired.
"The doors opened and closed nicely and the roof and package tray were not twisted or bent. It was our opinion that the car could be saved as the actual shell of the car was mostly undamaged with the bulk of the accident damage being on the front clip. We made a deal and loaded it up on the trailer", he says. Upon talking to the seller, they learned that she was a Mopar fanatic who was actually selling it for her friend who needed money to support his newborn child. It was the friend's father who had crashed the car and left it parked for all those years.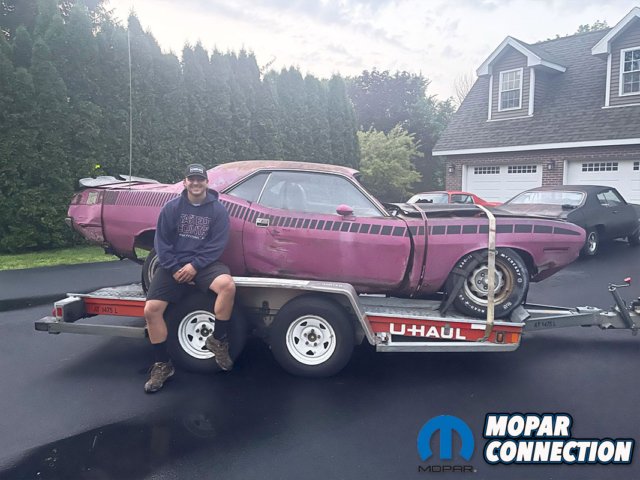 As the story goes, the father bought the car in 1971 and drove it for about a year. In 1972, he was driving home one night on a windy back road when a drunk driver crossed the centerline in his pickup truck and crashed head-on into the AAR. The father sustained major leg injuries from them being crushed in the accident and the drunk driver in the pickup died in the accident.
From there, the car was brought home and parked on their property with the hope that one day he would fix it as he knew even back then that the AAR was special and that it didn't deserve to go to the junkyard.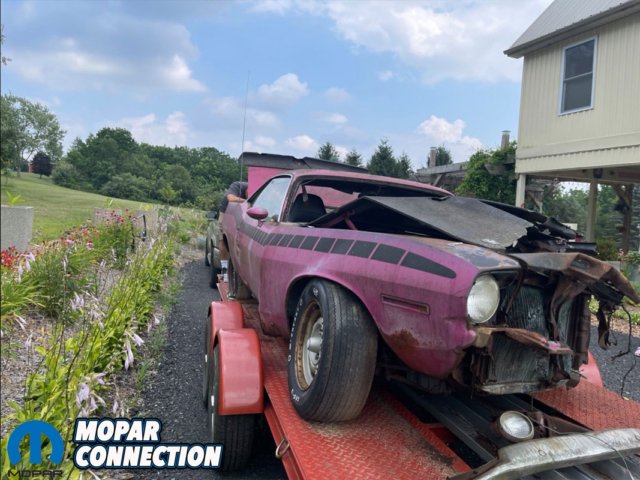 With only 25,000 miles on the odometer, the AAR would sit for the next 49 years. Over the years, some of the parts disappeared such as three of the original wheels and the air cleaner. Sal says, "I'm not sure if it was from thieves or if the family put them on a different car. However, the intake manifold is missing half of the bolts. To me, it looks like somebody attempted to steal the top end of the engine and got spooked, taking off with just the air cleaner."
He continues to say, "Regardless, the car has good bones for a restoration and will be saved. Unfortunately, the fender tag was sheared off in the collision but the Trans Am tag remained intact. However, I ended up finding a second broadcast sheet so we have two for the car thankfully. The car is rough but is a time capsule with shattered windshield glass still all over the front seats and the steering wheel bent in half from the legs of the driver during the collision. It looks like the crash just happened last week. The car was literally crashed, parked and never touched again."
After nearly 50 years of being out in the elements, the car is sitting safely in Sal's garage awaiting it's turn for a restoration once his F8 AAR is completed.