If you are an E-body fan, you will probably remember Brad Schroeder's 1970 Dodge Challenger T/A that was featured here in Mopar Connection Magazine last year in the article "Kowakski's Influence: Brad Schroeder's Mr. Norms Dodge Challenger T/A". As we reported in the story, Brad became a lifelong Challenger enthusiast as a result of seeing the movie "Vanishing Point", and bought his Challenger T/A as his first car in 1978 at age 16. However after buying it, he found that although he enjoyed owning and working on the car, he quickly discovered it to not be a great choice as a daily driver in the harsh weather in the Snow Belt. For his senior year, he bought a used Pinto for a beater and the T/A became a hobby car driven on nice days and to do updates and restoration chores on.
Soon after starting college, the idea of owning an E-body that was more suited as a daily driver had already entered his mind and Brad eventually bought a loaded 1971 Plymouth 'Cuda 340 that he drove extensively for a while during his college years. After graduating college, Brad spent less time working on his T/A as he focused on his new engineering career, socializing with friends and a new hobby, flying airplanes.
Over the years since completing a cosmetic restoration on it early in his college years, the T/A's condition had deteriorated. Brad let the license plates expire after last renewing the plates in 1989 with the thought that he was going to "fix it someday" with a ground up restoration. For the time being though, most of his time and money were going into his new aviation hobby; by then having earned his private pilot license and instrument rating and was actively working toward getting a commercial pilot license.
Owning a Challenger convertible first became a dream of Brad's while recovering from an accident he had while flying. Tragedy struck one drizzly October evening in 1991 when Brad went out to the airport to go log some instrument flight time. Soon after takeoff, the engine in the Cessna he was flying failed and the plane crashed a few miles from the runway. The plane was destroyed, but miraculously Brad survived.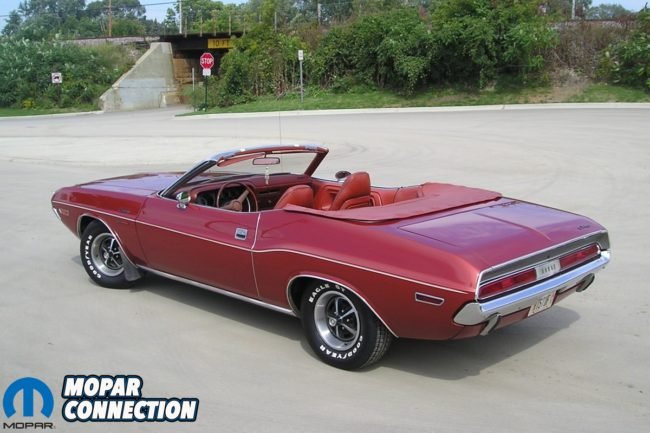 He tells us, "I was badly injured though and spent the next 4 months in hospitals and a nursing home recovering from my numerous broken bones. While laid up, several of my friends who stopped by to visit dropped off car magazines for me and reading the magazines helped reignite my Mopar passion. While lying in my hospital bed, I started doing some soul searching; thinking about my Challenger T/A. It was during this thought process that I came up with my dream of owning a Challenger convertible."
"I thought about how I liked to work on my T/A and loved how it looked, but it wasn't a car I ever wanted to drive extensively. I thought about what it would take to have a Challenger that I liked to drive regularly, similar to how I liked driving the 'Cuda I had in college. My T/A has manual steering, which I really disliked wrestling with while turning the steering wheel. Despite being a stick guy, using the clutch in my T/A was uncomfortable, as I'm tall and my left knee would always contact the steering wheel while using the clutch pedal!"
He continues to say, "The environment of the car was often uncomfortable, due to poor ventilation and exhaust fumes entering the interior from the side exit exhaust when driving slow or stopped. I live in a congested suburban area, and the problem wouldn't have been as bad in a rural area with more open roads, but in my area, a lot my time behind the wheel ends up being sitting at traffic lights or in slow moving traffic."
So, while lying in his hospital bed, Brad started thinking about someday purchasing a second Challenger or another 'Cuda to drive often. To further consider his purchase, he made up a list of requirements the potential new purchase would need to have. "Power steering and an automatic transmission were high on my list of must haves. Other than the T/As, the exhaust on the Challengers always exited at the rear, so fumes wouldn't be an issue. But what about a comfortable interior on summer days? My old 'Cuda had A/C, which was okay, but I definitely prefer open windows and fresh air during summer driving, so another A/C car didn't seem to be the answer."
"Then it dawned on me, if I had a Challenger convertible, the ventilation sure couldn't be beat with the top down, and whether I was driving down the highway, or stuck at a light, I would love being behind the wheel! I had always been rather indifferent toward convertibles, and here, nearing 30 years old, for the first time in my life, I became a drop top fanatic!" he says.
After getting out of rehab for his accident, Brad focused on getting his life back together. He continues to tell us, "Going back to my job, sorting out hospital bills and even getting back into flying took most of my time but the dream of getting a convertible was now always present in the back of my mind. I watched car ads for convertibles and after a few years started a casual search for one. I didn't have a big budget, nor did I desire a show car. I wanted a nice, solid and fun driver; a 318 car that I could dress up with a twin scoop hood and Rallye or Magnum 500 wheels was my ideal."
However, Brad found little in the way of interesting cars during his casual search; a couple projects were all that he ran across. A few years came and went while he watched the ads in vain for a nice driver convertible to come up for sale. One day, Brad got an advanced copy of Hemmings Motor News and saw a listing in West Virginia for a very promising one owner 1971 Challenger convertible priced right! "I was the first to call, and after talking to the owner, I offered to make a deposit or to even buy the car sight unseen. But he would not agree to that. I pondered how to quickly get to West Virginia, and the next day I called him back, but was informed the car was now on a trailer with its new owner heading to North Carolina. I was very disappointed!" recalls Brad.
Feeling even more discouraged as a result of missing out on the '71, Brad realized he needed some new ideas if he was ever going to find a car. He decided to run wanted ads in several magazines including Hemmings and Mopar Collector Guide. As a result, Brad got 5 or 6 calls about cars for sale but each car was more car than he was seeking with the ones for sale being mostly R/Ts and all were big block cars, not 318s. "The lowest priced car of the group was not that far away from me, located in western Illinois, and though priced higher than my range, wasn't priced so far above my budget that I couldn't see a possibility to negotiate to an acceptable price if I liked it. It was a 383 car, but that certainly wasn't a negative to me. I was just targeting 318s as that is what I thought I could afford" says Brad.
Interested in the Challenger, Brad flew to Macolm, Illinois to see the car one sunny Saturday and the owner Dave, met him at the airport with the car. Brad says, "The car was very nice, nicer than I had in mind for a driver, though not too nice to drive. It was an unusual Challenger, in that it was an N code 383-4 barrel car; however, it wasn't an R/T. The car was also loaded with options such as air conditioning, power windows, AM/FM stereo and a six way seat. In talking with Dave, I found out that he had restored it a few years earlier and wasn't actively trying to sell it but he was more of a B-Body fan and had a line on a 440-6 Barrel Road Runner that he was considering buying if he sold his Challenger."
As such, Dave was pretty firm on the price, so they left it for the time being as Brad flew home to sleep on it. After getting back home and reviewing his finances, Brad thought about how he'd been looking off and on for years and if he passed on this car, he might be looking forever! Knowing he had to pull the trigger quickly if he wanted it, he decided that he could stretch his budget. "I called Dave and unsuccessfully tried to negotiate the price down. I relented and said; I'll take it! It was spring of 1997 and after years of dreaming, I finally had a Challenger convertible; just in time to enjoy for the summer!" says Brad.
Once Brad got the car home, he started driving it and enjoying it right away. "I loved to drive the car and drove it often on nice days. I started participating in local shows and by having a car in the shows, rather than just being a spectator, I met many new friends in the Mopar community and also started to win an occasional trophy with the car. I drove the car to work once in a while and to the airport when I went flying; where I could park it safely on the ramp inside the security fence. Eventually I got involved in the local car cruise scene too, usually taking the car out to an evening cruise once or twice a week during the summer season. When it came out of my garage, I'd always put the top down. I bet most people who participate in the local car scene and have seen my car dozens of times, couldn't tell you what color the top is because it's always down and out of sight under the boot when the car is out in public!" Brad laughs.
After buying the car, Brad learned that it is indeed an unusual car. The Challenger is one of 122 N code US market Challenger convertibles made in 1970 that wasn't an R/T. To contrast, there were over 700 N code Challenger R/T convertibles made in 1970! The 383-4 barrel engine is similar to the 383 Magnum engine standard in the R/Ts, however it is rated at 330 horsepower (5 less than the Magnum) and is painted blue instead of orange.
The car has a "Q" in the VON (vehicle order number) indicating it was most likely an executive lease car. To further add proof to that, the previous owner had traced its history and found it was sold through a Chrysler distribution center in downstate Illinois after spending its first year in Michigan. According to Brad, this is typical of what happened with executive lease cars. Later, Brad was told by Mopar researcher Dan Pausch that the car was indeed one of a group of approximately 20 executive lease Challenger convertibles he has documented with a scheduled build date of November 24th, 1969. Most of the group are 318 cars, but several are 383-2 barrel cars and Brad's is one of two 383-4 barrels in the group that he has found information on. All were very highly optioned. Both Dan and Brad find it mysterious though as to why a group of convertibles would have been built for executives in Michigan right in time for winter? Although, Mopar was known for doing strange things!
Brad tells us, "Getting active in car shows with the convertible got me interested in starting the restoration of my T/A so there is a cool irony; where things that had dampened my enthusiasm for my T/A, were what spurred me find the convertible, and later, enjoying the convertible spurred my enthusiasm for getting back into my T/A!". Brad's convertible has been relatively trouble free over the years, with only an occasional repair needed however that started to change around 5 years ago.
"After about 15 years of owning it, the engine which had always leaked some oil, really started to leak badly from several locations. I tried unsuccessfully to repair the leaks and nicknamed the car "Exxon Valdez" due to the trail of drips it would leave behind it and the pool of oil that would appear under it when parked. The leakage had gotten so bad that I restricted my driving of the car to just local cruises within a 10 mile radius of my house. I really wanted to have the engine out and do a partial rebuild but at that point I was buried in my T/A restoration and didn't have the money or time to start another big car project. I felt really down about not being able to enjoy my car like I used to," recalls Brad.
In 2017, after finishing the T/A restoration the previous fall, working on the convertible finally made it to the top of Brad's list. He decided to send the car to a small Indiana Mopar shop run by Joe Moosbichler to do the work on the engine. Since the previous owner had not restored or installed the A/C components when he restored the car, Brad decided since they were already working on the engine, it would be a good time to finally get those parts restored and installed too. Fortunately for Brad, all of the important A/C components were in the boxes of parts he was given when he bought the car. Joe and Brad sent the parts off to Classic Auto Air to be restored and Joe did a partial overhaul of the engine and repainted it to look like new.
Joe also fixed some other issues while the engine was out, including fixing a leaking power steering box. "After getting my car back home, the under hood now looks like it did when the car was new and the chronic oil leaks are fixed so that I can enjoy the car like I used to; driving it to shows and events an hour or more away without worry like I used to so often do. 2017 marked my 20th anniversary of owning the car and now that it's even better than it was when I bought it in 1997 with its "refresh job", I look forward to at least 20 more great years with it!" Brad says in closing.