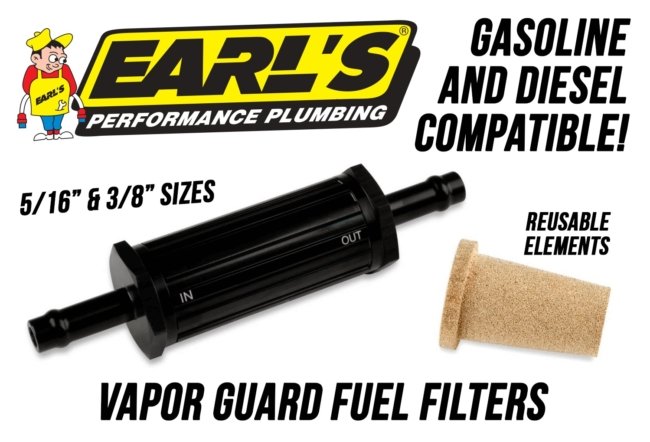 Regardless of the fuel delivery system employed, an appropriate flow of debris-free fuel is a requirement for trouble-free operation of an internal combustion engine. Earl's Performance Plumbing, the leader in fuel plumbing systems, recently launched their all-new Vapor Guard fuel filter line aimed at both the carbureted and EFI crowds running on either gasoline or diesel. The new Vapor Guard line provides the budget-conscience enthusiast a cost-effective and robust fuel filter that's function is only outpaced by its quality finish.
The Vapor Guard fuel filter housings are available with 5/16- or 3/8-inch inlet/outlet fuel hose sizes. Depending upon the usage, there are three different washable and reusable, or if necessary replaceable, bronze filters from which to choose. There is a 100-micron pre-filter, a 30-micron carburetor filter, and lastly, a 10-micron EFI filter. All three of these filter elements are resistant to the harsh chemical additives found in today's fuels. The fuel filter can free-flow 125 gallons per hour (GPH) at 2.5 psi and 88 GPH at 61.4 psi.

Above: The new Earl's Vapor Guard fuel filter body is made from 6061 billet aluminum and is anodized in black. The housing comes with 5/16- or 3/8-inch inlet and outlet nipples. The fuel filter is designed for the budget-oriented enthusiast that needs quality without handing over large amounts of their hard-earned cash.
The filter housing and filter elements can operate a fuel pressures up to 100 psi. Regardless of which bronze filter is selected, it is retained in a billet aluminum body that has a black anodized finish and laser etching designations of the in/out fuel direction. The filter element is easily installed by unthreading one end cover of the filter housing, dropping in the element, and rethreading the filter cover. The body measures 4.5-inches in length and is 1-inch in diameter, so its compact size should minimize installation concerns.
If you are looking for a cost-effective fuel filter (under $15) that is compatible with gasoline or diesel and will operate with the low pressures of a carburetor or the high pressures of EFI, check out Earl's budget-oriented Vapor Guard fuel filter line.
Above left: There are three washable/reusable bronze filter element options for the Vapor Guard fuel filter. The first filter option is a pre-filter that is rated at 100-microns. The second option is a filter rated at 30-microns, and it operates effectively with carburetion. Lastly, there is a 10-micron filter that works with EFI fuel systems. All three filters and the housing can safely operate with fuel pressures up to 100 psi. Above right: The fuel filter body has one end that unthreads to allow the filter element to be installed. The filter housing nipple is designed to allow a fuel hose to slip over it, but once a hose clamp is installed, the hose cannot slip off the fuel filter nipple.