Everybody remembers their first car. While most people have stories of less than stellar first cars such as a Hyundai Pony or a beat-up Ford Ranger with a mismatched fender, Scott Waddell had (and still has) one absolutely killer first car; the 1970 Plymouth AAR 'Cuda you see below.
As a senior in high school, Scott was searching for his first car and not having much luck. He tells us, "I was negotiating to purchase a FJ5 Limelight 1970 440-4bbl 'Cuda, but the deal had fallen through. I was lamenting to a friend about it when he said that his brother-in-law had a 'Cuda for sale." Instantly interested, Scott asked for more information about the car. His friend told him that he couldn't remember if it was a '70 or a '71 but said he knew that it was an AAR 'Cuda and an original 4-speed car.
"Up until this point, I barely had heard of an AAR 'Cuda. A couple of years earlier, I was reading the classified ads in the back of Hot Rod Magazine called HR Mart. In one listing, I saw a tiny, blurry picture of a 'Cuda for sale. It said "AAR 'Cuda, 18,000 original miles, probably the nicest one left". I strained my eyes looking at the picture, but couldn't make out much of the details. I could only tell it had some sort of scoop on the hood, and some type of stripe along the side," he shares.
Scott was very intrigued with the description, and assumed it was a very special and rare car. Since he had a particular interest in that sort of thing, he kept the words AAR 'Cuda in the back of his mind going forward. Scott says, "When my friend said those words, I lit up with interest. I was simply looking for a 1970 or 71 'Cuda but this was an AAR which was even better. I asked him what he knew about them. He told me they were fitted with special components throughout such as the engine, suspension, spoilers, etc. He added that around 1972, this particular car had been made into a drag car, that it was currently in pieces, and the owner was looking to sell it."
Scott got the owner's contact information from his friend and within the next day or so, arranged to go check out the car. Once he got to the owner's house, the owner took him down a driveway where the car was parked in front of a small concrete block garage. There, the 'Cuda sat high, inclining up toward the front, making it obvious that it had no drivetrain. As they approached the car, Scott mentioned his intention was to put it back on the street. Scott shares, "The owner replied, "I think it's probably too far gone for that." We looked the car over, opened the doors, trunk, etc. The 4 pin "lift off" Sox and Martin Six-Pack type hood was off and in the garage. The body was painted a pearl "flip flop" white and intended to give off a yellowish or purplish hue, depending on the angle of light."
In typical pro-stock fashion, the interior had been partially stripped for weight reduction but overall was pretty complete with a driver's seat, a roll cage, dash pad, door panels, steering wheel, headliner, and pedals. Faded house carpet ran from under the dash to the back window. A multitude of dried up tree frogs and dead insects littered the floor. Every time the car was bumped, or a door opened and closed, wasps and hornets would emerge from the many nests behind the front and rear bumpers.
It was clear that the car hadn't moved in some time. A thin grayish green film of dirt and algae streaked down the sides of the body. In short, minus an engine and transmission, the car was a roller and it was easier to describe what was there than what wasn't. "I imagine at this point, many would have walked away, but the idea of resurrecting a "basket case" had always intrigued me. It still does. At the time, I was just happy with the idea of getting the car street worthy so I could join my friends cruising to the beach," recalls Scott.
The owner, focused on a career and starting a family, no longer had time for racing the car. While he had been selling off the drag-specific pieces, a previous owner had also been racing the car, so it was already stripped of the key stuff when the current owner found it. Scott decided that he wanted it so they struck a deal for $250 and then he and his buddies pulled it home with a chain behind the family car.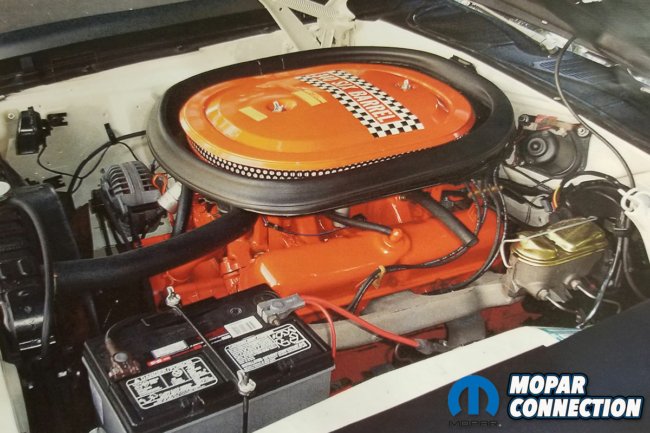 Scott tells us, "This was back in 1980 so things were quite different compared to today. The ease of gleaning information from the internet didn't exist. Not many people knew about these cars so while more parts may have been available back then, finding them wasn't necessarily easier. Days after I bought the car, I looked at what I'd drug home and contemplated the project in front of me with some uncertainty. Could I get this thing back on the road? While sharing my thoughts with my father, he said encouragingly, "You've embarked on a journey. Now you'll need to follow through."
Having now owned the car several months, Scott still had never seen what an actual AAR 'Cuda was supposed to look like. One Saturday night, while cruising with his girlfriend in the family sedan, they pulled into the local "cruise-in lot" where all the hot rodders hung out. There amongst cars was an unmolested Tor Red AAR. "I couldn't believe that's what I had. I knew my car originally came in white, but here I was able to see for the first time what it once looked like. The blacked out hood and grille, the spoiler, the stripes; it was all so beautiful. From there on, my idea of simply having a hot rod to cruise in turned to "I want to put the car back the way it came." if at all possible," recalls Scott.
Within the next following few months, Scott had the AAR drive-able and eventually located a correct T/A-spec 340 engine and most of the key AAR components. By around 1984, the car was back to looking pretty much as original. Around 1989, Scott was still looking for a correct T/A transmission to replace the random A833 4-speed he had in the car. A mechanic that he knew was parting out a '70 340 4-speed 'Cuda so Scott decided to buy the 4-speed out of that. He shares, "The 4-speed I had in the car needed a rebuild and I had no idea what it came out of. I figured a proper 1970 'Cuda 4-speed would be better, at least for now. The mechanic said it looked to be in real good shape, so we made a deal, swapped it into my car, and it worked great."
A couple of years later, Scott noticed a small oil leak and while investigating, he decided to look at the VIN on the transmission as he was becoming more interested in VIN numbers in general. To his astonishment, the transmission matched the VIN to his AAR! He absolutely could not believe it and had to crawl back under again, just to make sure. He couldn't figure out how his original transmission ended up in a beat-up 'Cuda in his home town. About all he could conclude is that when parts were being cast off the AAR to go racing, the owner of that 'Cuda might have needed a transmission and bought it.
Over the last four decades, Scott has worked very hard to put the AAR back to its original configuration with the exception of the elastomeric bumpers. He shares, "I'm just having fun with the look. The original chrome bumpers are stored away safely."
In 2000, Scott was asked to participate in a television program, SpeedVision's, The American Muscle Car. While a particular episode covering the AAR 'Cudas and T/A Challengers was in the making, the producers invited him to bring the car as a "backdrop" to an interview with veteran race car champion, Sam Posey. As many know, Sam had driven the Autodynamics Trans-Am Challenger back in the 1970 Trans Am racing series. Scott agreed and before he knew it, he was riding shotgun while Sam was driving his AAR and telling him "war stories" of the wild days of Trans-Am racing back in the '60s and '70s. "I never imagined my once forgotten "derelict" of a car would one day end up being driven by one of the key figures associated with car's true purpose," says Scott.