We can all agree that as of lately getting parts can be difficult. Soe things we can make due without, but other things like engine management, is a big deal and car really put the brakes on your project in a hurry. Luckily for you, Summit Racing Equipment likes to keep a lot of products in stock and ready to ship. Most recently they released they are now stocked with Edelbrock Pro Flo 4+ for Gen III HEMI kits. 
You read that correctly, Summit Racing Equipment has the Edelbrock Pro Flo 4+ kits physically on their shelves ready to ship to you. They have kits for all 2005-2007, 2008-2012, and 2013+ Gen III HEMIs. The HEMI Pro Flo 4+ supports all 5.7L, 6.1L, 5.7L "Eagle", and the 6.4L Gen III HEMIs.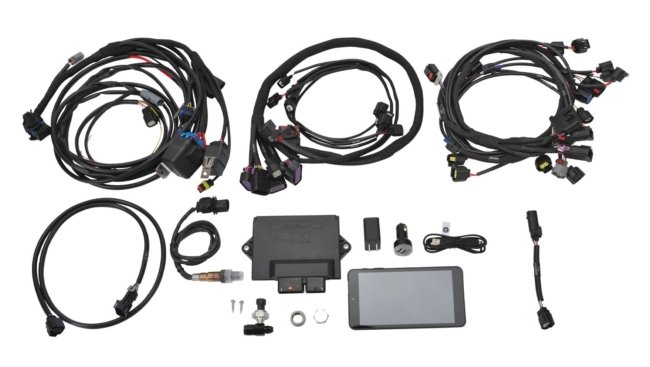 The kits come with a preprogrammed tablet with Edelbrock's E-Tuner 4+. The E-Tuner 4+ includes refined base tunes for a dyno-less calibration. The tablet will also serve as a digital dash with customizable gauges to monitor your HEMI. 
Dual on-board wide-band oxygen sensors allows the Pro Flo 4+ to make adjustments and self-learn as you drive. It utilizes the stock knock sensors for any knock feedback. It also uses factory MAP and IAT sensors for an easy plug-n-play solution for your Gen III HEMI swap. 
The Edelbrock Pro Flo 4+ engine management system for Gen III HEMIs greatly simplifies your Gen III HEMI swap. With support from one of the industry's most extensive technical support team and back by a 2 year warranty, why would you choose anything else? You add in Summit Racing Equipment's fast shipping, and you could have your project running by the weekend.