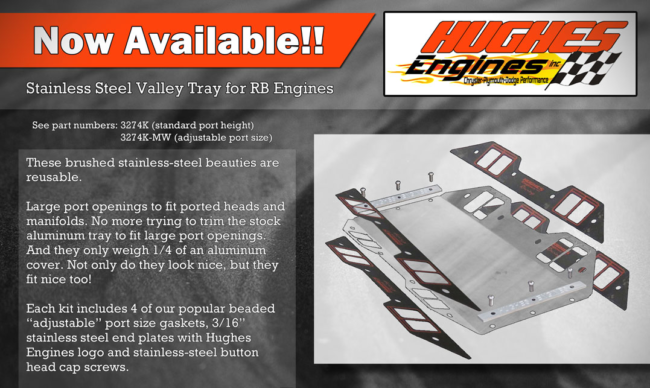 The big block Mopar's valley pan remains one of this storied brand's subtle quirks. While many other engine types used the intake manifold itself to seal off the lifter valley, Chrysler's big blocks employed a simple piece of thin sheet metal to act as a seal between the manifold, cylinder heads, and oil-filled gorge below.
Over the years, many manufacturers have taken swings at improving the design with varying degrees of success. Hughes Engines feels like they've perfected the pan and here's part of the reason why:
This valley plate is designed to work with standard 440 port size, including ported heads or manifolds and is only 1/4 the weight of aluminum valley covers. They not only look nice, but they fit nice too! Yes, they do work with the original 413/426 max wedge cross-ram intakes. No, they do not work with raised port heads.
These valley covers are designed to work with manifolds that DO NOT have a heat crossover passage that hangs below the intake port openings. That includes most single plane intakes plus the Indy dual plane. Dual plane intakes with the heat crossover passage must be modified to use our valley cover.
The heat riser passage and any ports that interfere with the valley plate from lying flat on the manifold must be milled off. When using our valley plate the heat passage is blocked off at the heads and is non-functional. You can purchase your Hughes Engines Valley Pan here and get rid of those pesky leaks.