As we've mentioned before, when it comes to 1970 Dodge Chargers, it's safe to say our good friend Bill Woessner from Pittsburgh has the market cornered on them. With a large collection of 1970 Charger R/T's in his garage, Bill can admit he's just a little obsessed. To further things, Bill's specific collection of sunroof equipped 1970 Chargers is just incredible and the latest addition to his collection is no exception.
Mopar Connection has done several features in the past on some of his prize winning restorations and they've also been featured in several other publications over the years. At only age 41, he's made a name for himself in the OE restoration community as a do-it-yourselfer with very high quality and attention to detail.
He tells us, "Back in September 2020, my friend Peter Brock in New Jersey reached out and contacted me. Peter is a big Charger fan like I am and owned a factory sunroof equipped 1970 Charger R/T SE project car. I met Peter through the 1970 Charger Registry quite a few years ago. We've met in person a few times over the years at the Chryslers at Carlisle show and became friends."
"Peter called me and discussed the possibility of selling his sunroof Charger but wasn't sold on the idea yet. I didn't think much of it after the discussion until I saw the car come up for sale on Facebook a little while later. After some consideration, I decided to make the trip from Pittsburgh out to New Jersey to check the car out in person," Bill explains.
The story goes that Peter purchased the Charger back in 2004 from a gentleman in Ohio State who was planning on parting the very rare car out as it was in rough shape. Way back, the Charger was parked with only 61,000 miles on it and stored in a lean-to storage shed for quite a long time. The car didn't fit properly in the shed so the back of the Charger stuck out and was exposed to the elements for many years, which definitely didn't do the car any favors in the rust department.
Eventually, the Charger would be sold to a local flipper who was going to part it out. Peter came across the Charger being advertised for parts and talked the seller into selling him the car complete with the dream of restoring it one day. Once the deal was done, Peter loaded the Charger up and brought it home to New Jersey.
When Peter purchased the Charger, it was 100% original and complete with only the original 15×7 Rallye wheels missing. The numbers matching 440 Magnum was original right down to the carburetor, idle solenoid and distributor with the only exception being aftermarket headers that were installed in the early years of its life.
Over the years, Peter collected a large number of parts for the project including a hard to find rust free hood, front fenders and an entire rear section with mint frame rails and crossmember. He also placed a large sheet metal order to Auto Metal Direct and purchased brand new full quarter panels, trunk floor, tail light panel, rear valance, rear valance corners and a trunk lid among other things.
Well, as we all know how it can be, life got busy and in the way. Peter's child began to grow up, he was putting in lots of hours at work and with additional B-body projects on his plate, he just had no time to work on the Charger. With a second retirement planned in the very near future, he decided to relocate to Myrtle Beach and realized he had to liquidate a couple of his project cars which put the sunroof R/T SE Charger on the chopping block.
After hearing all the details about the Charger, Bill hooked up his trailer and headed off to New Jersey. He explains, "Upon my arrival, I quickly realized the car was in worse shape than I originally thought. The car was driven throughout the winters in Ohio early on which started doing a number to the car. That combined with it sitting half exposed to the elements in the shed over all those years didn't do it any favors."
"However, the Charger was pretty much all there, was numbers matching, had documentation supporting the 61,000 original miles on the clock and a clean fender tag so I decided to buy it. We quickly negotiated a deal and I loaded it up and back to Pittsburgh we went," he continues to say.
According to the fender tag, this Charger rolled off the assembly line in late October 1969. It was painted FE5 Bright Red with a black leather bucket seat interior. In the order number, we see M99 which means it was destined to have a factory power sunroof installed. With the sunroof, a black vinyl top was also installed.
Under the hood was the R/T's standard 440 Magnum four-barrel engine backed by a console shifted 727 Torqueflite automatic transmission. The options included the Special Edition package, Light Package, power disc brakes, power steering, chrome rocker moldings, Tic-Toc-Tach, 6-way driver's seat, rear window defogger, front and rear bumper guards, woodgrain steering wheel, pedal dress-up, passenger side mirror, AM 8-Track radio and 15×7 Rallye wheels. Surprisingly, despite all of the options checked off, it was ordered as a stripe delete car.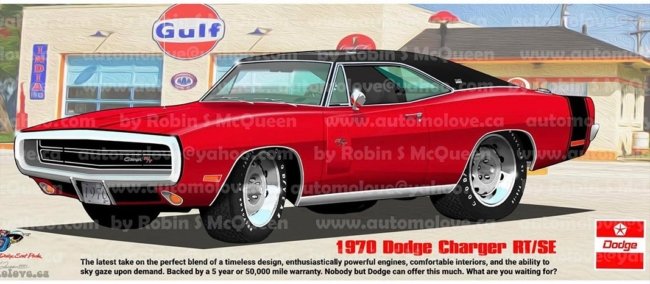 Bill explains, "This particular Charger is one of only 3 sunroof 1970 Charger R/T SEs built in FE5 Bright Red. According to Galen Govier, only 116 Chargers were born in 1970 with the factory power sunroof option; of which 25 were RTs and only 15 were R/T SE models. It's weird the way they optioned the car. It's pretty well loaded but oddly enough, it doesn't have A/C or any of the performance axle packages."
When asked about his plans for this rare Charger, Bill shares, "The future is unknown for this particular Charger as to whether to restore or sell it to someone deserving of such a car. I've really had a strong temptation for a new Hellcat recently. As you know, I have several 1970 Chargers in my garage and even a few with the rare sunroof option so it suits my collection well. However, time will tell so we'll see how this one unfolds as time goes on. I really enjoy finding these cars, I love restoring them piece by piece and competing at a high level. I love looking at the finished product, but I have trouble driving them once completed. The question is, how many do I need to keep to look at?"