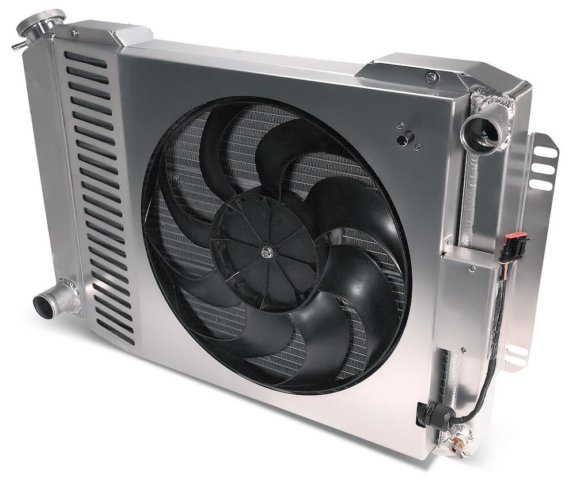 Proform's Slim-Fit radiators burst onto the muscle car scene at SEMA 2018, showcasing some surprisingly simple yet effective innovation that the cooling system industry hadn't seen in years. With an overall thickness of less than 4", the Slim-Fit system includes an aluminum radiator with a pre-assembled electric fan and shroud. The magic lies within the proprietary core design that allows the fan motor to be inset into the radiator itself rather than hanging out the back and causing interference issues with the engine.
While the first offerings were mostly universal, Proform has since added a direct-fit series to the Slim-Fit product line that includes many of our favorite Mopar applications. Some online shopping at Summit Racing led to a customer review that caught our eye in regards to a Slim-Fit installation in a 1968 Dodge Charger.
Designed to fit 1970-1974 E-bodies as well as 1960-1980 A/B-bodies equipped with an automatic transmission (P/N 69696-2), this particular model seemed to be a big headache helper for a serpentine setup on a 440. Danny from Canada went on to say:
Installed on 1968 Charger with A/c. Installed a serpentine belt on a 440 and ran into significant fan to radiator clearance issues. I looked at as many electric fan radiator combinations as I could find and dimensionally they where all to thick to give water pump pulley to radiator clearance needed. I found this one the only one that would fit in with good clearance. Installed easy enough.
Just had to add one attachment hole in the frame the other 3 lined up fine. Electrical wiring was the biggest job to do if you wanted it tucked away. I am over the Engine HP limit of 600hp. I am at 645hp but with aluminum heads and 10.3 to compression. Spoke to customer support at Proform they where confident it would work. So far so good it works as advertised……we shall see how it works in the summer.