It was February 18th, 1970 and a 19-year-old named Jack Tuebner walked into the showroom of Race Motor Sales Inc., a Dodge dealership in Marion, Ohio. His eyes were instantly drawn to a EV2 Hemi Orange 1969 Dodge Daytona Charger sitting on the showroom floor. "The car looked fast even though it was sitting stationary," shared Jack. Sales of the Daytona Charger proved difficult for Chrysler because many gawked in disgust at their unique looks but for Jack, he was in love.
This wasn't your ordinary 440 Magnum powered Daytona though as under the hood of this particular example was Chrysler's legendary "Elephant" 426 Hemi, verified by the "J" code in the VIN number. For options, it was equipped with a console shifted heavy-duty 727 Torqueflite automatic transmission, 3.55 Sure Grip geared 8 ¾ rear differential, power steering, power brakes, AM radio, a clock and a 6-way manual driver seat. A black vinyl bucket seat interior and black tail stripe complimented the striking orange paint very well.
With a purchase price of $3,997.34, Jack traded in his Oldsmobile 442 and made the Daytona his. The Daytona had arrived at the dealership on September 3rd, 1969 and had been sitting now six months without sale so we're sure the dealership was quite happy to make a deal and see it go!
Being only 19, Jack couldn't afford to drive the Daytona all that much, so for the next two years, he would store the car away in the winter time. In July 1972, he decided to list the Daytona for sale in the Akron, Ohio Beacon Journal newspaper and subsequently sold it to Chester (now going by Christine) Headley for $2,250. At this point in time, the Daytona had around 20,000-25,000 miles on it.
Christine explains this part of the story: "On June 22nd 1972, my wife, dog and I set out for Cleveland, Ohio from Tokyo, Japan. Once we arrived back on US soil, we headed to my folks' home in Munroe Falls, Ohio and settled in there for a while. At the time, I had a 1968 Plymouth Hemi Road Runner and a 1969½ Dodge A12 Super Bee (both of which I still have) that were both disassembled and stored in a warehouse."
"By early July, I decided I needed a car to drive so I began looking for a Hemi car as I wanted another. I started looking around the Akron area along with out of state. I ended up flying to a few different places to look at various Hemi cars, most of which turned out to be beat up junk. A few days later, a friend came over to go look at a motorcycle with me. While I was in the bathroom taking a shower, I heard my friend yell to me that he found a Hemi Daytona for sale in the newspaper. I can still remember the feeling I had when I heard the words "Hemi Daytona."
"When I finished showering, I called the number and spoke to the seller Jack and arranged to come see the Daytona. When we arrived, the first sight of the car was almost over whelming. He showed us the car and then asked if I wanted to drive it. Of course, I said yes. The first thing I noticed during the test drive was that the car wasn't running well but I knew I could fix that."
"Jack wanted $2,500 for the Daytona so I offered him $2,250 in which he accepted. When we got the Daytona home, I installed a new distributor, plugs, wires and a coil. I then adjusted the timing and valves and it ran like a champ. Besides having to refresh the transmission in 1974, the Daytona ran great."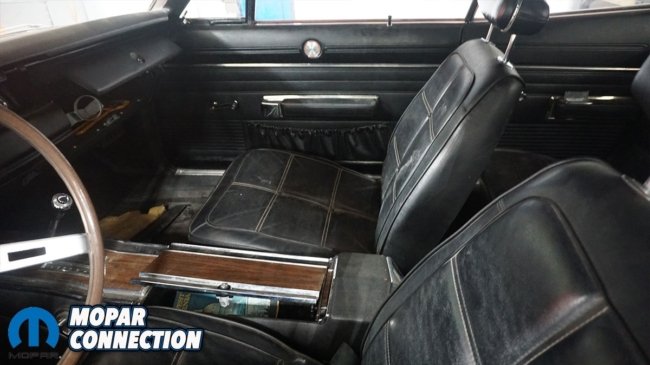 "As an aside, I took the Daytona to Canada twice in 1974. We went to Burley's Camp on Cummings Lake North of Thessalon, Ontario. It was a lot of fun driving her on the Chapleau Highway, also known as The Kings Highway 129. It was winding, hilly and not well traveled. I also had the pleasure of driving her on I-75 in the upper peninsula of Michigan, which is where I had her at 140 mph. The faster she went the more stable she became. I've experienced those speeds since, but nothing has surpassed or even equaled the stability of the Daytona. She is a marvelous engineering masterpiece."
"By 1975, I stopped using the Daytona as a daily driver and kept it in storage along with my other cars however I did keep it licensed and occasionally drove it. Eventually I moved out to a farm and put it in a barn with my other cars. In 1978, I started working in Texas and was commuting back and forth every week so in April 1979, I moved to Texas full time. Once I was settled in, I went back to Ohio and brought my cars home to Texas by trailer one by one and put them in my garage. From there, they would sit for the next 41 years."
"Although the Super Bee and Road Runner were still torn apart, the Daytona remained together. The only thing I did was remove the nose cone from the Daytona to trailer it home to Texas so it didn't get damaged. I never ended up reinstalling the nose cone as it would have made the car too long to fit in my garage. I would occasionally fire it up and pull it out into the driveway until one day I noticed the alternator bracket was cracked and a bolt was broken. After that, I put it back inside and left it alone."
In early October 2020, Christine contacted Bob Jennings, a well-known wing car enthusiast and offered to sell him the Daytona. At the end of October, Bob flew out to Texas and physically inspected the car. Amazingly, the Daytona had remained totally unrestored and numbers matching over the years and only had 39,735.8 miles on the odometer. A deal was made and Bob became the new caretaker of this incredible Daytona.
Shortly after, the Daytona was hauled back to Bob's home in Indiana where it joined his other wing cars. He would fully document the car in its entirety before starting to work on getting the Daytona back in road worthy condition, all while retaining its unrestored survivor status.
A detailed plan of action was then determined to rebuild safety-related rubber and gasket parts, but to replace nothing except mandatory maintenance parts.
The interior was carefully cleaned and detailed and the transmission was sent out and rebuilt without touching the exterior of it to retain its original appearance. Under the hood, the original water pump, fuel pump and distributor were sent out and rebuilt and the broken alternator bolt was repaired. The radiator was sent to Glenn Ray Radiators and rebuilt with strict orders to retain the original appearance.
New rubber hoses and belts were ordered and installed along with a new thermostat, spark plugs and plug wires. The original fuel tank was still in good shape so it was flushed, cleaned and re-installed.
Underneath the Daytona, aftermarket air shocks were removed and good replacements were installed and the brake system was inspected and rebuilt where needed. Up front, the original 50-year-old tires were retained and out back, NOS 1969 F70x15 red stripe tires were installed.
On March 12th, 2021, the Daytona was ready for its first voyage in 45 years! Bob explains, "It shifted fine and drove easily but I did not exceed 35 mph. I drove it around the lot for 10 minutes and pulled it back in the shop. I was very happy." The Daytona was finally debuted at Moparfest at the Battleships on April 24th in Mobile, Alabama.