As a young kid, Brandon Cumbee from Michigan spent his summers out at his Uncle Jimmy's acreage in Southwest Kentucky. He tells us, "My Uncle Jimmy had 300 plus cars on his property; the majority of them ranged from the 1940s up to the 1980s. I would go stay with them during summer vacation and spend hours walking through the fields, inspecting and dreaming about the cars."
Brandon and his cousin would find the cars that would run and drive them through the backfields, further growing Brandon's love for cars. When he was around 12 years old, Brandon found a 1970 Dodge Challenger with a 440 under the hood sitting rotting away. Despite being a total basket care, he fell in love with every line and detail on it and decided that he had to have it. Unfortunately, by the time Brandon was old enough to get a job and start saving money, the car was long gone.
"Over the next number of years, I spent a lot of time online searching for a 1970 Challenger however it was always the same situation; every car I found in my price range was too much work for my knowledge level. At the age of 26, I decided to buy a different car that also caught my eye as a kid but not my heart like the Challenger. It was a 1972 Oldsmobile Cutlass 'S' that was already restored. I quickly realized that working on the car was as fun and rewarding as cruising around town. Before I knew it, I started learning how to work on it and over the next two years, I did a full overhaul of it," he shares.
After a while, Brandon decided to sell the Cutlass and use that money to finally buy a '70 Challenger. He says, "By this time, I was much more confident taking on a car that needed major repairs. I would make it my own. However, something I could not even imagine happened to me. A fellow named Steve from Illinois contacted me about doing a trade for my Cutlass. He had an unrestored numbers matching '70 Challenger R/T 440 Six-Pack, 4-speed with 40,000 original miles. It was equipped with the Super Track Pack, 4:10 geared Dana 60 and disc brakes."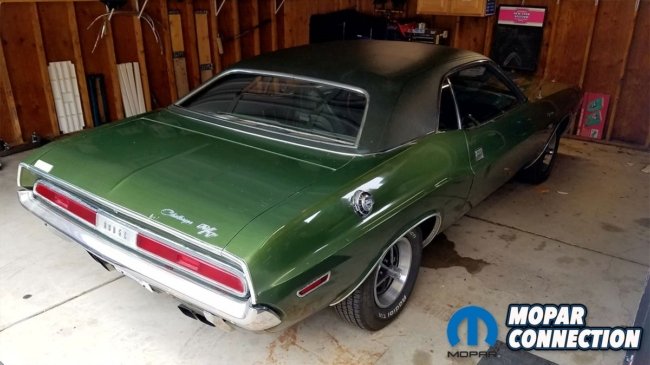 Brandon continues to say, "The car was complete and worth much more than my restored Cutlass. I know everyone has the internet and could see the value in the car. I was honest and told Steve the value of the car, and asked why he was interested in the trade. I was told that his family owns a storage facility and this Challenger had been parked in a unit since December of 1979."
As the story goes, the owner of the car often went months without paying for the unit and right before it would get listed to auction off, the owner would show up and pay the balance. Steve always joked with the owner that one day he would miss the deadline and Steve would buy the car in the auction. Apparently the owner's mother bought the Challenger brand new and only kept it for a few years before giving it to her son. He only drove it a couple years before storing it in 1979.
Sadly, the day finally came where the owner missed the deadline and the storage unit and Challenger went for auction. As typical storage auction rules, people can't enter the unit; only look in and bid without any information. Steve knew what the car was so he was willing to pay more than the typical storage auction bidder and ended up winning the auction and now owned the Challenger.
He told Brandon that when he was a child, his grandfather would take him cruising in his 1972 Cutlass that looked very similar to his. The way he saw it, he was buying Brandon's car for the "low price" he paid for the unit. He was happy with that and just wanted to jump in, start the car and hit the road with his family memories. Brandon couldn't argue with that so the pair ended up doing a straight trade for the cars.
Brandon says, "I decided to leave the Challenger in my garage until I could get enough money to restore everything to make it safe and fun for the road. In the trunk of the car, I found several newspapers and ads from December of 1979 to further confirm when it was parked. I did manage to confirm that it was indeed numbers matching."
Over the next five years, the Challenger would sit in his garage until the time finally came. With the help of David Kupinski (owner of D&P Auto in Roseville, MI) and Bill (owner of Royal-T Collision in Roseville, MI), Brandon treated the Challenger to the necessary items over the course of a winter. The engine and transmission were pulled out so some minor rust issues in the engine compartment could be dealt with before the engine compartment was resprayed in factory F8 Green.
The engine was hot tanked and then fully rebuilt as close as possible to factory specifications with many of the original OEM parts. The factory Holley Six Pack carburetors were rebuilt and Forged TRW 2355 pistons and a Mopar Purple camshaft were also installed into the engine. Brand new date-coded hoses and belts were sourced from YearOne, an upgraded electronic ignition system from Mancini Racing was installed and the original radiator was flushed and cleaned at Superior Radiator in Mt. Clemons, MI.
The original A-833 Pistol Grip 4-speed transmission and Dana 60 rear end were still in great shape so Brandon installed a new clutch and throw-out bearing with fresh fluid into the transmission and flushed the fluid on the Dana 60. Brand new brake and fuel lines from Inline Tube were installed as well as the braking system was rebuilt with parts from YearOne. The Challenger rides on the factory 14×7 Road wheels that Brandon restored wrapped in BFGoodrich Radial T/As.
Brandon's Challenger still wears its factory applied F8 Green paint with the exception of the previously mentioned engine compartment. On the inside, everything is original as it left the factory except for a brand new carpet kit from YearOne.
He says, "I cannot explain the feeling of being the one responsible of taking something that has been dead for 39 years at the time and bringing it back to life, on the road where it belongs. I do not trailer it anywhere. I drive it to work, grocery store, shows, with wife and kid to the apple orchard for self-picking, dirt roads, date night; everywhere. It has dents, scratches, some rust, tears in the seats and headliner, the trim is not perfect but the car is exactly how I imagined it. It is perfect for me. I made it reliable, turnkey and left it as original as I could while keeping it safe for my family."
He continues to say, "This Challenger means a lot to me and my family. I'm a police officer that works night shifts so I'd spend my nights at work and my days working on the car. I have put a piece of me into this car and I don't plan on parting with it any time soon. I have to thank everyone who helped me with the Challenger, especially Dave and Cindy, the owners of D&P Auto. They have adopted me over the past 10 years and become family to me.
After working on the Challenger, my passion grew so much that I decided to open my own business, Land and Sea Motorsports, to help others find their dream cars like I did. These are more than cars; to so many of us they are cherished memories that make people smile whenever they see or hear it. It's like taking a trip down memory lane. After all, memories are the only things we take with us."