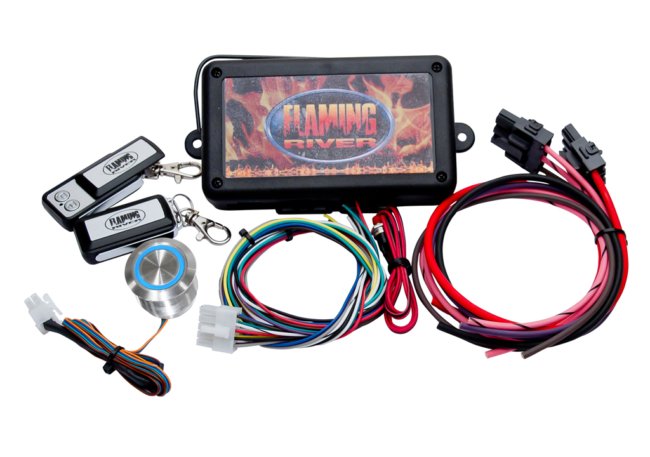 The metal-toothed key has pretty much gone the way of ash trays, hand-crank windows, and vinyl roofs. Perusing the dealership lot nowadays, you'll be hard-pressed to find a vehicle with the old put-it-in-and-turn starting method. In its place is the now-common fob and button pairing. It's actually pretty convenient and that's probably why the widespread use seems to be here to stay.
As the average vintage muscle car continues to become more modern with Hemi swaps and electronic fuel injection, keyless entry and ignition is another logical upgrade we can pull from present OEMs. Flaming River is here to help with a broad offering of keyless systems that are designed to work well with any muscle, modernized or not.
Three kits are available: one for dash mounts, one for floor-shift columns, and one for column-shift columns. All incorporate an ignition control module, accessory harness, programming button, emergency bypass PIN card, start button, power harnesses, and motion-activated RFID devices. A blue LED button is standard, but red, white, and green are also available. Standalone or mounted in a Flaming River column, installation is a cinch with a detailed manual lighting the way.
As far as Mopar applications go, the dash mount kit would most likely work best in models through 1969 when the ignition switch was in the dash. In 1970, they key moved to the column, so a complete column kit with keyless ignition already integrated is a natural fit. Either way, it'll add a much-appreciated touch of contemporary convenience.