Pent-up for too long, the parts pickers were out in droves to peruse the pathways of the 26th annual Chrysler Performance Trade Show and Swap Meet on March 6 and 7. Hosted by the local Mopar gurus at INDY Cylinder Head, this year's event was packed with scores of vendors on-hand to greet giddy gear-heads at the Indiana State Fairgrounds. Nearly 150,000 square-feet of indoor arena space was filled to the brim with mountains of Mopar gold, at least according to the prices.
For obvious reasons, the sponsor list was a little light, but those that showed up were there in earnest. Indy's own booth showcased nearly a dozen turn-key engine packages along with several thousand pounds of aluminum in the form of blocks, intake manifolds, and cylinder heads. Several of their team members were on-site in an undying quest for customer satisfaction. Questions were answered, orders were taken, and the dreamer in us took a moment to drool over their Indy Maxx block.
Over at ECS Automotive Concepts, a table full of tubes showcased a portion of their factory-correct mufflers, clamps, hangers, hardware, head pipes, tail pipes, and H-pipes. Aside from OE-gold quality exhaust products, their specialties include decals, tags, and dry transfers. So high is the standard they've set that it was deemed good enough for even the Comeback 'Cuda.
Inline Tube had brake lines, fuel lines, tube tools, and a wide selection of brake components. Stainless steel, mild steel, and copper nickel fluid transportation in pre-bent or coil form could fit the needs of both restorations and restomods alike. Stephens Performance was in their customary corner with a truckload of AMD's signature black stampings. Sheet metal shoppers can save big by buying at an event like the Chrysler Performance Trade Show. Aside from special show pricing, buyers can usually cut costs on shipping by taking their fresh purchase home with them.
Per usual, the swap meet tables were slammed with a wide assortment of literature, trinkets, and memorabilia, while a few treasures stood out here and there. The keynote items were headlined by a partial 1970 426 Hemi without a listed price. We safely guessed that if we had to ask, it was out of our price range. Down the aisle was what looked to be an expertly-crafted bathtub intake manifold. Purported as being made by the Petty brothers, it could have been had for a cool $800. No doubt, it's buyer beware in these situations as the paper trails are usually paper thin.
Also on the upper end of the expense echelon were a surprising show of new old stock (NOS) items. Incredibly, never-installed Chrysler goodies are still coming out of the woodwork some fifty-plus years later. A 1971 Dodge Challenger grille claiming NOS notoriety was perched atop a vendor's trailer, probably to match its sky-high price that we, again, didn't need to ask about. Closer to the ground and more affordable were a selection of NOS parking brake cables in the $100 to $150 price range. For the guy that's gotta play the numbers game, details like box-stock brake cables can make or break a restoration.
More obscure pieces included a trio of raw cast Hemi blocks that were labeled as having lineage stemming from famed racer Chet Herbert. For $500 apiece, they would have required an expert machinist's touch to be anything but a conversation starter. And since we're a sucker for vintage speed equipment, we couldn't help but notice a pair of Prestolite ignition boxes for $395 each. Found in early Super Stock cars, 1968 Hemi A-bodies, and many of Petty's passenger-side floorboards, the Prestolite box was unique in its aluminum housing with high-rise heat sinks protruding upwards.
Modern Hemi parts snuck in here and there, but it took a keen eye to catch them. A 6.4L intake manifold assembly, complete with injectors, rails, throttle body, and short-runner valve (SRV) didn't gather much attention at $600, but that's sure to change as these big V8s get more vintage. Heads can be a crapshoot, but we did spot a couple well-used sets for cheap. A full inspection and rebuild would be required but, at core pricing, you get what you pay for.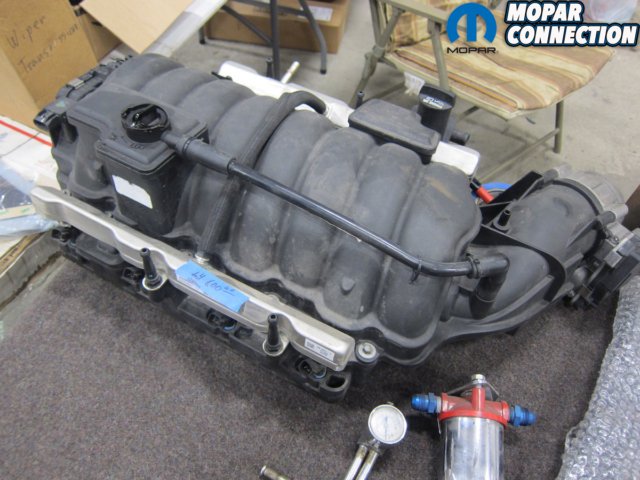 Four-speed gearboxes are still garnering decent dollars. B/E-body 23-spline units were in the $450 to $650 range while 18-splines touched $1,600 to $2,000. A-body boxes seemed to be generally more affordable compared to their bigger-bodied brethren. The same could be said for related accessories as pistol grip shifters demanded a high premium, even in used condition.
Interior items may have been the scarcest. Aside from a couple of clusters, the soft stuff from the cab didn't have much of a showing, probably due to thorough aftermarket support and those materials' limited lifespans. Rallye dashes were reasonable; $200 could grab a gauge set, but the bucks had to be much bigger for the frame and all the trimmings.
Mopar memorabilia has always been a strong seller and there was no shortage of wall-hangers. Some decrepit lubricant, sealer, and cleaner canisters caught our eye and could look just right behind the glass of a collector's case. The ever-popular General Lee had its own cult following consisting of plush toys, wind-up cars, die-casts, figurines, lunch boxes, and even a record player. Heroes of Chrysler lore like Richard Petty and Mr. Norm were well-represented in the collectibles cache too.
A car corral this Indy show is not, but ten or twelve vehicles did make their way inside. Best of show might have gone to the 1970 Plymouth 'Cuda sporting a 440 6BBL, pistol grip four-speed, and $54,000 price tag. Several D-series trucks made appearances as well, the sharpest being a clean, western Power Ram that called for $6,000. On the wilder side was a 1968 Dodge Coronet R/T with a pair of turbos to feed its big-block. This B5 beauty was parked next to the Indy Mopar Club booth and commanded quite a crowd throughout the day.
Ancillary entertainment came courtesy of the reaction time racing and a few cleverly-worded price tags. For just a $5 entry donation, participants could try their hand at the tree for a chance at a $1,000 payout. The faux staging lanes made for some fun sideshows with all proceeds going towards the Juvenile Diabetes Research Foundation. The tag that took the cake was one for a Panther Pink 1970 Dodge Challenger T/A project. Summing up the brief description wasn't a price, but the most honest appraisal we'd seen all day: "expensive."
We'll give the steals 'n' deals gold medal to a complete B-body 8¾ rear end that was snapped up for only $275. Sporting axles, backing plates, brake drums, and an open 489 center section, someone snagged a bargain base for a future bulletproof build. A close second place went to a $100 400 block cast in 1977. Say what you will about "thin" later castings; we'd bump it up to 451 and beat on it all day. Bringing up the bronze medal was a Fort James paper towel dispenser. Featuring a numbers-matching key, date-coded-correct hand lever, and fresh roll of high-performance paper, it was a clean buy for $10.
If there's anything to be gleaned from a trot around the swap meet tables, it's that you should never throw anything away, especially when it comes to Mopars. Roached-out and rusty still has its value as evidenced by a pile of corroded metal planted on a $1 table we spotted on the way out. Then again, sometimes one man's treasure is another man's…treasure.
When Chrysler gold meets a good-sized pocketbook, both usually go home happy. But we aren't complaining. The muscle car industry is alive and well, spring is on the way, and another expertly-organized Indy event has officially kicked off our 2021 show season.