Indy Cylinder Heads' 27th annual Chrysler Performance Trade Show and Parts Swap Meet landed in Indianapolis on March 4 and 5 as maskless Mopar mania overtook the Indiana State Fairgrounds. The event's first go at a Friday/Saturday schedule seemed as successful as ever with throngs of enthusiasts teeming with winter wish lists.
Vendors took to the spaces with a surprising number of in-stock items to quench even the speediest of thirsts. Inundated in aluminum, Indy's own area was impressive, showcasing a number of take-it-home-today intake and cylinder head packages. A quartet of man-sized motors were wheels-down and ready to roll, led by a complete 528 Hemi that put down 620 horses on pump gas.
Other usual suspects included ECS Exhaust, Stephens Performance, and A&A Transmissions while Extreme Sportswear had all the officially-licensed apparel on hand with threads bearing the big blue M on T-shirts, hoodies, and hats.
Hughes Engines had their typical corner spot with Mr. Dave Hughes himself preaching from his performance pulpit during a smattering of seminars on cylinder heads and camshaft science. Some of their latest Gen III Hemi goodies were on display, like a Manley double roller timing chain set and assembled heads. A big block gave up its pistons to be part of a cutaway girdle display that it probably needed before being downsized for show duty.
As always, the big advantage of hitting up the swap meet sponsors is to save on shipping. Big and heavy items like quarter panels, engine blocks, seats, and transmissions can all take advantage of a pickup truck in the parking lot to haul them home.
Putting ourselves out to pasture in a field of fifty-year-old parts and people, we found the hobby to still be very much alive in an age where the placid plug-in is trying to take over. Dust, grease, and expired gasoline tickled the fingertips and nostrils, tempting a reach into the billfold at every turn.
Titillating our bigger-than-the-checkbook eyes first was the swap meet staple: a sea of intake manifolds. With aftermarket supplies drying up, the selection here was strong for big and small blocks alike. Nearly every iteration was represented with bathtubs, single fours, dual quads, Six-Packs, cast iron anchors, and tunnel rams poised for picking.
Most were moderately priced and not far from year-ago averages. Several Edelbrock LD4B intakes topped $300 asking prices while the Six-Pack stuff is still in the multi-thousand-dollar range.
Another essential swap space piece, the four-speed transmission, was available at nearly every row. Run-of-the-mill boxes were in the standard $500 to $700 range, but two stood above the rest. One, an aluminum-cased 18-spline unit, was super sweet with $2,700 on the sticker. Another came clad in chrome and claimed to be a Chrysler display piece.
Shifters scattered the floor as well, including the infamous Inland units that gave way to Hurst in late '68. Even though they aren't known for their performance prowess, Inland shifters still bring decent dollars due to scarcity for those that need them in a faithful restoration.
Engines were few and far between, although a trailer full of two-barrel small blocks asked $600 for each motor and transmission pair. Empty blocks were the likelier find just like 8-3/4 center chucks. Priced anywhere from $400 to $1,200, Sure Grip third members were available in new, rebuilt, used, and unknown conditions.
Not to go unmentioned were the modern Hemi parts that continue to make more of their collective presence felt each year. Now that the Gen III is approaching two decades of existence, the used market is all but mature. Cylinder heads, rotating assemblies, and intakes were all reasonably-priced for those that might be Hemi swapping on a shoestring budget.
On the other end of the spectrum, ancillary vintage components such as exhaust manifolds keep coming out of the woodwork for those that need a just-right casting number or date. A pair of plenty rare 1967 383 A-body manifolds were mated with a $1,500 tag and still available late Saturday afternoon.
Maybe most surprising was the availability of E-body bench seats. Column-shifted 'Cudas and Challengers have never been a common sight, but we spotted multiple benches for the application. At just $300, one assembly right next to the front door would've been a timely score for one of the few people in need.
Bucket seats were also abundant and could be had for $400 to $800 depending on condition and model. The same went for consoles and the ever-elusive six-way seat tracks. Other interior items such as gauges both factory and aftermarket were affordable as long as they didn't include 150 MPH speedometers.
A show field the Indy event is not, but a number of nice cars always make an appearance anyway. The corner behind the A&A trailer seems to consistently feature an early racer or two. This year, a Ramchargers replica sat aside a stunning super stock '64 Plymouth Savoy.
Red on the inside and out, it featured a cross-ram Hemi, manual steering, and a manual transmission for the maximum muscle car experience. It's cohort, the candy-striped Dodge, was built in similar fashion and ready to get rowdy with a full cage and slicks.
Further back were some local car club vehicles and a few projects. Nothing too high-end was to be had, but a clear favorite was a square-body Dodge D150 slathered in red and piloted by the overdrive version of the A833. This shop truck special didn't have the hood open, but we would've obviously hoped for the Slant 6.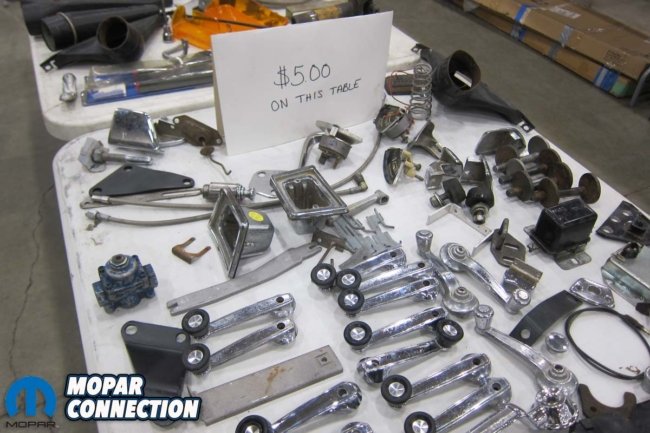 Sprinkled throughout was memorabilia in some form or another at nearly every turn. A floor spread in the back building was most impressive with dealership signage strewn about a tarp. Nary a price tag was to be found, prompting us to keep on walking. It was safe for us to assume that if we had to ask, we couldn't afford it.
More our speed were the $1, $5, and $10 tables that were ripe with rejects that didn't garner a Hemi-sized expense. Orphaned window cranks, ash trays, hardware, and brackets could've looked like clutter or an absolute gold mine.
Digging through the derelicts, we found exactly what we needed in a cigarette lighter with socket. At just $5, it was a smokin' deal for sure (pun intended). Luckily, that's about as long as our wish list was.
Some made out with finishing touches for projects long overdue while others loaded up sheet metal for a Swiss cheese Super Bee or Road Runner that's sure to need it. Regardless, like every year before, Indy's 27th annual spectacle officially signaled the start of swap meet season and has us kicked into high gear another Mopar muscle car summer.