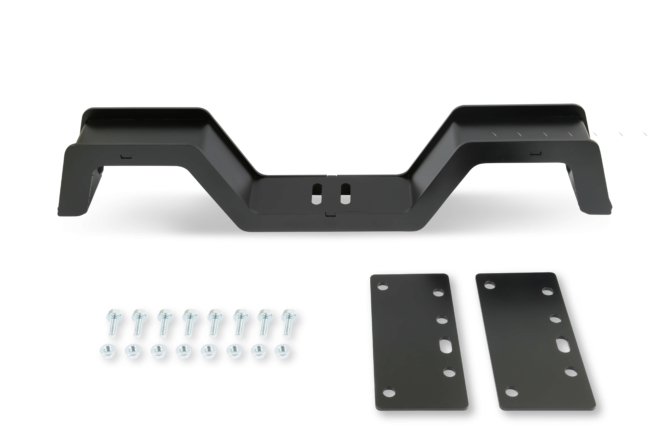 Don't LS swap your old farm truck! Drop that legendary Hemi power in it! Holley and Hooker Blackheart now offer a complete Hemi swap bracket kit for 73-87 GM C-10 2-wheel drive trucks. No, we're not kidding. The Gen III Hemi engine swap kit (PT#VK090255) includes the engine mounting brackets, and engine mount inserts for 5.7, 6.1, 6.4, and Hellcat GenIII Hemis.
Kits also come with transmission crossmember, and transmission isolators for a wide variety of transmissions (8HP70, 8HP90, 9HP75, NAG1, TR6060, 545RFE, 46RH, 46RE, A727, and Tremec TKX (Ford)).
The transmission crossmember is a modular design that uses the same base crossmember with a different transmission mounting bracket for each type of transmission.
Eliminate the installation guesswork, time, and compatibility uncertainty that comes with using homemade mounts.
Holley full swap systems provide optimized component clearances for drivetrain geometry, U-joint operation angles and 3-inch exhaust systems. So no, there's no need for firewall or brake booster modifications. Each crossmemeber is made from welded steel, with a lightweight, rigid design and a clean appearance: either black powder coated finish for corrosion protection and looks great. Hemi swap the world with Holley!