Dodge introduced a lineup of seven "Last Call" limited edition packages for the 2023 Challenger and Charger as a send-off for this generation of Hemi-powered muscle cars. For the Charger line, this included the Swinger, the Super Bee and the King Daytona, all three of which are predominantly appearance packages. The Super Bee comes with steeper gears, specially tuned shocks and drag radial tires on lightweight wheels, making it the most elaborate of the Last Call Chargers, but it is the King Daytona which offers the most power of these 2023 limited edition sedans.
The King Daytona is an interesting package, as it pays tribute to past Charger Daytona models in its inspiration and design, but the edition of the "King" aspect allows this model to also give recognition to Big Willie Robinson. Robinson was an L.A. area street racer who went on to open his own drag strip in an effort to minimize street racing accidents, while also bringing together people of different ethnicity during a time when racial tensions in SoCal were high. Big Willie raced a few different 1969 Dodge Charger Daytonas prior to his death in 2012, but his most famous race car was his orange Daytona with black trim.
It is that look which Dodge copied with the 2023 Charger King Daytona, with Go Mango paint, a black tail stripe with the King Daytona logo, silver wheels, orange brake calipers and orange trim throughout the mostly-black cabin. Some critics of the Last Call program complained that they would have liked the final special edition Charger of this era to have more unique content, but if you look at every Dodge Charger Daytona after the 1969 "wing car", they are all predominantly appearance packages. 
The good news is that the 2023 Dodge Charger King Daytona is based on the SRT Hellcat Redeye Jailbreak Widebody, which means that it comes with the supercharged 6.2-liter Hemi, offering 807 horsepower and 707 lb-ft of torque with help from a quick-shifting 8-speed automatic transmission. Putting that power to the ground is a set of 305-millimeter wide Pirelli performance tires, which allow for easily repeated 0-60 romps in the 3.7-second range. 
On a clean surface with tires that have been cleaned off and heated up, the King Daytona (like other Charger Redeye Widebody models) will get to 60 from a stop in just 3.4 seconds, but when driving around on the street – coming to a stop and stomping the throttle will yield 0-60 times in the 3.7 – 3.9 range due to a touch of wheelspin. Of course, if you don't care about acceleration times, really hammering the throttle when stopped or even when slow moving will allow the King Daytona to roast the rear tires in glorious fashion.
Where the 2023 Dodge Charger King Daytona shines the brightest is in the area of mid-range acceleration. Towards the top end of second gear and into third, the SRT Hellcat Redeye Widebody can get traction with careful application of full throttle. As the supercharged Hemi roars and the full-sized sedan quickly blasts into triple-digit speeds as the transmission shifts to fourth and fifth gear, it just keeps on pulling harder and harder.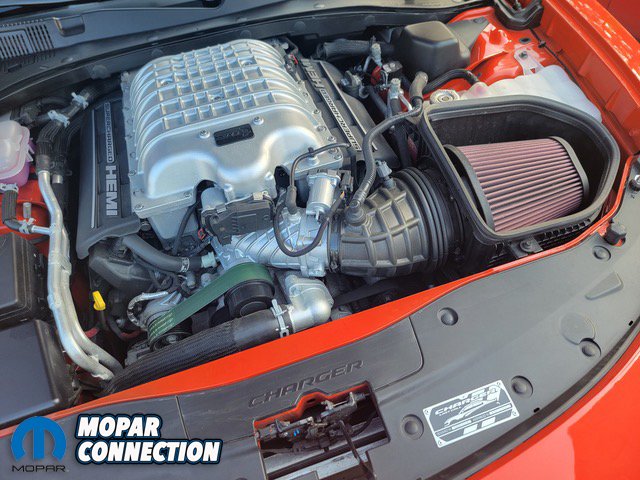 This is where all of the Hellcat cars shine the brightest, as they are moving quickly enough that traction is not much of an issue when using all of the available power. As a result, the King Daytona will accelerate from 60-130 more rapidly than almost any production road car in the world. The best competitors for a high speed roll race with any Dodge Redeye car is a high priced European supercar and even some of those will fall short.
So the 2023 Dodge Charger King Daytona is crazy-quick from a stop and can get to big speed in a hurry, but more importantly, when you aren't deep into the throttle, it is a wonderfully comfortable daily driver. Thanks to the Bilstein adjustable dampers, there are different suspension settings for different driving situations, with the Track mode offering the stiffest ride and the best handling while the Street mode offers the smoothest ride.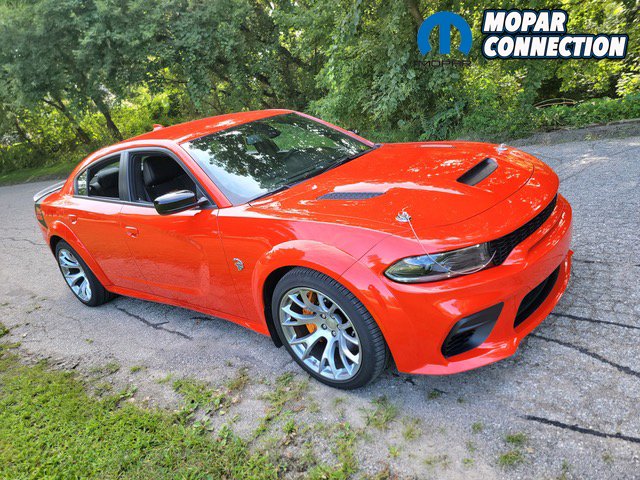 That being said, Track mode is surprisingly soft, even on rough Michigan highways, which many drivers may spend all of their time in that setting. Both around town and on the highway, the Charger King Daytona provides a feel of the road, but it doesn't beat you up with every little bump, nor do many of the outside noises make their way into the tight cabin. 
Really, it rides more like a luxury-sport sedan than what many people would expect of a muscle car, all while still offering impressive handling characteristics for a big four-door. Few people expect the Charger to handle well, but aside from premium European sedans, you won't find a big four-door that handles as well as the SRT Hellcat Redeye and the King Daytona shares all of its nuts and bolts with the Redeye.