Thomas Stephen Ivo is a former actor turned drag racer. He earned the nickname "TV Tom" due to his appearances on television shows and in movies during the 1950s and early 1960s. Ivo is mainly known for his involvement in drag racing and his innovative approach to the sport.
Above Left: For $1.50 postage and handling included, a TV Tommy Ivo 21 x 28-inch poster could be yours from FRAM. Above Right: The poster depicts Ivo's last front engine dragster from 1971. 
Ivo began his drag racing career in 1952 and quickly became a prominent figure in the sport. He was known for driving a series of distinctive and innovative drag racing cars and running exhibition vehicles, including four-engine dragsters and jet cars. In his early years of racing, Ivo set multiple speed and elapsed time records.
Above Left: Ivo switched from Buick Power to Hemi Power in the mid-1960s. In 1966, Ivo had a successful season with his wheel-standing front-engine dragster. Ivo began racing in the early 1950s, and the dragster shown was already his 16th. Above Right: Ivo went psychedelic with his 1968 dragster. Always the entertainer, Ivo concocted a crazy paint job that drove the fans crazy. (Photos – Tommy Ivo collection) 
Ivo ran Top Fuel front engine dragsters (FED) with one or two Buick engines until he switched to Hemi-equipped dragsters in the mid-1960s. He continued with FEDs until 1971, when "Big Daddy" Don Garlits permanently changed the Top Fuel landscape with the rear-engine dragster's (RED) introduction.
Above: In 1970, Ivo had a pair of Hemi front-engine dragsters. He selected red, yellow, and orange colors for all his dragsters except his 1973 dragster, which was blue. The inset photo is Ivo's transporter with all glass sides, which permitted onlookers a view of his dragster and tow car (Corvette on the roof). (Photos – Tommy Ivo collection) 
In the FRAM advertisement, Ivo is depicted with his last front-engine dragster. The same year, FRAM introduced its iconic slogan, "You can pay me now, or pay me later." In 1972, Ivo switched to a RED and became the founding member of the Cragar 5-second club. Plastic model maker AMT made a model of the red-colored '72 dragster and re-released the replica with minor changes as Ivo's '73 blue-colored dragster.
Above Left: Ivo ran his last front-engine dragster in 1971. The 1971 dragster was the inspiration for the FRAM poster. Above Center: Ivo became the first member of the Cragar 5-second club with his 1972 rear-engine dragster. The 1972 dragster was immortalized in plastic by model maker AMT. Above Right: Ivo suffered his worst accident in 1974 when his dragster's Hemi blew up and took out a portion of the rear wing. The result was a totaled dragster with only four passes on it. However, more importantly, Ivo escaped unhurt. The wheel pants over the front wheels were super cool in the mid-1970s. (Photos – Tommy Ivo collection) 
Ivo suffered the worst accident of his career in 1974 when he crashed his brand-new dragster on its fourth run at the NHRA Winternationals in Pomona, California. As the dragster approached the finish line traps, the engine exploded with such fierceness that pieces exiting the fireball Hemi damaged the rear wing.
With a loss of downforce due to the damaged wing, Ivo's dragster spun around and turned upside down at 240 mph. After contacting the guardrail, the dragster came apart and was a total loss, but Ivo was uninjured. In 1975, Ivo got his first substantial sponsorship with Gil Kirk and the Nationwise Rod Shop.
Above: In 1976, Ivo switched from the Top Fuel class to Funny Car. A staple for Ivo and the era of the 1970s, a colossal fire burnout was a must. Ivo always put on a show. He had garnered eight magazine covers with his dragster fire burnouts, so why not get a ninth cover with a funny car? (Photos – Tommy Ivo collection) 
In 1976, Ivo ran a Dodge Dart Sport Funny Car body. For the 1977 season, he switched to a Dodge Charger body, both run under the Rod Shop banner. Upon the end of Rod Shop's sponsorship after the 1977 season, Ivo ran a more conventional Plymouth Arrow body for the remainder of his career as an independent (unsponsored) racer.
Above Left: In 1976, Ivo switched to a Funny Car with a Dodge Dart Sport. Ivo continued with his Nationwise Rod Shop sponsorship, which he had picked up in 1975 with his dragster. Above Center: Ivo switched to a Dodge Charger body for 1977, again under the Rod Shop banner. Above Right: After the Rod Shop sponsorship dissolved, Ivo campaigned a Plymouth Arrow body for the remainder of his career. (Photos – Tommy Ivo collection)  
Ivo eventually retired from competitive drag racing but remained involved as a historian and occasional commentator. TV Tommy Ivo is considered a pioneer in drag racing due to his innovative car designs and his role in popularizing the sport. His contributions to drag racing and entertainment have left a legacy in both fields.
Above: Ivo moved from competitive racing to entertainment with his first of two jet cars in 1979 and 1980. The jet cars were not the first entertainment vehicle Ivo built. He built several two and four-engine cars during his thirty years of racing. (Photos – Tommy Ivo collection)  
FRAM is a well-known brand in the automotive industry and has been manufacturing oil filters and other automotive products since 1932. It is recognized for its commitment to filtration technology and engine protection. Chemists Frederick Franklin and T. Edward Aldham invented an easily replaceable oil filtering element while working in their Providence, Rhode Island laboratory.
In 1950, FRAM introduced new carburetor air filters, crankcase ventilators, and gasoline filters. Throughout the 1950s, FRAM established the pleated cartridge, followed by the first spin-on filter that incorporated the cartridge and the housing. During the 1960s, FRAM expanded into the high-performance engine filtration arena and developed Underwriter's Laboratories (UL) listed fuel and water filters for the marine industry.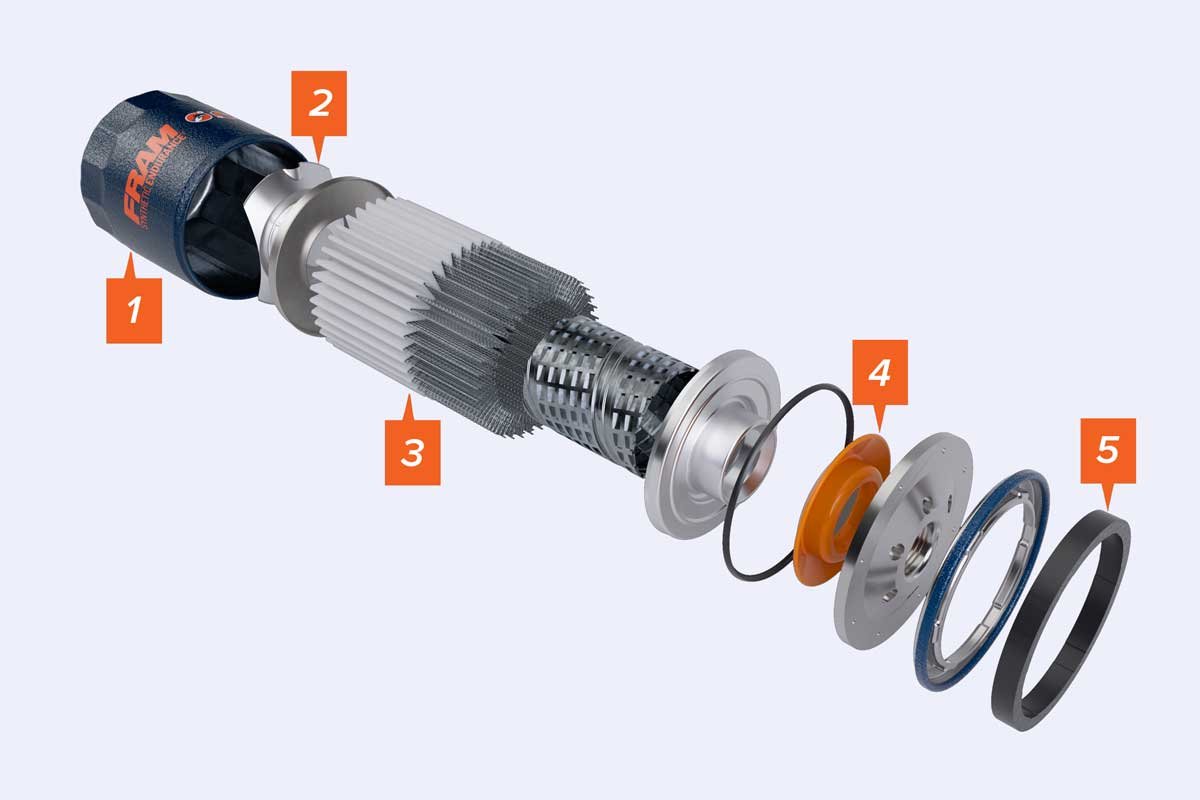 Above: FRAM's latest oil filter engineering has led to the Synthetic Endurance™, which provides up to 25,000 miles of filtration. The filter comes with (1) a 360-degree non-slip grip, (2) a precision valve relief, (3) media, (4) an anti-drain back valve, and (5) a non-stick gasket. (Photo by manufacturer)
The 1970s nor the 1980s slowed FRAM's expansion. FRAM opened the industry-leading filtration engineering and research facility, became the first filter manufacturer to offer a complete oil analysis service, and developed the first air filter with two integral filtering elements. Additionally, FRAM released the Wearguard® oil filters steeped with glass media technology for increased filtration.
Through the 1990s, FRAM introduced full-flow diesel fuel filters, the Extra Guard® and Double Guard® products, the Tough Guard oil filter, dual-phase media filtration, and developed a patented SureGRIP® process.
Above: Did you know FRAM also sells motor oil, coolant, automatic transmission fluid, diesel exhaust fuel (DEF), power steering fluid, and small engine oil? (Photo by manufacturer)
Since the turn of the 21st century, FRAM has continued to pace the automotive filtration industry with the introduction of the synthetic and extended oil change interval friendly Xtended Guard® product line, the SureDRAIN® oil change system, and the FRAM High Mileage® oil filter. FRAM released the FRAM Ultra Synthetic® oil filter, an updated filter for synthetic oil. In recent years, FRAM extended its business into cabin air filtration with the FRAM TrueAir™ filter.
Above: FRAM offers an extensive line of engine air filters for most gasoline, diesel, and marine applications. Additionally, FRAM has cabin air filtration systems for most domestic and foreign vehicles. (Photos by manufacturer) 
FRAM products are available at your favorite local auto parts stores or online, including Mancini Racing, which carries FRAM's high-performance oil filters. Consider FRAM industry-leading products for your Mopar's oil, air, and cabin filtration at your next scheduled service. If its products are good enough for TV Tom, they are good enough for your Mopar.