Anyone remember the old racer Egnatius Katona? Maybe the name Iggy Katona sounds a bit more familiar? We assume much of our younger audience probably know little or nothing of Iggy. Those that do remember the name might remember that Iggy Katona was a six-time Auto Racing Club of America (ARCA) Champion.
During his long ARCA career, Iggy made 312 starts, scored an amazing 79 wins, grabbed 44 poles and won six championships, posting championships in 1955, 1956, 1957, 1962, 1966 & 1967. In fact, Iggy finished in the top ten in the ARCA points standing an incredible 21 straight seasons from 1953 though 1973.
He was also the only driver to win a 600-lap race on a half mile oval doing that at the Dayton Speedway on September 16, 1962, when he led 403 of 600 laps. A race Iggy won by six laps.
Iggy was born in Toledo, Ohio on August 16, 1916, and his racing career started out by racing motorcycles in local races in Michigan and Ohio at the age of 21 and winning most of the races he entered. In fact, within four years Iggy was Michigan State Motorcycle Champion.

After a brief tour of duty in the Army during World War II, he turned to midget car racing. Building his own engines and chassis and with the help of his sons Ronnie and Jim as a crew. Katona found quick success on four wheels as well, including posting 14 straight feature wins in a row at Detroit's famed Motor City Speedway, a dirt oval.
In 1951 and 1952 Iggy ran a number of NASCAR Grand National (today's Cup series) events, usually driving a Chrysler or a Plymouth. His best finish came in September 1952 when he steered his Plymouth to a seventh-place finish at Dayton, Ohio.
Then in 1952, fellow Toledo native John Marcus created the Midwest Association of Race Cars (MARC) and from the start Iggy was a force to be reckoned with. Finishing third in the series inaugural season, fourth in the second year of the series and then he became the man to beat as he won the MARC Championship the next three years in 1955, 1956 & 1957.
In 1955, he won eight of the 33 ARCA events with most of those wins in the Midwest, but he also posted wins at Lakewood Speedway near Atlanta and at Lancaster, South Carolina. In 1956, he posted five wins racing mostly in the Midwest and he had another banner year running in the top-5 most races to secure a second championship. In 1957 his consistent top five finishes helped him add a third straight title.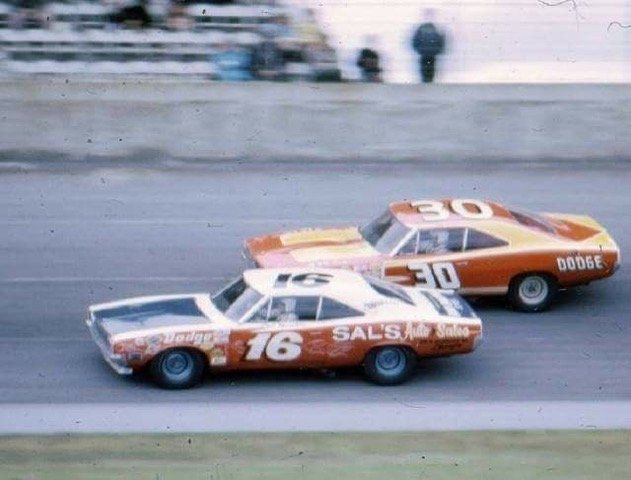 Katona continued to be a mainstay in MARC over the years and was a driver to be reckoned with as he always was near the front. One of interesting wins of the period came on August 28, 1960, when he won a 500-lap ARCA event at the legendary Eldora Speedway near Rossburg, Ohio.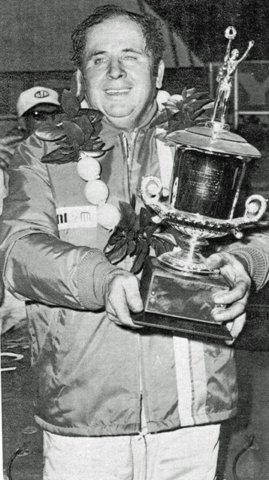 In 1962, Izzy posted a fourth MARC championship, winning seven times with his most impressive win being the 600-lap win at Dayton in Ohio. In 1963 Izzy posted just four wins and finished second in the ARCA points race while running a very limited schedule.
In 1964, MARC became ARCA and at that point more diversity was added to the schedule including superspeedways such as Charlotte and Daytona. It was about this time that Iggy was asked about racing on the superspeedways and his answer was, "Oh I love these high-bank tracks, and I love the speeds but I'm only kidding myself that I can go as fast as these guys who are used to it." As we shall see, Iggy would do alright on the big fast tracks. He won at the Daytona International Speedway in February of 1965.
It was in 1965 that Iggy switched to Plymouth and Dodges to offset the tough competition he would be facing. On May 1, 1965, Iggy steered his 65' Plymouth to the win at the Clark County Speedway in a 100-lap event and finished the month of May off with another 100-lap ARCA win at the Hagerstown Speedway in Maryland.
June saw him win at Anderson, Indiana and then he posted a 250-lap win in September at the Michigan State Fairgrounds and then just missed winning a 500-lap go in late September at Dayton, Ohio where he finished second. When the season was over Iggy had posted six wins in ARCA and finished second in the points while running a limited ARCA Schedule.

In 1966, Iggy was at the top of his game. Posting his first win of the season on March 27, 1966, at Meyers Speedway in Houston, Texas, Iggy led 57 of the 100 laps to win the race in one hour 26 minutes 38 seconds. Over the course of the he followed that win with wins at Florence, Kentucky, Toledo, Ohio, Flat Rock in Michigan, Cloverleaf in Ohio where he led the entire 100 laps, Mount Clemens in Michigan, Clarke County (twice), Columbus Motor Speedway and Canton in Ohio followed by Auto City in Michigan and finishing off with a win at Dayton, Ohio on October 2, 1966.
When the season was over Iggy had posted 12 wins (four in a Plymouth and eight in a Dodge) and scored 2,920 points to claim his fifth ARCA Championship.
In 1967, Iggy campaigned almost entirely in a Dodge, although he did drive his 1965 Plymouth to the win in a 100 lap ARCA race at Florence, Kentucky on April 23, 1967. Behind the wheel of his 1965 Dodge after a number of races where he ran second or third, Iggy posted a repeat win at Meyers Speedway on April 2.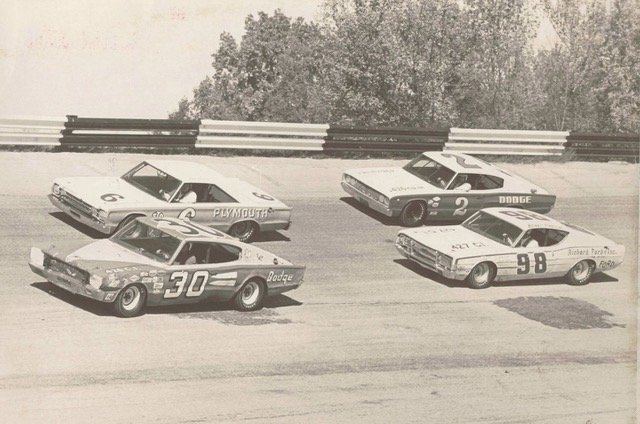 Then after winning in his Plymouth at Florence, he posted wins at Toledo, Auto City, Lorrain County and Millstream in Ohio, the high banks of Anderson Speedway in Indiana where he led 246 of the 500 lap Anderson 500, Columbus Motor Speedway and Clarke County in Ohio, and finally at Auto City on September 3. When the final ARCA points were tallied Iggy had 3,120 points more than enough to claim his sixth and final ARCA Championship.
Now 51 years old Katona took time to look back on his career. "I've been lucky. Sometimes I haven't been able to run as hard and fast as I wanted to because I was afraid my car wouldn't stay together, but most of the time, we've been able to stick in there with them." Never seriously injured in a racing accident, his worse accident was on the highway when a drunk plowed into him.
In 1968 running even less ARCA races than normal, Iggy posted three wins at Florence, Beaver Valley and Taylor County (all in Kentucky) in his Dodge but still finished fourth in ARCA points. 1969 saw just two wins and in 1970 followed that up win three wins those coming at the Sharon Speedway and the Trumbull County Fairgrounds in Ohio and on the Salem High Banks in Indiana.

1971 saw just two wins, the biggest coming on February 7 when he won the 300-mile ARCA 300 at the Daytona International Speedway while leading 42 of the 120 laps behind the wheel of his 1970 Dodge. 1972 and 1973 saw Iggy post no wins but on February 10, 1074, the 57-year-old veteran posted his final ARCA win, but it was a big win as he won the ARCA 200 at Daytona for car owner Buddy Ward.
1973 and 1974 saw a handful of NASCAR starts but with no real success and he ended his driving career with ARCA with single races in 1976 and 1977. So ended a fantastic career which saw Iggy Katona hold many ARCA records, although some have fallen since.
Current ARCA President shares his thoughts on Iggy Katona. "Iggy was physically intimidating, not in height but barrel chested, arms like tree trunks. Very serious about his racing, at the track it well all business, because he raced for a living-that was his sole source of income. His race team was all family, his wife Eleanor kept the books and was his race day scorer (when every car was required to supply one) and his sons Ron and Jim were his pit crew-they did all maintenance, repair, engine building, fabrication in the garage at home in Michigan."

Ron continues, "Iggy would drive straight through only stopping for fuel to races, regardless of the distance-when he drove the hauler to Daytona, he would have a jug of iced tea and a bag of pretzels for the trip. When you look at the schedules, running 50+ MARC races per year in the 1950s, with the primitive technology they had at the time and the roadways they had to travel, running the Michigan State Fairgrounds in Detroit and the Wisconsin State Fair Park in Milwaukee on back-to-back days, it's a real testament to how tough those racers were."
Ron adds, "Iggy was pretty much the driver to beat for most of 20 years on the MARC/ARCA circuit, racing against some pretty hardscrabble drivers like Jack Bowsher, Les Snow, Bill Kimmel, Andy Hampton, Bobby Watson, Nelson Stacy, Darel Dieringer, Fred Lorenzen, Charlie Glotzbach, Benny Parsons, Jack Shanklin and Curtis Turner. He won Daytona in 1974 in a Dodge Charger Hemi at the age of 58 which was pretty remarkable at the time."