Since the early 1980s, fuel systems have slowly transitioned from old-school, engine-mounted mechanical pumps to in-tank electric versions. The reasons are many, including cooling, noise suppression, and the overall improved reliability of an in-tank system.
Most modern Mopar small blocks from the 1987-2002 era were factory-fit with electric pumps. Eight-cylinder engines like the 5.2 and 5.9 along with the 3.9 V6 with hydraulic roller camshafts generally did not have an on-the-block fuel pump.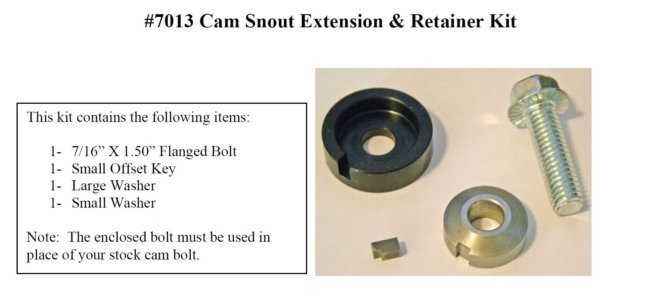 The affordability of those engines has obviously made them prime candidates for transplants in older vehicles. However, retrofit applications sometimes lend themselves to a good old-fashioned mechanical pump both for simplicity and cost-effectiveness.
The rub is that those hydraulic roller motors don't feature accommodations to run an old-school pump. Hughes Engines, as they usually do, has the fix (P/N 7013) for those that want to feed fuel without wires or the whir of an electric motor. And, as an added bonus, their fix is fit for the frugal:
Most hydraulic roller-cammed small blocks have a short snout (nose) on the front of the cam because they are normally used with in-tank electric fuel pumps. If a mechanical fuel pump is to be used, this cam snout extension is required to provide a mounting for the fuel pump eccentric (P/N 10003). Includes cam bolt, custom cam washer, snout extension and offset key.