Alan Rietz was the definition of a true Mopar guy. If anyone saw his collection, there was no doubting his passion for Mopars. Growing up, he drove an orange 1970 Dodge Challenger SE to high school as well as a blue 1970 Plymouth 'Cuda; both cars he would own until the end. From there, his collection grew. Alan's wife Linda remembers Alan buying any car he could when he got the chance.
According to Linda, Alan had a small but set "wish list" and that she remembers when he tracked down a 1970 Road Runner convertible in Mellette, South Dakota sitting behind a closed down Chrysler dealership. The Road Runner needed an engine and belonged to the owner of the dealership but somehow, Alan managed to buy it; dragging it 12 miles down the highway to get it home. After he dropped a 440 in it, it was given to Linda to drive to work every day.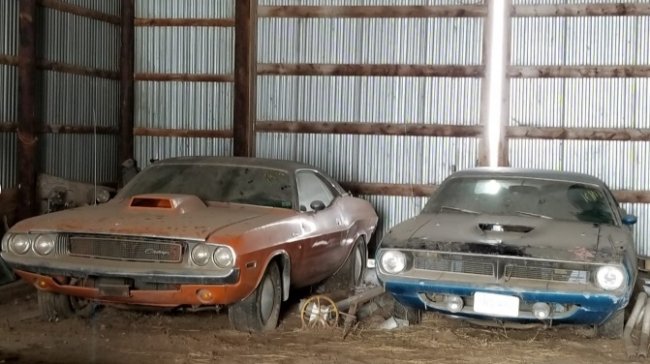 Over the years, his collection continued to grow. When he had the chance to purchase another car on his "wish list", a factory V-Code 440-6 Pack 1970 Super Bee, he jumped at the chance. The car proved to be one of his favorites and the couple often took it to shows and on road trips. Linda was massively supportive of his passion for cars as it made him truly happy. Sadly, on September 30th, 2017, an accident occurred while working in his shop and Alan passed away at the age of 64, surrounded by his collection of Mopars.
The decision was eventually made by Linda and the family to auction everything off as Alan would have wanted the cars to go to good homes. VanDerBrink Auctions was called in to deal with the task of organizing, cataloging and selling all of Alan's beloved Mopars and parts. On June 9th, everything finally hit the auction block. Thanks to a full list of results made available by VanDerBrink Auctions, we decided to share the results of every vehicle sold for those that couldn't make it. It's a big list, starting with some of the spotlight sales.
1967 Dodge Dart GT Convertible; $11,500
This Slant 6 GT Convertible wearing VIN #LP27B72377455 would be the perfect drop top cruiser for someone with a little work. Color combo was blue with a black bench seat interior and a white top. This Dart was totally complete but didn't run at the time of the auction.
1968 Plymouth Road Runner 383 4-Speed; $4,500
This particular Road Runner came from the factory with a 383 4-speed wearing Black Velvet paint. There was no engine, transmission or interior in the car at the time of auction. You can't beat a black '68 Road Runner!
1969 Plymouth Road Runner; $15,000
According to the auction, this Road Runner wearing VIN #RM21H96162527 was in the shop being restored when Alan passed away. It was masked off and ready for paint at the time. It's a 383 4-speed car that came in B5 Blue with a dark blue bench seat interior. It turned over and ran but had old gas like the rest of them.
1969 Dodge Charger 383 4-speed; $9,250
This 1969 Charger wearing VIN #XP29H9B338315 left the factory in Y4 Gold with a green interior and green vinyl top. Although it was originally equipped with a 383 4-speed, both are long gone. Options included the A01 Light Group, M25 Wide Sill Moldings and Hood Mounted Turn Signals.
1969 Dodge Charger R/T 440 4-Speed; $10,000
This factory 440 4-speed R/T wearing VIN #XS29L9B14011 went for a decent deal in our opinion being a real R/T. It came from the factory in F8 Green with black interior, an unknown color vinyl top and a white R/T stripe. Options included the A01 Light Group, A04 Radio Group, A33 Track Pak with 3:54 Ratio, a tinted windshield, three speed wipers, power front disc brakes, center buddy seat and hood mounted turn signals. The Charger was missing the engine, transmission and front suspension.
1970 Dodge Super Bee Factory V-Code 440 Six-Pack 4-Speed N96; $42,000
This V-code Super Bee was the highest priced sale at the auction which was a little surprising being it was a bit of a project. VIN #WM23V0A178559. The car appeared to be original with 57,744 miles on the odometer and Go Mango Hi-Impact in color with a tan bench seat interior. According to Alan's wife Linda and friends, Alan bought it in South Dakota years ago and drove it for a while. Although the Bee had a 440 Six-Pack under the hood, the auction staff couldn't confirm if it was the numbers matching engine or not. The car runs but the radiator had a crack and the fuel tank was full of old gas. As mentioned, it was also a Pistol Grip 4-speed N96 RamCharger hood car.
1970 Plymouth Road Runner Convertible 383 4-Speed N96; $32,000
The second highest sale at the auction was a Road Runner convertible that Alan's wife Linda used to drive to work. VIN #RM27N0G194067. This car was purchased in Mellette, South Dakota. While it was an original 383 N96 Air Grabber 4 speed car, the 383 engine was replaced with a 440. According to Galen Govier, this car is 1-of-2 in Ivy Green Metallic with a white bucket seat interior and white top and 1-of-1 with many of the options it has. Linda remembers driving the car to work and said she had a hard time getting the convertible top down. The power top needed work and the car did not run.
1970 Plymouth Road Runner Coupe; $20,000
This Road Runner came from the factory in FK5 Burnt Orange with a Burnt Orange interior and the very rare Gator Grain top. VIN # RMN23N0E101183. It was a 383 column shift automatic car with the N96 Air Grabber option. It turned over and ran but the fuel tank was full of old gas. There were 85,806 miles on the odometer.
1970 Plymouth Road Runner; $6,500
This 1970 Road Runner wearing VIN #RM21N0G153528 came from the factory with a 383 4-speed. It was painted F8 Green with matching green interior. Both the engine and transmission were gone but the car was mostly intact.
1970 Plymouth 'Cuda 440; No Sale
Alan had quite a few E-bodies including this factory 440 'Cuda project wearing VIN #BS23U0E137284. While sadly the fender tags were missing, it was said that it was a factory 4-speed Rallye dash car as well. The interior was missing pieces but it came with lots of extra parts. The car didn't sell though and it hasn't been said what will be done with it.
1970 Plymouth 'Cuda 383; No Sale
For some reason, both of Alan's 1970 'Cudas didn't sell. This one with VIN #BS23N0B143988 left the factory with a 383 automatic wearing B5 Blue paint with matching blue interior. It was optioned with the rare elastomeric bumper group. At some point, an AAR hood was added but it also came with the original dual scoop hood. The car was complete including the engine and transmission but hadn't run in some time.
1970 Dodge Challenger SE; $15,500
This Challenger went way back with Alan as it was one of his high school cars. Wearing VIN #JH29N0B150852. It was sold new in Aberdeen, South Dakota at Martyn & Edwards with a 383 automatic wearing Go Mango paint with a Black vinyl top and black interior. The car had a rear luggage rack on the trunk lid. At the time of the auction, it had a 440 under the hood.
1970 Plymouth Duster 340; $5,000
This Duster 340 would of been stunning when it was new. Wearing Vitamin C Orange Paint, it came with a black interior and black 340 stripes. While it was a great restoration project, the engine, transmission and interior was missing.
1970 Plymouth Duster 340; $5,500
While many got excited when they saw the Pink paint, this originally B5 Blue Duster 340 wearing VIN #VS29H0B38017 went for a good dollar. There is no motor or transmission but as per the fender tag, it was a factory 4-speed car.
1971 Dodge Charger R/T; $10,100
This Charger R/T wearing VIN #WS23U1A138246 came from the factory in F7 Green paint with green interior, a black vinyl top and stripes deleted. It was a pretty basic 440 Magnum column shift automatic R/T with the main option being air conditioning.
1971 Dodge Super Bee; $19,500
During his collecting, Alan managed to snag two cars that were built back to back; this Bee with VIN #WM23N1A194966 and another Bee with VIN #WM23N1A194967. This one was an older street/strip style restoration that ran and drove with a 440 automatic, nitrous and a trans brake. The fender tags were missing.
1971 Dodge Super Bee; $4,500
Here's the sister car to the previous Bee. This one wearing VIN #WM23N1A194967 was a project car in primer. It was missing interior pieces, the radiator and the fender tags to name some of the parts.
1972 Dodge Challenger Rallye 340 4-Speed; $6,500
This Y8 Gold Challenger Rallye wearing VIN #JS23H2B279768 came from the factory with a 340 4-speed and black interior. Like most of Alan's cars, the engine and transmission were both missing but everything else was there including the Rallye gauges.
Being as there were around 90 Mopars at the auction, we didn't have room to list a full description of every single one however we've put together a list of the remaining vehicles and their sale prices. Pictures can be found in the gallery.
Alan Reitz Background Source: OldCarsWeekly – Auction Results/ Photos Source: VanDerBrink Auctions