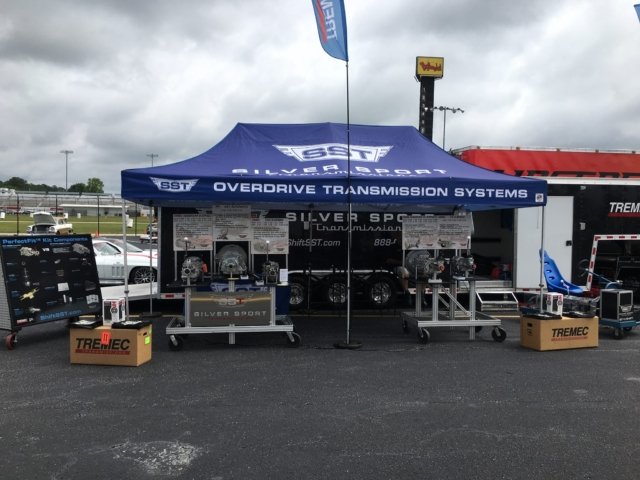 This past week many enthusiasts set off on the annual Hot Rod Power Tour and Silver Sport Transmissions were along for the ride. They set up at every stop for everyone to see their whole line of overdrive parts both manual and automatic along with their newest products from Champion Cooling Systems and the new Tremec HP MTF. Although some of you might have missed the action on the Hot Rod Power Tour, there is still plenty of shows left that Silver Sport Transmissions will be attending.
Viewing products online and ordering parts that you have not seen in person can be a difficult decision. Silver Sport Transmissions (SST) have created multiple displays where you can interact with their parts to watch and learn how they work. They even created a portable cockpit called the Sit-N-Shift to allow customers to have a first hand experience in shifting a SST overdrive transmission package.
The Sit-N-Shift uses all of SST components for a realistic feel of how their overdrive manual transmissions feel from the hydraulic clutch linkage to the easiness of switching gears in the TKO. If you grew up with or still have an original 4 speed set up this will surely help change your mind.
Along with the Sit-N-Shift, SST brings along mutilple other products for display. They have multiple transmissions on display that you can row the gears while testing out their line of STX shifters. If you have technical questions Jeff and Jack are on site and are very knowledgeable. We highly recommend attending one of the shows they are attending to get a hands on look at their products and talk with Jack and Jeff in person. If your already a customer swing by say hi, let them know how their products are performing and grab a t-shirt to show your support.