For the 20th year in a row, the annual Cruisin' for a Cure Car Show took place on Saturday, September 28th, 2019 in Costa Mesa, California. Each year the event's organizer, Debbie Baker, gathers around 3,500 classic cars for the event. Cruisin' for a Cure is unique in that show participants can take a cruise around the show while spectators watch. Entrants have the option of dropping their car off at the Orange County Fairgrounds the day before the event, or they can show up at the crack of dawn to get in. Cruisin' for a Cure is also a charity show, raising money to help find a cure for prostate cancer. 
As we walked around the show, we were amazed at all the different Mopars we encountered. Everything from early Mopars from the late 1940s, all the way up to present-day Mopars. The very first Mopar we encountered, before ever entering the show grounds, was a 1964 Plymouth Belvedere. This particular car was finished in Dark Turquoise, and looked to resemble what could have been a "Super Stock" drag car, minus the 7" cheater slicks that were usually mounted in the rear. The early morning rainfall may have warded a few spectators off, but the overall turnout was great. 
We stumbled upon a pair of 1970 Plymouth Superbirds parked right next to each other, both representing the Mopar "High-Impact" colors of the early 1970s. The first Superbird sported a beautiful paint job in Lemon Twist (Top Banana from Dodge), while the second Superbird wore a striking coat of Lime Light (Sublime Green from Dodge). 
Just as the rainfall slowed down, we came across Dominick Tomaino's stunning 1968 Dodge Charger R/T. The Charger was purchased new from Wegge Motors in Pasadena, California. The car still retains the original drivetrain. The striking Bright Blue Metallic paint is the same color the Charger was delivered in new. Dominick is a local hot rodder and can usually be found around town in the Charger. On Wednesday evenings Dominick is found cruising down Main Street in Downtown Huntington Beach along with the rest of the Surf City Classics Car Club. To read more about Dominick's Charger, click here.
The rain was on an off most of the morning, but finally cleared up towards mid day. Wandering through the numerous rows of the attending classic cars, we found several Mopars during our excursion. A modified 1965 Plymouth Valiant supported modern headlights and Cragar wheels. The hood was painted flat black to give it a more aggressive look. Following it was a beautiful 1966 Chrysler 300 convertible finished in Powder Blue with a dark blue top. The whitewall tires on this car were aftermarket, but were period correct. Also, we were able to point out an all-original 1971 Plymouth Scamp, which was among several cars brought in by the Surf City Classics Car Club of Huntington Beach, California.
Walking through the three buildings, we were able to find a 1969 Plymouth GTX finished in Sunfire Yellow, with a black vinyl top. Parked in the Women & Wheels display, was a beautiful 1957 Dodge Coronet painted in a striking two-tone color combination of Misty Orchid and black. Oh, and let's not forget those iconic swiveling front seats. The last car we found parked inside was a 1967 Dodge Charger nicknamed the "Yellow Rose."

Coming back outside, we were able to spot a customized 1964 Chrysler Newport station wagon. Custom touches included a two-tone paint job, shaved rear door handles, and a set Astro wheels wrapped in whitewall tires. We spotted a black 1973 Plymouth 340 Duster cruising around the show grounds. Parked among the many classic cars near the back of the event was a new-generation Dodge Challenger with a Gen III 392 Hemi.
The white Challenger had a black horizontal stripe along the doors and fenders on each side, much like its predecessor from 1970. Another Mopar we found was a 1964 Plymouth Belvedere that was a replica of the car driven by NASCAR legend Richard Petty. This Belvedere was painted in the famous Petty blue color. To finish things off, the number 43 was added as a tip of the hat to the famous driver.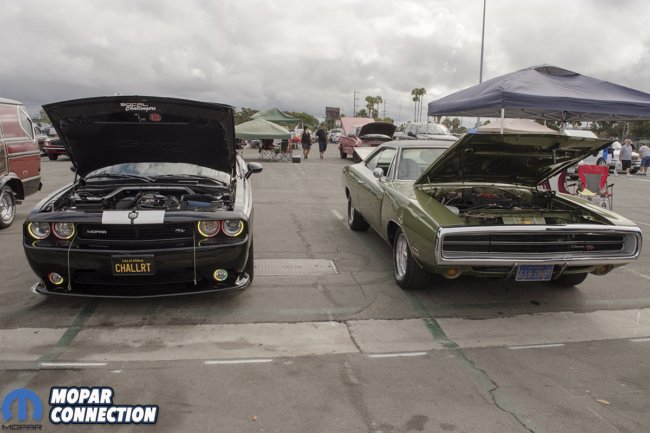 At the very back of the venue, we were able to find a black 2013 Dodge Challenger parked next to a 1970 Dodge Charger painted in Light Green Metallic. This perfect photo opportunity represented how Mopar history changed through the decades. Next up, we found a trio of 1970s Mopars, which included a Sublime Green 1971 Plymouth Roadrunner, a Rallye Red 1971 Plymouth 440-6 'Cuda, and a 1972 Plymouth Barracuda finished in Basin Street Blue. We were also able to point out Larry Dewees' work-in-progress 1973 Plymouth Duster, which was sitting just a few cars away.
While walking back towards the front of the show venue, we found a new Chrysler 300 that had been tricked out by CarPhysics. The larger wheels and copper painted trim made this car stand out. Another car we found was a beautiful 1963 Dodge Polara finished in the classic color combination of black with red interior. Custom features included a dash-mounted tachometer, radial tires, and was finished off with the classic "dog-dish" hubcaps.
Across the way, was yet another black '63 Polara. This car had the iconic Cragar 5-spoke wheels, black interior, and red flames. Just a couple cars down from this Polara, was the iconic Chrysler PT Cruiser from the early 2000s. This particular PT Cruiser was customized with wood paneling, and aftermarket wheels. 
Parked near the Baja Blues restaurant at the show, was Randy Kerdoon's beautiful 1964 Dodge Polara. The car is finished in white with a red interior to set it off. Randy Kerdoon also hosts a radio podcast called Talking about Cars with Randy Kerdoon, which has featured guests, including former child actor Rodney Allen Rippy, KABC automotive specialist Dave Kunz, and Mike Brewer, who hosts the show "Wheeler Dealers."

Cruising the show, we were able to find a beautifully restored 1964 Dodge D100 truck painted in Desert Turquoise with black trim. We saw a spectacular 1970 Dodge Challenger base model finished in Go-Mango, followed by a Sunfire Yellow 1969 Plymouth GTX, and a totally original 1941 Plymouth P12 Special Deluxe Woody Wagon. 
Headed towards the front, was a beautiful 1949 Plymouth Special Deluxe convertible painted in Plymouth Cream. We were also able to find a 1969 Plymouth Sport Satellite painted in Ice Blue Metallic, and a beautifully customized 1961 Chrysler 300 from the Sultans Car Club. Custom features included spotlights on the front fenders, a custom made grille, and lake pipes. 
Towards the end of the show, we were able to find a beautiful 1964 Plymouth Savoy Max Wedge sitting along the fence. This sweet ride was finished in white with a charcoal gray interior, and sported the 426 cubic-inch Max Wedge engine. Cruising around the show was Ron Allen driving his absolutely pristine 1950 Plymouth station wagon finished in Plymouth Cream.
Last, but certainly not least, was a 1967 Chrysler New Yorker 440 that was also seen cruising around the show grounds. This particular car was turned into a lowrider, with full air ride. Smaller wire wheels with whitewall tires were custom features this car had. The Chrysler Blue Metallic paint job the New Yorker had was still original. The owner was not only showing the car, but it was also advertised for sale. 
Overall, Cruisin' for a Cure, never ceases to disappoint. Next year's event is scheduled for September 26th, 2020. If you want to be part of this great event, visit their website at http://www.cruisinforacure.com. Entries are already open for next year's show, and can be sent before September 10th, 2020. For those who want to park their cars inside the buildings, registration must be filled out by May 1st, 2020. This is a great show to attend, for a great cause. Don't miss out on the next one.