Small SUVs have become the most popular type of vehicle in the United States. For those folks who want something that is relatively efficient and inexpensive, replacing the compact sedans that had been the go-to for low cost transportation for decades. 
Most people who buy a small SUV make power, performance and fun-to-drive factor towards the bottom of their priorities. Mostly because the vehicles in the small SUV segment are under-powered, slow and simply no fun to drive. The most popular vehicles in the segment are the cheapest and most efficient, compromising performance for fuel economy. Most anyone who actually enjoys driving will hate being behind the wheel of most small SUVs.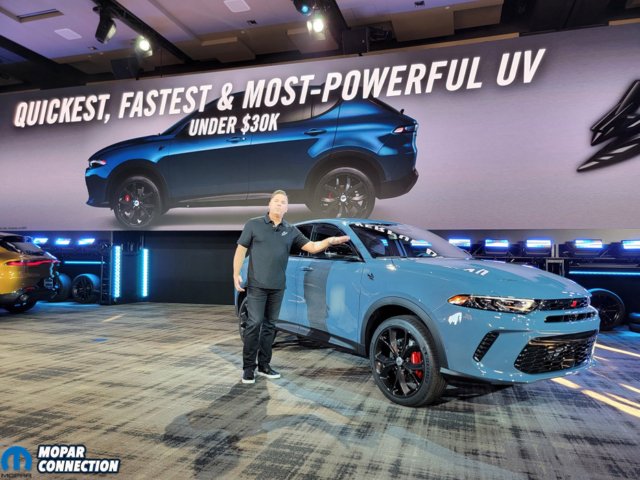 The 2023 Dodge Hornet is the vehicle that can solve that problem, serving as the first fun-to-drive vehicle in the small SUV segment and doing so with a price starting under $30,000. Introduced on the second day of "muscle announcements" during the Dodge Speed Week. 
This being the first small SUV from the performance minded brand, it is also their first electrified vehicle. The people that brought us the Hellcat cars have packed plenty of muscular inspiration into this sport little SUV. When the Dodge Hornet goes on sale later this year, it will be offered in two basic trim levels and in eight exterior colors – Acapulco Gold, Blu Bayou, Blue Steele, Gray Cray, Hot Tamale, Q Ball and 8 Ball. 
 The Hornet GT is powered by a turbocharged 2.0-liter engine that will offer at least 265 horsepower and at least 295 lb-ft of torque. With a starting price of $29,995, the Hornet GT is the quickest, fastest and most powerful small SUV under $30k. 
Dashing from a stop to 60 miles per hour in just 6.5 seconds with help from the standard 9-speed automatic transmission and standard all-wheel-drive. Also, thanks to sport-tuned Koni shocks, the Hornet offers best-in-class handling, with the GT reaching 0.87 Gs on the skidpad while the R/T hits 0.90 Gs.
Speaking of the Hornet R/T, it is the brand's first plug-in hybrid. Featuring a turbocharged 1.3-liter gasoline engine and a 6-speed automatic transmission mated to an electric rear axle motor. This hybrid drive system offers 30 miles of all-electric driving range and an estimated fuel economy figure of 75 MPGe. 
More importantly for those looking to enjoy the drive, this hybrid SUV will pack at least 285 horsepower and 383 lb-ft of torque. Also, thanks to the advantages of the electric rear axle motor, the new PowerShot system can provide a boost of 25 horsepower for up to 15 seconds. The result is a full second trimmed from the 0-60 time, down to 6.1 for this model, but it can also be used at speed for some extra power when passing. The Dodge Hornet R/T PHEV starts at $39,995.
Those 2023 Dodge Hornet buyers who want an even sportier compact SUV will want to opt for the Track Pack. It adds 20-inch black wheels, Brembo front brakes, a uniquely-tuned adaptive Koni suspension system and Alcantara trim on the inside. For buyers who just want their Hornet to look a bit more menacing, the Blackout package adds 18-inch black wheels, black mirror caps, black badges and black window moldings. 
On the inside, the 2023 Dodge Hornet comes packed with standard features that rival those of some luxury SUVs. A 12.3-inch digital gauge cluster and 10.25-inch infotainment screen are standard on all models. Also standard is a wireless charging pad and the UConnect 5 system, which offers easy access to every aspect of the interior, along with Android Auto, Apple CarPlay and Amazon Alexa compatibility. 
More importantly, there is an impressive amount of head, leg and shoulder space for the driver and front passenger, along with plenty of leg room in the back for adult passengers.
Back in the 1980s, the hot Dodge hatchback was the Omni and the performance trim level was the GLH – which stood for "goes like hell". Dodge has brought back the GLH name for the 2023 Hornet, but it isn't a traditional trim level that you order from the dealership. 
Right now, it it just a concept, but the idea behind this model is that Hornet GT owners could opt for the Direct Connection GLH package from Power Broker dealerships. That package – at least in concept form – adds an engine stage kit that increases power, a lowered suspension setup, cat-back exhaust, unique 20-inch wheels, a unique rear fascia and GLH graphics.
Tim Kuniskis wouldn't say how much power the Hornet GLH Concept offers, but he did say that it has a better power-to-weight ratio than the original Omni GLHS (that is the stronger Shelby model) and more than double the torque of the GLHS. 
The old school GLHS packed 175 horsepower and 175 lb-ft of torque, so it is easy to understand that the Hornet GLH Concept offers at least 350 lb-ft of torque. We also know that the Hornet GT weighs 3,715 pounds while the Omni weighed around 2,200 pounds. 
Since the newer model weighs about 70% more, it would need to make around 71% more horsepower – leading to roughly 300 horsepower. Seeing as how the standard Hornet GT offers at least 265 horsepower and 295 lb-ft of torque, it isn't a big jump for a tuning package to add around 35 horsepower and 55 lb-ft of torque.
Orders for the 2023 Dodge Hornet GT opened on August 17 and the brand plans to begin delivering the first units before the end of this calendar year. Dodge hasn't said when the order banks for the R/T PHEV will open, but they plan to see them in dealerships in the Spring of 2023. 
While this new Hornet may not appeal to many muscle car owners, this is a great looking option for anyone shopping for a small SUV and with hundreds of thousands of small SUVs sold each year, it is a great segment for Dodge to enter. The Hornet will be the first, and perhaps the only entry in the segment that is designed with performance and fun-to-drive factor in mind, bringing driving excitement to an otherwise dull group of vehicles.
Premium interior touches for the 2023 Dodge Hornet include class-exclusive, racing-oriented Alcantara seats, embellished with unique "red crust" accents that visually burst out and gradually fade, highlighting the unique Alcantara seat perforation.