Three years in to its existence, it might be time to crown Holley's MoParty as the premier Dodge and Plymouth gathering. Even though it's a relative newcomer to the Chrysler car show experience, Holley's hootenanny has already dwarfed those other decades-old events with a combination of organization, talent, and participation that has never been matched.
This year, MoParty quite literally stood for "more party" as attendance and participation seemed to be well ahead of previous years' turnouts. Action aplenty was the primary draw, no doubt; if you didn't like the drag racing, you could check out the autocross, car show, survivor tent, swap meet, pits, manufacturer's midway, Thrill Rides, dyno, or off-road course.
As early as Thursday afternoon, the distant roar of open-header Hemis could be heard in the distance as a parade of Pentastars emerged from steel-covered shells. One after another backed away from their respective Ram pickup trucks while racers readied their rowdy track terrors.
Drag racing turnout seemed to be markedly more than last year with a diverse range of classes to cover both old and new iron. Among them were the 1320 Shootout, Hemi Super Stock, Hemi Outlaw, Nostalgia Super Stock, Hellcat/Redeye/Demon, Stick Shift Shootout, and Vintage Super Stock.
A number of the lovely participants caught our eye, especially those outside the muscular norms. For example, Rick Wahl's 1972 Dodge Colt turned more than a few heads with its aggressive 408 stroker small block. The Stick Shift class featured Jason Trotter's 1987 Dodge Daytona; its front-wheel drive fury lit up better than 137 mph on the boards. Something tells us that wasn't a tired 2.2-liter turbo under hood.
Beyond the staging lanes, vendors flocked to a manufacturer's midway that was bustling, much to the delight of HPtuners, Moser Engineering, QA1, Trick Flow Specialties, Nitrous Outlet, Direct Connection, and others. Mopar Connection Magazine's own 1969 Dodge Charger (Brazen) and 1970 Plymouth Fury convertible (Marsha) were on hand, as were many well-known influencers' cars. Highlights included Derek Bieri's Hemi Half (Vice Grip Garage), Dylan McCool's two ratty E-bodies, Wrench Every Day's Dodge van, and Boosted Motorsports' Hellkota.
The C68 Carbon build by eXoMod was a unique showcase that kept a steady stream of bystanders gawking with awe. Starting with a new Hellcat Challenger, they massaged and manipulated body panels into what ended up looking like a standard 1968 Dodge Charger from afar. Up close, however, the carbon fiber reskin was more evident.
Regardless, the craftsmanship could not be argued. It sounds like other body styles are slated to get a similar treatment. We heard rumblings of a D71 model in the shape of a 1971 Dodge Demon and will anxiously await a price tag that's sure to scare us away.
Down the line, Dream Giveaway had their yet-to-be-won 1969 Dodge Charger 500 present to entice a few more lucky tickets into the pot. It wasn't hard to coax several Chrysler connoisseurs into entering with a fresh coat of R4 red paint, powerful 440 Magnum engine, and four-speed gearbox. One of just 392, its white interior was begging for some seat time with a firm hand on that crooked chrome console shifter.
Salivating from the muscle and the munchies, we swung by a full food truck row before heading to the campground for some rest and relaxation. Obviously, local hotels were in plentiful supply with no less than thirteen within manageable driving distance from the raceway. For those that wanted to brave the wilderness, Beech Bend's onsite campground offered some serene solace.
As an added bonus, a smattering of slick steel littered the camping lots; we spotted a 1970 Hemi Dodge Challenger, 1969 Dodge Super Bee, 1970 Venture motorhome, a long ram 440-powered boat and more than one modern Challenger living life in the slow lane of shade.
The autocross track's always-audible bellow of burning tires drew us back to the action and in line for the Dodge Thrill Rides. A hoard of Hellcats from Dodge Garage was rivaled only by the neighboring roller coaster, although the screams of 707 horses would not be overpowered.
We slid in to a '22 Dodge Charger and weren't at all prepared for the body-slinging bonanza that ensued. The steering wheel whipped from side to side, a passenger in itself as a too-calm driver navigated more with the whipsaw of the tail end than anything.
Shaky and sea-legged, our next stop was a bleacher seat next to the new-for-'22 Off-Road Experience. Made for mud-minding Mopar motorists, this track traded smooth asphalt for an unforgiving series of dirt-laded turns and jumps fit for a General Lee. Jeeps and TRX pickups made up most of the entries that had to slip, slide, and skip their way around the winding track's terrain.
One unlucky TRX owner was ill-fated to find out that a touch too much throttle on the final jump would result in an airbag deployment that ended his day early. Hooptie X veterans fared better with purpose-built four-wheelers set up specifically for dirt slingin'.
On the way back to the drag strip was a star-studded show field that garnered way more acreage than last year. Turnout was truly terrific both in quantity and quality. One spectator even went as far as saying that the car show collective at MoParty was just as good (daresay better?) as that "other" event in Ohio.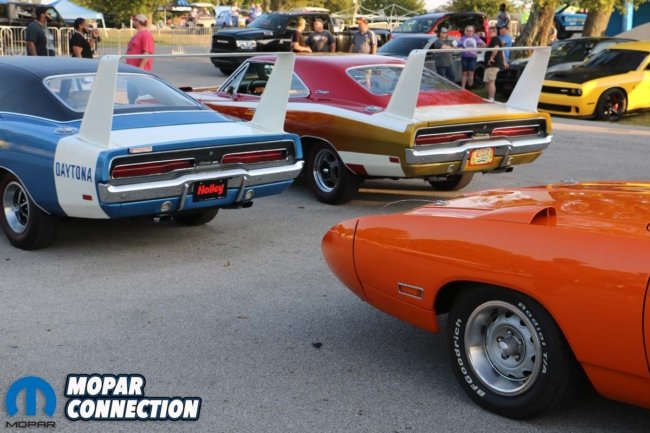 A 1969 Dodge Super Bee with factory green painted roof (two-tone code V02) was among the strangest, but was still under the care of its original owner and featured four gears of fun. On the other end of the spectrum was a stripper 1966 Dodge Coronet. Its 426 Hemi was also backed by a stick shift and that's about where the options ended. Power steering and a radio were not among the amenities in this slick black sedan.
Just as impressive as the quantity of show cars was the sheer variety of makes, models, and years. In our opinion, a 1974 Dodge CN900 was tops as far as trucks were concerned. An 8V71 Detroit Diesel powerplant put off a two-stroke tremor like a ticked-off sewing machine. After sitting for twenty-three years, its stacks were seen billowing smoke several times throughout the weekend.
A close second in the truck class was an orange survivor 1970 Dodge Power Wagon W300 with four-wheel drive and a nine-foot stepside bed. Speaking of survivors, Mel Major's Mopar Survivors tent was a new addition this year.
Nine highly-original automobiles were housed under the bigtop, each with a unique history that owners were happy to share. Harry Carson, for example, ordered his 1970 Plymouth GTX on October 25, 1969 and popped right out of a similarly-vintage lawn chair to tell his tales to envious onlookers. Mr. Carson put an incredible 22,000 miles on the 440 Six Barrel lung in his first year of ownership but, in a testament to his caretaking, the EB5 blue paint still shined like it was fresh off the lot all these years later.
The swap meet was a short jaunt down the lane, offering up all the Hemi-sized haggling your heart could desire. One headliner was a clean 1972 Dodge Demon featuring a 340 engine, scooped hood, solid body, and reasonable price tag of $12,500. With the amount of attention it gathered, it probably found a new owner by the end of the weekend.
Surprisingly, some Superbird components were even in attendance. An original nose showing 52 years' of use and abuse was stickered at a cool $3,000. Accompanying fenders were nearby for anywhere from $850 to $3,500.
Outside of some of those more rare specialties, all the usual swap meet suspects were represented; tail lights, transmissions, bellhousings, intake manifolds, air cleaners, and a speckling of new restoration pieces made up a good bit of the could-be-bargains.
A welcome break from the walking wonderments, countryside cruising on Friday and Saturday afternoon plucked anything from a 1965 Plymouth Valiant to a Lil Red Express from the show rows. A 1978 Plymouth Road Runner was perched atop a hill as we made our way back. One of a purported 1,357, it was a fantastic F-body in black with red, orange, and yellow striping.
While the cruise was mostly show, a mobile dyno was all go. Everyone's fair share of tire spinning began at 9 a.m. on each of the three days. Only event-entered vehicles were allowed to participate, but quite a variety did so. We watched a dual-quad 1965 Plymouth Belvedere put up nearly 600 ponies to the rear wheels whereas, on the other end of the scale, a stock-ish 340 Dodge Challenger knocked out 234 horses.
Unfortunately, not all runs resulted in a clean pull and satisfied smile. An original-owner 1967 Dodge Dart 270 sank several hearts when it chucked its driveshaft at nearly 5,600 rpm. As one could imagine, damage was widespread after the shaft itself severed in two and the bellhousing broke.
Sparks and shrapnel shot in every direction whilst the crowd looked on in disbelief. A worn U-joint was suspected to be the culprit of the carnage that put a damper on an otherwise delightful dyno experience.
Four legitimate wing cars and a couple of wannabees brightened spirits and were a prelude to the General's grand finales on both Friday and Saturday night. Included in the quartet were "Disco," a psychedelic 1969 Dodge Daytona survivor, the vinyl-roofed "Brockton Dodge" '69 Daytona, two 440 'Birds, and a green Superbird clone drag car. After some lead-footed sprints down the front stretch, they steered to the sidelines to make room for less formal antics.
As the General readied his troops on Saturday night, a mullet contest drew a delightfully-greasy group of Kentucky waterfalls for all to see. Several familiar faces from last year's competition were back with more business in front and more party in back. The best real, fake, trashy, and kid mullets were crowned as kings, then ushered away for a special certain '69 Charger that did not disappoint.
Two-tired trips around the oval were a primer on Friday and Saturday afternoon. Riding on its passenger-side sidewalls, the big orange B-body maneuvered around the corners, down the straightaways, and between a pair of dopy deputies in their trademark Plymouths.
Saturday night, however, was something straight out of Cooter's dreams. Barreling down on a big ol' ramp from the left lane of the drag strip, the Kibbe and Friends Dodge had no trouble rising to the occasion for a loaded grandstand. Just like the original, this 01 launched and landed spectacularly, but without the magic of edited TV. Front to rear, every panel on its poor body was pummeled.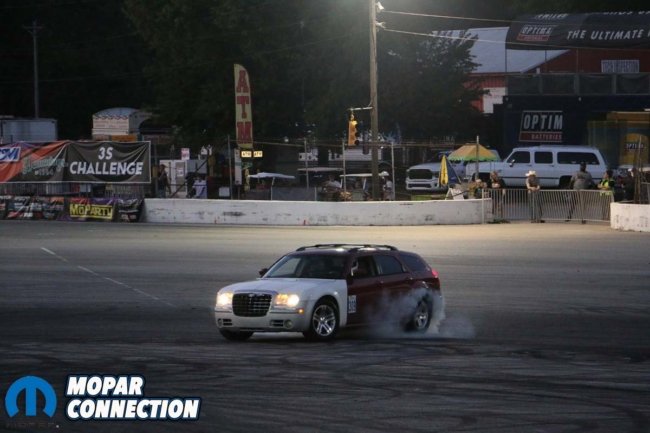 Fret not; the good-looking launch car was but a Crown Victoria in clever disguise. Amazingly, a pair of fresh tires is all it took for the high-flyin' hero to drive out under its own power, albeit several gallons short on antifreeze.
An Australian-style burnout contest topped it all off. We're still not sure what "Australian-style" means, but it seems to require maximum smoke and actual tire-shredding. The first contestant, a Dodge Magnum with a Chrysler 300 front end, slung so much rubber that the rear bumper with in shambles when the dust settled. The winner, Ryan Davis' 2000 Dodge Dakota R/T, disappeared in a colossal cloud of Hellcat-supplied smoke that put perfect punctuation on an action-packed weekend.
If you didn't attend MoParty this year, then you might be wondering if you missed out. Yeah, you did. One of the most monster Mopar events in recent memory went from "up-and-coming" to "arrived" and, hopefully, it's here to stay. The next mullet masterpiece countdown starts now!