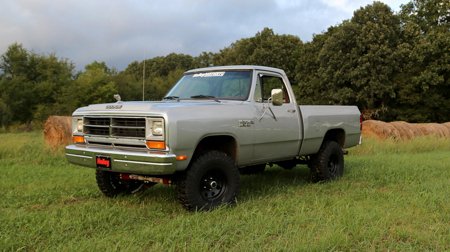 Many of Holley's brands are well-known in the muscle car world. From modern to classic muscle cars, Holley and their brands offer a lot of great products. What you might not know is they also have brands to service the 4wd industry too. 
Hooker BlackHeart released a lot of Gen III HEMI swap parts a while back for the D-series trucks. The problem is most of those parts are specific for 2wd D-series trucks. When you start looking at the W-series 4wd models, things do not fit the same. 
Good news is Hooker BlackHeart has recently released Gen III HEMI engine swap mounts for 1972-1993 W100/W150 4wd trucks. These brackets are designed with two engine mounting positions. The first position keeps the Gen III HEMI in the same location as stock engine for ease of swap and not disturbing the transmission or transfer case positioning. 
The second location is one inch forward. Now this allows for greater firewall clearance, but will have to adjust the transmission and transfer case due to the new location. You might need a longer driveshaft with the forward engine mounting location.   
The BlackHeart engine swap mount kit includes mounting brackets, frame plates, engine isolators, and mounting hardware. Welded steel construction with a black powder-coated finish for durability and corrosion protection is used.
While we are talking about 4wd vehicles, you cannot leave out Jeep Wranglers and Gladiators. If you have been around Jeeps, you are probably familiar with Superchips Flashcal. The old Flashcal was a wired handheld device that you could correct your speedometer for bigger tires and gear changes. You could also use it read check engine lights and few other small things. 
Well, Superchips has released the new Flashcal+ for Jk, JL and JT Jeeps. The Flashcal+ allows you to do everything the old Flashcal could and more. Not to mention the new Flashcal+ is wireless and is app controlled by your iOS or Android phone.   
The new Flashcal+ has been designed for you to plug in to the OBD2 port and leave it. You can easily adjust your speedometer for bigger tires and gear changes. You can also adjust and turn off your TPMS sensors if needed.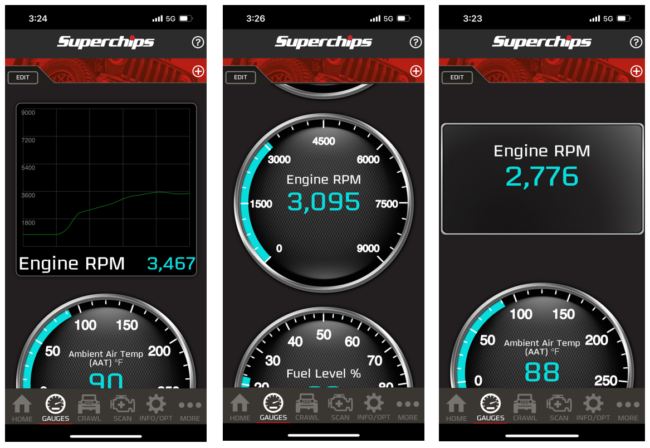 The all new CRAWL screen functions as drivetrain's command center with live and on-the-fly interface and no need to stop and reprogram the BCM, all through the touchscreen of your smartphone. Allowing Rubicon owners use lockers in 2wd and 4-HI while also extend the 25mph limit all the way up to 55mph. 
There is also a live data screen where you can customize different gauges to display live data. This will allow you to quickly see multiple live data gauges in one spot without scrolling through menus.
The Flashcal+ can also deactivate the Auto Start/Stop feature and read check engine lights. Wether you have a stock Jeep or highly modified, the new Superchips Flashcal+ is the perfect accessory for your Jeep. You can also customize a screen full of live data to see exactly what your Jeep is doing on and off road.