As the 1960s drew to a close, several Super Stock eliminator racers petitioned the multiple drag racing sanctioning bodies for a "heads-up" Super Stock class. Up to this point, Super Stock had been based upon elapsed time indexes and a handicap start (staggered start) to allow the slower car an equal chance to get to the finish line before the quicker car.
Above Left: Edelbrock is all about Performance. Sox & Martin teamed up with Edelbrock, as depicted in this May 1970 Hot Rod Magazine advertisement. Above Right: In the same Hot Rod Magazine, Sox & Martin tested the six vehicles of the Plymouth Rapid Transit System. 
At many match races, non-sanctioned events, the Super Stockers were run in a heads-up fashion, underweight, and with performance components not allowed in sanctioned eliminators. The "run whatcha brung and hope you brung enough" heads up, first to the finish line racing was very popular with the race promoters, fans, and racers. So, in 1970, two sanctioning bodies, the National Hot Rod Association (NHRA) and the American Hot Rod Association (AHRA) established a heads-up class for the outlaw Super Stockers.
Above: Part of the Hot Rod advertisement mentioned Edelbrock's mission to work with race enthusiasts and professionals. As the ad states, "When you buy Edelbrock, you don't just buy a manifold…you buy performance."
NHRA called the new class Pro Stock, while AHRA named it Super Stock. The sanctioning body rules were similar: the vehicle must be no older than three model years, a tunnel-ram style intake with two carburetors running on gasoline, and a seven pounds per cubic inch weight limit. For the inaugural event, the performance levels were high nine-second elapsed times at 135+ mph.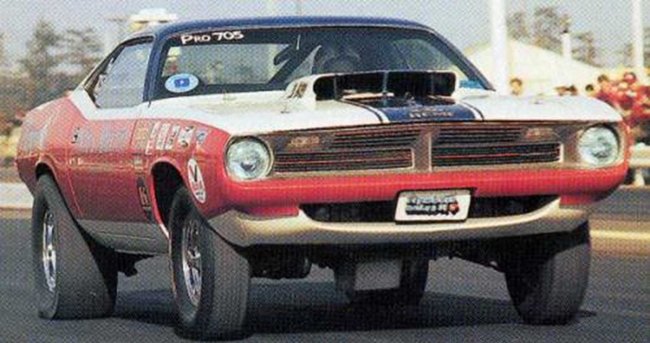 Above: The team of Sox and Martin dominated the 1970 season. After missing wins at the NHRA Winternationals and the Gatornationals, Ronnie Sox or Herb McCandless won all the year's remaining races. In addition, Sox earned the NHRA and AHRA Pro Stock season championships.
Instead of running their '68 Super Stock 'Cuda, Chrysler gave Ronnie Sox, driver of the Sox & Martin team (S&M), a '70 Hemi 'Cuda. The E-body was all-new for 1970, and putting their most successful Plymouth driver in a new 'Cuda made good marketing sense.
Chrysler wanted the latest product in front of its enthusiasts. Team drivers Don Grotheer and Dick Landy also received E-bodies. Grotheer wheeled a '70 Hemi 'Cuda, while Landy handled the driving chores in a '70 Hemi Challenger.
Above: Jake King prepared the Sox & Martin Hemis. A prototype Edelbrock tunnel ram sat under a pair of Holley carburetors. 
At the NHRA Winternationals in February and Gatornationals in March, Bill Jenkins won in his modified '69 Super Stock Camaro. But S&M, with assistance from Edelbrock and the expert tuning of team chief mechanic/engine builder Jake King, ended up dominating the rest of the season. Ronnie Sox in his 'Cuda or Herb McCandless in an S&M '70 Hemi Duster team car won every race for the rest of the year.
Above Left: Edelbrock recently added the new VRS-4150 carburetor to its line of carburetors. Above Right: The Edelbrock Pro-Flo 4+ kit offers an EFI engine management system that significantly simplifies the process of installing a 5.7L, 6.1L, 5.7L Eagle, or 6.4L Hemi EFI engine into a non-EFI muscle car, truck, or hot rod (part no. 36120,  36140, 36150).
Sox ended up winning the NHRA season championship, and to top that, he won the AHRA season championship as well. After the '70 season, Sox & Martin continued their dominance of the new class, but soon politics and a poor economy on the horizon would doom the team and Chrysler's involvement in the class.
Above: Edelbrock offers way more than intake manifolds. Edelbrock's Supercharger System delivers excellent horsepower and torque for the 2009-14 5.7L HEMI Dodge Ram Trucks. 
Edelbrock was part of Sox & Martin's success. A May 1970 Hot Rod Magazine advertisement stated, "We also work with professionals…like the formidable team of Ronnie Sox and Buddy Martin. In their performance clinics and on their cars, S&M depend on the engineered performance of Edelbrock manifolding in both production and prototype designs."
Above Left: Sox trashed the Rapid Transit System Plymouths for Hot Rod Magazine while Martin monitored and recorded the data. Above Right: The six cars were run on the drag strip, road course, and skidpad. 
Also, in the magazine, Ronnie Sox punished six all-new 1970 Rapid Transit System production cars on the quarter-mile, a road course, and a skidpad. The results were interesting. This author's dad owned one of the six, a 340 4-speed 'Cuda. Unfortunately, it had to go as the family grew. Wouldn't it be nice to have it today?
Above Left: The first three vehicles tested were the all-new Plymouth 'Cudas. Sox evaluated a 4-speed 340 and a Torqueflite shifted 383 and 426 Hemi. Above Right: The second three vehicles tested were a 440+6 Road Runner, a 440 GTX, and a 340 Duster. The B-bodies were automatics, and the Duster was a 4-speed. 
Speaking of growing, Edelbrock has expanded from its initial manifold business founded in 1938 to an expansive aftermarket manufacturer and supplier. Edelbrock's catalog now includes COMP Cams, TCI Automotive, Fuel Air Spark Technology (FAST), Racing Head Service (RHS), ZEX, Inglese Induction Systems, Powerhouse Products, COMP VThunder, and COMP GoParts.
Edelbrock has products for late-model Hemi Mopars, components for the muscle car era small- and big-blocks, and it also keeps its toes dipped in the vintage hot rod era and salt flat vehicles. So, if you desire more performance from your ride, keep Edelbrock in mind for that next project upgrade.