Since the SRT Hellcat package was introduced for the 2015 model year, a great many of the Dodge Challengers making waves in the drag racing world are powered by the factory supercharged 6.2-liter Hemi, but not all of them. There is still a large number of pre-Hellcat era Challengers tearing up the drag strip and one of them is the machine shown here, piloted by Jessica Sipple.
If you are active in the modern Mopar racing world, the name Sipple is likely familiar. Jon Sipple, Jessica's husband, is an accomplished racer and one of the top racing transmission builders in the world. Their shop – Sipple Speed and Performance – is well known throughout the community for building wicked Mopar race cars in addition to providing transmissions for scores of other shops.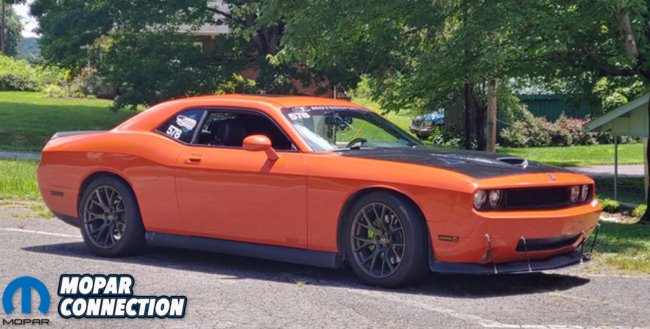 Along the same lines, if you follow the Modern Street Hemi Shootout, you know of Jessica's success in the racing world, so while she has a well known husband, she has made a name for herself based on her ability to win races. Meanwhile, her uniquely decorated Challenger is hard to miss, so we reached out to Jessica Sipple for more information on her car and her racing experience over the past few years.
The reason that we mentioned the past few years is that Jessica Sipple has only been racing for a few years. She started going to the drag strip with Jon when they were dating back in 2019 and back then, she was just supporting him and taking pictures of the action. The more time she spent watching, the more she wanted to do some racing of her own.
Around this time, she told her friend Stacy Brock that she was going to get a car and start racing. She first purchased a Dodge Magnum SRT8 in May of 2019, but later that year, she purchased the car shown here, nicknamed "Tigger" by the previous owner, even though it did not have the stripes when Jessica bought it. Within a month of buying the orange, stroker-powered Dodge Challenger, Jessica was making passes down the quarter mile.
Believe it or not, Jessica Sipple found this Dodge Challenger at a Dodge dealership. It was previously owned and raced by Julian Heitz. Heitz traded the car in to Abernathy Dodge in Lincolnton, North Carolina (where it was originally purchased) on a then-new Challenger 1320. The orange Challenger was powered by a 6.4-based 432 cubic inch stroker with a huge camshaft, along with an aftermarket splitter and diffuser, as Heitz built the car for street and road racing duties.
As you might imagine, the average used car shopper wasn't too keen on a car that had been modified and raced, so it sat on the lot for four months. Jon Sipple learned about this car, so he and Jessica headed to the dealership to make a deal and they headed home with a race car for Jessica.
The car had been nicknamed Tigger by the previous owner due to the way it would "bounce" with the big cam, so the Sipples kept the name – eventually adding the tiger stripes in 2022 to reinforce the name of the car.
After Jon made some tuning changes to make the former road racing machine more adept on the drag strip, Jessica began racing the car heavily in 2020. She competed in 11.50 index classes, learning about the car and the sport every run and with continued tuning and seat time, she ran a naturally aspirated best elapsed time of 10.94 with the cammed 432 stroker at full weight.
With the addition of a 150-shot of nitrous oxide, Jessica Sipple targeted the 10.50 index class, with Tigger running a best overall time of 10.04 at 133.65 miles per hour with a 1.33 60-foot time and a huge wheelie.
In addition to having a fast Dodge Challenger, Jessica Sipple has proven to be an excellent drag racer. During her first full season in 2020, she won the huge East Coast Moparts Bracket Class at the Modern Street Hemi Shootout event in Houston in addition to winning the "closest to the pin" award, running an 11.38 on an 11.38 dial.
She lost in the King of the Hill finals at that event, but she told Jon that next time she was in the King of the Hill bracket, she would win. She did, too, in 2022 after winning the 10.50 class at the MSHS Maryland event.
Jessica Sipple will soon debut the newest iteration of her Dodge Challenger that she is dubbing Tigger 2.0. Her new 376 cubic inch Hemi is based on a BGE block, with a fully balanced rotating assembly featuring a Demon crankshaft, forged H-beam connecting rods, custom CP pistons that yield a 9.5 to 1 compression ratio and ARP fasteners.
The top end features a Cam Motion camshaft, Johnson short travel lifters, AAD lifter trays, Manton pushrods, Stanke tie bars and collars, 3V Performance ported Redeye cylinder heads and – the key component – a 2.4-liter Hellcat supercharger with a ported snout, Nitrous Outlet spray bars and a 108mm throttle body. A set of 1-5/8 headers, an X-pipe and dumps handle the exhaust duties.
The engine is fed by a Fore triple-pump return-style fuel system with 1300 FIC fuel injectors to accommodate Ignite 90 ethanol, with tuning provided by Tim Barth. An IC Chiller intercooler cooling system helps to keep intake air nice and cool under heavy boost.
The power from that supercharged and nitrous-injected Hemi is sent towards the rear wheels by means of a Sipple-built Max Effort NAG1 transmission with a billet input shaft and a pro lock Suncoast billet stator convertor. Out back, a ZF cradle conversion with a full AAD rear suspension drag pack, a 3.90 LSD differential, Per4Mance Development diff braces and factory Demon axles get the power out to the wheels.
Double-adjustable Viking front and rear shocks work with Demon rear springs to balance the weight on launch, while Mickey Thompson 315-50-17 ET Street R tires help Tigger roar away from the starting line.
Finally, to make Jessica Sipple's Dodge Challenger safe for racing duties, it features a Steff Co NHRA-cerified 8.50 cage, a Gearhead Fabrications parachute mount and a Stroud custom parachute.
"My main Goal this race season is to go out, have fun, go really fast, and spend time with my race family and race girls! I would absolutely love to help any new racers that I come upon this season. I love to see other people do well, so I enjoy helping!"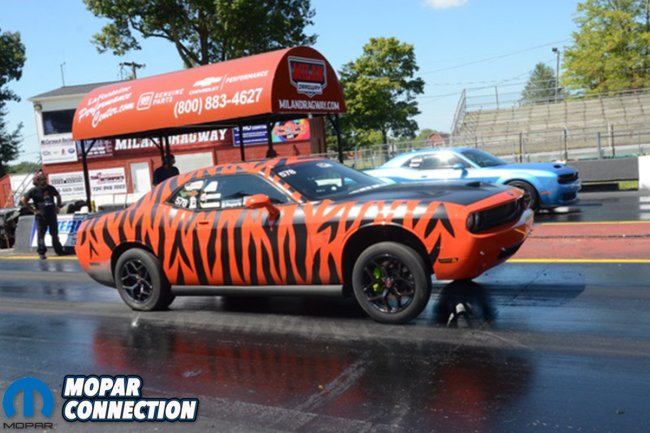 Jessica Sipple has not debuted Tigger 2.0 this year, but when she does, she plans for this iteration of her Dodge Challenger run run in the low-9s-to-high-8s just on the blower. Needless to say, when they add the nitrous, she could very well be running into the mid-8s once they get the new combination all worked out. Her goal with the new build is to run the 9.50 class of the Modern Street Hemi Shootout and once they start working with the nitrous, she could attack the 8.50 class in the future.