It's no secret that these days, many classic Mopars have become financially out of reach for most, especially for young enthusiasts looking to get into the hobby. With record breaking Mopar sales being circulated through the hobby on a daily basis, it can be pretty deterring for folks dreaming of buying one. While many B-Bodies and E-Bodies have become relatively unaffordable, quite a few A-Bodies along with 1972 and up B & E-Bodies still remain somewhat affordable to the average enthusiast. However, even those are climbing in price.
When thinking about classic Mopars, most people tend to forget about the truck side of things, which is surprising considering Mopar built some pretty dang cool trucks in the 1960s and 1970s! With plenty of trucks to be found and a massive aftermarket parts offering for them, you just can't go wrong.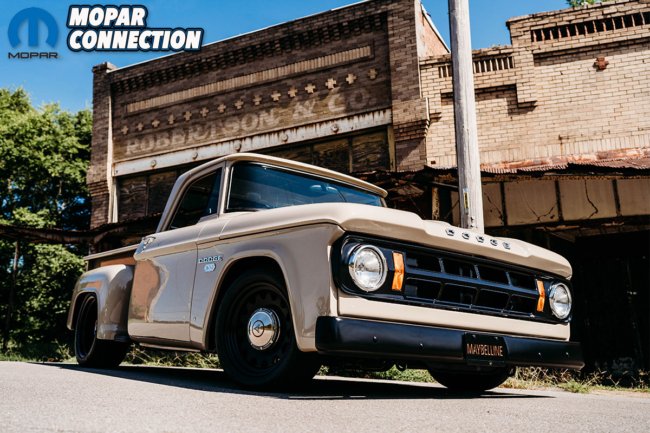 From 1960 straight through until 1993, Dodge's D-Series pickup truck was the true backbone of the American truck market. Without these incredible hard-working trucks, we wouldn't have the Rams we find ourselves driving today. Realistically, Ram Trucks itself wouldn't exist without the Dodge D-Series.
Around fifteen years ago, Jim Brown of Cedar Hill, TN purchased his 1968 Dodge D-100 Utiline pickup from an estate sale. Like most of the trucks of this era, it was equipped from the factory with a lowly Slant 6-cylinder engine backed by a three-on-the-tree transmission.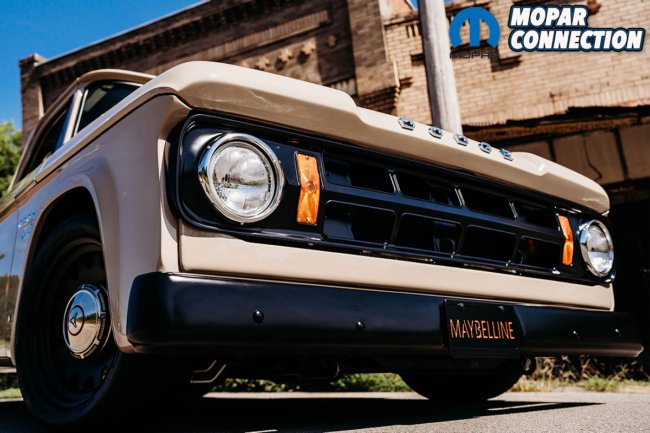 With a vision in mind on what he wanted to do with the D-100; he got the project going. Unfortunately, two horrible experiences with two different shops set the whole project back. Finally he was introduced to Randall Carver and Brian Padgett out of Franklin, KY who helped put the build back in progress. Jim says, "Without them, my vision wouldn't have come to fruition. They not only rescued the build from despair but put me to work and taught me a lot in the process of it all".
Randall and Brian handled all of the body and paint work on the build among other things, transforming the once farm truck into the sleek and styling version you see today. Originally painted black from the factory, the D-100 was painted a coat of modern Ram "Mojave Sand". The grille, bumpers and trim work were painted matte black for a classy look to compliment the Mojave Sand paint job well.
Out back, the bed features a beautifully stained wood bed with chrome trim accents. The D-100 rides on staggered (18×8 up front and 20×11 out back) matte black wheels from Detroit Steel matched with factory chrome redline dog dish hubcaps. The wheels are wrapped in Nitto Motivo tires sized at 245/45ZR18 up front and 315/35ZR2 out back respectively.
Under the hood you'll find a factory 1969 ½ A12 440 engine that has been rebuilt to factory specifications by Tommy's Machine Shop in Springfield, TN. It features a Mopar purple camshaft and a Holley 750cfm double pumper carburetor rather than the Six-Pack set up the A12 engine would have come with originally. It breathes through a pair of Hedman headers that flow into a custom Magnaflow based exhaust built by Randall. On the dyno, it produced 455 horsepower and 550 ft-lbs of torque.
Backing the 440 is a Tremec TKO 5-speed manual transmission with a McLeod clutch and flywheel. Shifting is done with a Hurst Pistol Grip as found in a 1970-1971 B-Body with the addition of carbon-fibre handle grips. Out back sits a Ford 9-inch (we're sorry for saying that word!) rear end fitted with 3:73 gears.
Underneath is a Fatman Fabrications Mustang II front end with coil overs and a custom 4-link and adjustable track bar out back. Braking is done by Wilwood power disc brakes on all four corners.
On the inside, the cab features a jaw-dropping black leather interior custom done by Chris Hillman from Mt. Juliet, TN. The interior houses Autometer gauges and a Mopar Tuff steering wheel. On the center of the seat is a beautifully stitched Fratzog logo.
After multiple years of building the truck, Jim tells us the project was finally completed and he started enjoying and showing the truck this past summer.