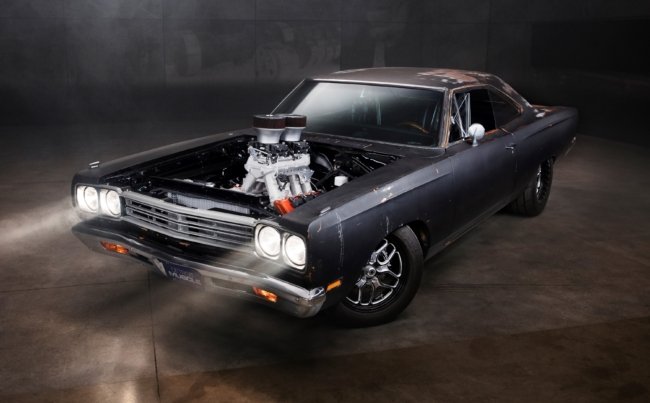 Have you ever seen a car built and thought I want that exact drivetrain, exhaust setup, exhaust, etc? Sometimes the owner or even the builder can not remember exact parts or where they got them and leaves you back at the drawing board. Well, recently Detroit Muscle built a 1969 Road Runner named Road Burner and all the parts can be found in the Summit Racing catalog.
The Road Burner build consists of parts from American Powertrain, Centerforce, Mickey Thompson, Holley, OER, Doug's Headers and more. The great thing is you can easily get all the same great parts from the Road Burner build with a one stop shop at Summit Racing.
We know how much of a pain it is ordering parts from this company and then this company and trying to figure out what works and does not work. Well, the whole Road Burner build can be bought right from the pages of Summit Racing's catalog. You could replicate the whole build or just bits and pieces. Check out all the details of the build below.
Detroit Muscle Road Burner 1969 Plymouth Road Runner Parts Combos Now Available at Summit Racing

When Detroit Muscle dragged the tired carcass of a 1969 Plymouth Road Runner into their shop, eyebrows were raised. But beneath the scruffy paint was a solid California car that was the perfect foundation for building an all-out street performance machine with a dash of menace. With a full-tilt coilover suspension, four-wheel disc brakes, and a Gen II Hemi with dual quads poking up from the hoodless engine bay, we'd say the Beeper wears its Road Burner name well.

You can see the entire Road Burner build on the PowerNation TV website and the PowerNation YouTube channel, then check out some of the parts used to create the radical B-body in the Detroit Muscle Road Burner 1969 Plymouth Road Runner Parts Combos.

Engine Accessory Parts Combo
PowerNation TV's Engine Power crew built the Road Runner's 6.4L Gen III Hemi from a hulk pulled out of a fire-damaged 2016 Ram 2500 pickup. A refresh, a bigger cam, and two 750 CFM Quick Fuel Black Diamond carbs on a Holley Hi-Ram intake manifold helped the engine make 540 peak horsepower and 494 lbs.-ft. of peak torque. You can see that build on PowerNation's YouTube channel.

Detroit Muscle replaced the oil pan with a Milodon center-sump oil pan and added a Holley alternator relocation kit and a Trans-Dapt remote oil filter relocation kit to get the Hemi to fit in the Road Runner's engine bay. The oil pan is designed to fit a Gen III Hemi in a B-body and the wide-sump design provides plenty of ground clearance in lowered cars.

Designed to fit a Gen III Hemi in a 1972-93 Dodge pickup, the Holley alternator kit relocates the alternator lower and inward from the stock location and works a treat to clear the Road Runner's passenger side frame rail. The 150-amp alternator is also smaller than the factory unit and plugs into the Holley Terminator X engine management system that handles the engine's ignition system and tuning duties.

The exhaust system features a pair of Doug's Headers long-tube swap headers, Flowmaster American Thunder dual pipes, and a pair of Summit Racing™ Electric Exhaust Cutouts. The headers are made from 16-gauge steel and feature 1 5/8 inch, CNC mandrel-bent primary tubes, 3/8 inch thick flanges, and a metallic-ceramic coating.

The American Thunder system has three inch diameter aluminized steel tubing, an H-pipe, and two Super 40 Series mufflers that deliver a sound that's anything but subtle, especially when the Summit Racing exhaust cutouts are opened up. The aluminum cutouts have high-torque DC gear reduction motors and are activated by a one-touch switch mounted in the cockpit.

Detroit Muscle used a replacement-style aluminum radiator for a big block B-body and made some plumbing to connect it to the Hemi's coolant inlet and outlet located on the passenger side of the block. Our combo includes a Frostbite three-row aluminum radiator made just for a Gen III Hemi swap in these cars.

The Road Runner was originally equipped with a Torqueflite 727 automatic transmission. Detroit Muscle converted it to a Tremec TKO five-speed transmission using an American Powertrain ProFit Transmission Kit.

Available by special order from Summit Racing under part number PFCH-20003, the kit comes with the transmission, driveshaft and yoke, crossmember, speedometer cable, and pilot bearing. An American Powertrain Hydramax hydraulic clutch release kit, Centerforce DYAD DS clutch assembly, and a QuickTime bellhousing completed the transmission installation.

Fuel System Parts Combo
A dual-quad Gen III Hemi is a thirsty beast. Detroit Muscle feeds theirs with a 19-gallon Holley Sniper EFI conversion fuel tank with a 255 LPH electric fuel pump; Holley HP 40- and 100-micron inline fuel filters, and a Holley HP adjustable fuel pressure regulator.

Made from galvanized steel with a silver powdercoat finish, the Sniper tank is a direct replacement for the factory unit and has an internal fuel tray to prevent fuel starvation. The fuel pump supports up to 550 horsepower and comes with a 73-10 ohm sending unit compatible with the factory fuel level gauge.

Liquified dinosaurs are fed to the engine through a Right Stuff Detailing 3/8 inch steel fuel line and two Summit Racing™ Dual Feed Fuel Lines, one for each Quick Fuel carburetor. The Right Stuff line is CNC-bent to exactly match the Road Runner's factory line; the dual feed lines come assembled with braided line, -8AN inlet and 7/8-20 outlet fittings, and a port for a fuel pressure gauge.

Brake System Parts Combo
The Road Runner came from the factory with four-wheel manual drum brakes. Detroit Muscle replaced them with Wilwood four-wheel disc brakes. The DynaPro 6 front brake kit features forged billet aluminum six-piston calipers and 12 inch diameter drilled and slotted rotors.

The Dynalite rear brake kit has four-piston forged aluminum calipers, 12 inch drilled and slotted rotors, and drum-style parking brake. A pair of Wilwood hub assemblies were used to adapt the front brakes to the spindles on the Mustang II-style coilover suspension.

Other brake system components include a Wilwood master cylinder and a LEED Brakes eight inch diameter power brake booster. The system was plumbed with Right Stuff Detailing stainless steel hard line. The CNC-bent line is a direct replacement for the factory stuff and comes with steel fittings already installed.

Wheel and Tire Parts Combo
The Road Runner has a classic bigs-n-littles setup. Out back are DOT-approved 275/50R-17 M&H Racemaster radial drag tires mounted on 17 x 10 inch Billet Specialties Win Lite beadlock wheels. Up front are 27 x 6-R17 Mickey Thompson Sportsman S/R radials on 17 x 4.50 inch Win Lites.

The Win Lites feature forged billet aluminum centers and spun aluminum rims, and are very light—the 17 x 10s weigh just a tick over 22 pounds each. The matte black anodized finish adds a particularly sinister complement to the Road Runner's appearance.

Interior Parts Combo
The Road Runner's interior is not quite as spartan as the rest of the car. Detroit Muscle had a pair of Summit Racing™ Aluminum Race Seats and a factory rear bench seat upholstered in black material that mimics the original seat pattern. The fully welded front buckets have an 18 degree layback, a tubular rolled edge around the headrest, and an offset aluminum extrusion around the perimeter of the seat and shoulder harness cutouts. The seats are secured to the car with Corbeau seat brackets with sliders.

Detroit Muscle covered the floor pans with new black carpet; our combo includes OER loop-style molded carpet. PUI Interiors replacement door panels replaced the missing factory panels, and the stock steering column and wheel were axed for a Flaming River tilt steering column and wood-rimmed steering wheel.

Made from 304 stainless steel, the column has dash brackets for a direct-fit in the factory mounting locations. Detroit Muscle built a custom steering shaft to connect the column to a power rack and pinion unit; the column does come with a U-joint to connect it to a factory-type power steering box.

Detroit Muscle rehabbed the Road Runner's dashboard and fitted it with a Dakota Digital RDX direct-fit gauge panel that's a dead ringer for the original gauges. It has analog-style electric gauges—speedometer, tach, water temperature, oil pressure, and fuel level—plus turn signal and high beam indicators.

You also get a high-definition TFT message center that can display an odometer, two trip odometers, clock, and much more.

Since the Road Runner was converted to a manual transmission, Detroit Muscle installed a replacement clutch and brake pedal assembly. Our combo includes an American Powertrain pedal assembly with solid bronze bushings and a replacement firewall support bracket.

Completer Parts Combo
Detroit Muscle wired the Road Runner with an American Autowire Classic Update 16-circuit wiring harness. It has OEM-style connectors, terminals, and lamp sockets, a preassembled ATC fuse panel and dash harness, extra-long front and rear harness leads, and a six-way power accessory plug for aftermarket accessories.

The Road Runner's empty headlight sockets were filled with Philips LED Integral Beam headlights that project a bright white beam and have LEDs for high- and low-beams. The new lights are held in place with OER direct replacement headlight rings.

The car's windshield was a scratched and cracked mess. Detroit Muscle replaced it with a new one; our combo includes an Auto Metal Direct tinted windshield plus an Auto Metal rear window just in case yours is also a mess.

Other parts include a PYCL door and ignition lock set; a Taylor battery relocation kit to move the battery to the trunk for better weight transfer; Auto Metal Direct bumper bolts; Goodmark and Auto Metal Direct windshield molding clips and screws; and most important of all, a Goodmark replacement 'beep-beep' horn.