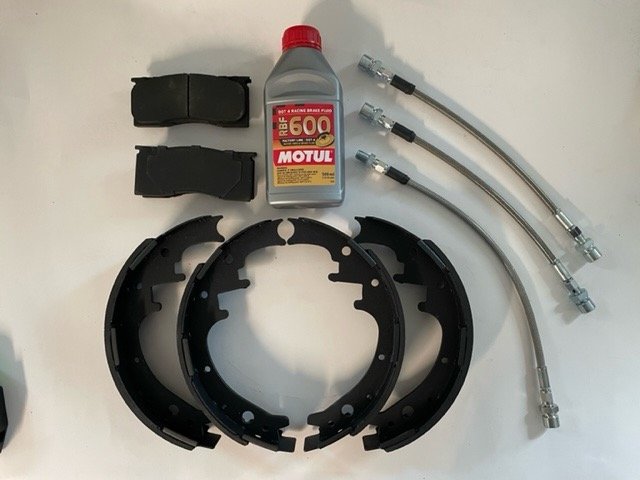 We have talked about this before, but stopping is just as important as going fast. You are always relying on your brakes and yet many times they get over looked. We understand that some big brake kits are not what we would consider budget friendly, but you can gain a lot of performance out of your stock brakes with the right upgrades.
Bergman Auto Craft has put together a brake upgrade kit for our classic Mopars. The core of their brake kits are the USA made Carbon Kevlar brake pads/shoes. Carbon Kevlar offers true street performance including better stopping power, low dust and quiet operation. It features a higher friction coefficient than standard pads/shoes without sacrificing life.
Their kits are available for majority of disc/drum or drum/drum applications including Mopar pin & slider and Kelsey Hayes 4 piston calipers. Their kits also cover 9″, 10″ and 11″ drum brakes.
To round out the brake upgrade kit, Bergman Auto Craft includes a set of stainless braided Teflon lined brakes hoses; two for the front and one for the rear. These hoses offer better performance than the standard rubber hoses.
Bergman Auto Craft makes sure that your brake system performs by including high temp Motul 600 DOT4 brake fluid in the kit. You might think brake fluid is all the same, but it is not. The Motul 600 has a dry boiling point of 594 degrees which is almost a 150 degrees higher than standard DOT3 brake fluid.
That might not seem significant, but the higher friction pads will increase temperatures when stopping. The addition of Motul 600 will ensure that your brakes will work when you need them.
Bergman Auto Craft has truly created a quality and complete brake upgrade kit, and at $425 shipped in the continental US, it does not break the bank either. This kit will have your classic A-, B-, and E-body Mopar stopping on a dime. Give Bergman Auto Craft a call today and get your Mopar stopping better than ever.