Some men are born achievers. Carl Kiekhaefer certainly fell into that category. Bill France once called Kiekhaefer, "The most competitive man I've ever known." Certainly, it could be said of Kiekhaefer that he was driven.
Born on a farm in Wisconsin, he was far more interested in motorized things and how they worked than cows. At age 19, he enrolled at the Milwaukee School of Engineering. After a year, he went to work for Evinrude Motors being fired for being too argumentative. He then went to work for the Stearns Company in 1928 as an engineer. For eleven years, Kiekhaefer worked on various projects, which produced a nice salary and credit for 11 patents, Kiekhaefer felt he was not getting anywhere.
That's when he made a bold decision to go off on his own. He paid $25,000 for the assets of the bankrupt Thor Outboard Company located in Cedarburg, Wisconsin. While most industry experts thought it a very poor business decision, Kiekhaefer set out to prove them wrong. With a rundown factory and several hundred outboard motors rejected by Montgomery Wards.
Making a few vital changes to the outboard motors such as a new crankshaft, water pump and flutter valve (that he designed) he soon had Montgomery Ward and Western Auto buying the redesigned motors from Mercury Outboard. Not only did sales skyrocket, but that achievement was matched by Mercury's success in outboard motor racing where they established a new world speed record of 76 mph.
By 1951, Kiekhaefer turned his attention to another type racing when he entered two 331-cubic-inch Chrysler's in the Pan American Mexican Road Race. Driven by AAA Champion Tony Bettenhausen and ex-World War II fighter pilot John Fitch, the team got off to a rough start with Fitch losing an engine early and Bettenhausen recovering from early brake problems to finish 16th.
In 1952 with Roger McFee in the Chrysler and Robert Korf in a Lincoln the team managed to finish fourth and fifth behind three factory Lincolns. This triggered a disagreement between Kiekhaefer and Lincoln because his cars were not allowed to make the same modifications at the factory teams had. It would not be the last disagreement Kiekhaefer had with race officials. After a miserable showing in the 1952 Pan American race, Kiekhaefer decided to head in a new direction.
Passing up the 1954 Pan American race, Kiekhaefer entered one of his Chrysler's in the July AAA Stock Car race at the Milwaukee Mile with Tony Bettenhausen behind the wheel. Bettenhausen won the race and that encouraged Kiekhaefer to take a hard look at American stock car racing.
While Kiekhaefer was starting to think seriously about stock car racing, Chrysler Corporation was about to introduce its C-300, which was the first of a new breed of American high-performance automobiles. The Hudson Hornet and the Oldmobile 88 had dominated NASCAR, but Kiekhaefer and the Chrysler C-300 were about to write its own page of racing history.
While the 1955 NASCAR season had actually started in November in North Carolina it was the Daytona Beach Race that really got things going. Kiekhaefer's group showed up at Daytona with a single C-300 but finding a driver turned out to an interesting experience. After being turned down by big name drivers Buck Baker and Herb Thomas, a driver who had been out of racing awhile made his pitch.
Tim Flock, who had been out of racing for over a year, because of a near fatal accident thought he could win the race if he had that Chrysler and he was right. Flock called the Orlando, Florida Mercury outboard dealer and said, "I'm Tim Flock and if you didn't have a driver for the Daytona Beach race, I'd like to drive for you and I think I can win it. Kiekhaefer accepted Flock's offer. It should be noted that Flock had also had some disputes with NASCAR and had been disqualified at the 1954 Speed Weeks.
The Kiekhaefer and Flock team won the 160-mile beach race when the apparent winner was disqualified. Later Tim's brother Fonty joined the team. As the season rolled on the wins kept coming with Tim Flock winning 18 poles and 18 NASCAR Grand National events as Kiekhaefer entered 40 NASCAR events and came away with 22 wins. Fonty Flock claiming two wins as well as wins by Norm Nelson and Speedy Thomas.
At the October 9 event at the huge Memphis-Arkansas one and one-half mile track, Kiekhaefer had four entries. The three Flock Brothers (Bob, Fonty and Tim) along with Norm Nelson. It was awesome season for Chrysler and it really hadn't cost them anything, Kiekhaefer had footed the bill. But then Kiekhaefer's primary function was to sell outboard motors. On the other hand, Kiekhaefer brought big bucks, huge car haulers (which were something new to the circuit) and a touch of class.
Also, in 1955, Kiekhaefer continued to field cars in the AAA circuit with veteran Frank Mundy behind the wheel of a C-300. Other drivers periodically showed up a second Kiekhaefer Chrysler C-300 and when the 12 recorded AAA races had been completed, Mundy had scored eight wins and been crowned the series champion with Norm Nelson and Tony Bettenhausen also picking up wins in the potent Kiekhaefer Chryslers.
During the first six years of the sport of stock car racing with the main attraction being the Grand National division, from the competitors' standpoint, it was about enjoyment. It was a game the contestants could really enjoy. Everyone was pretty much on equal terms and many teams were competitive. Kiekhaefer changed all that.
If 1955 seemed like an impressive year for Kiekhaefer's racing endeavors, he was just warming up. In 1956, his racing teams truly dominated the sport. You might say in 1956 that Kiekhaefer got serious. First, he went out hired tough old Buck Baker to drive one of his cars. He even employed a weatherman to travel with the team, taking reading on weather conditions. He demanded that his drivers fill out forms recording all sorts of information about their car and how it handled.
He also rented an entire 40 or 50 room motel putting the drivers and crews on one side and the wives and girlfriends on the other side. No extra-curricular activity was permitted between the men and women the night before a race.
When the 1956 NASCAR season unfolded Tim Flock won the first race and Fonty Flock the second, then after a couple more races, Tim Flock won Daytona again. In the first 25 Grand National events Kiekhaefer entered in 1956 his cars won 21 of them. The Chrysler and Dodge automobiles also finished second eleven times.
The records kept falling. Between March 25 and May 30 Kiekhaefer cars won sixteen straight NASCAR Grand National events. This gave NASCAR boss Bill France a serious problem as other teams started complaining that Kiekhaefer's cars had to be illegal. Inspections were common but as Bill France said later, "Not once did we find any of Carl's illegal and boy did we try."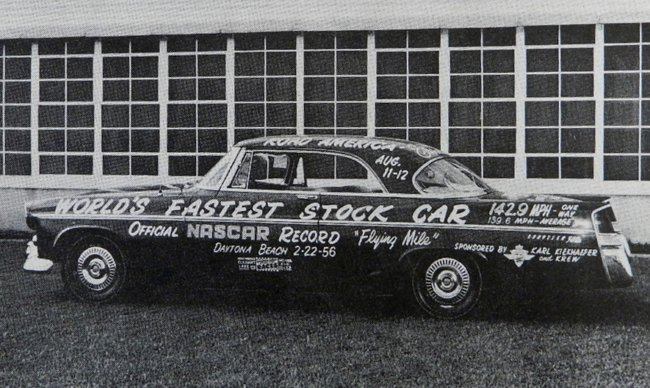 Fans started jeering the Kiekhaefer cars, Tim Flock quit because of an ulcer and after going 21 of 25, the team won only four of the next 20 races. But the booing troubled Kiekhaefer as he thought it was hurting his outboard business and he almost pulled out mid-season but felt he owed it to his drivers to finish the season.
When the season ended Buck Baker with 14 wins in a Kiekhaefer Chrysler was crowned the serious champion by a substantial margin. Kiekhaefer cars had won 30 of the 50 starts in the 1956 season and 52 out of 90 races over the two years in NASCAR.
But trouble was brewing. There was a full-scale invasion by factory teams and Kiekhaefer was continually arguing with NASCAR over what he felt was favoritism to the factory teams.
As the 1957 season approached, no one except Cark Kiekhaefer knew if the big white cars would be competing in NASCAR. After further arguing that NASCAR should be split into two divisions, the factory teams and the independents, as well as other concerns he had, Kiekhaefer issued the following statement.
"That particular phase of our activity that caused us to race, which incidentally resulted in three successive championships, has passed. With due credit to President Coolidge, we did not choose too run this year. As always, our number one activity is building Mercury outboard motors." Ironically, a tragic accident later in the season would force the Automobile Manufacturers Association to issue a decree in June prohibiting participation in competitive events by its members.
Perhaps it was Kiekhaefer himself who best summed up his experiences of the two years his cars competed in the NASCAR Grand National races. In an interview with Speed Age magazine reflected, "I have had a lot of pleasure in racing and met many fine people, but I've been lucky in not have a driver scratched or hurting anybody else."
Bill France, recalling those days, once remembered Carl Kiekhaefer as, "A man of his word, a great American and a great sportsman, with one goal in mind…to win."