From an early age, Troy Hawkes had his dream car decided: a 1969 Dodge Daytona Charger. "I had always wanted one of those cool wing cars but back then, being a 15 or 16-year-old, I couldn't afford it, even in 1981 prices," recalls Troy. His Mopar ownership started off with a 318 powered '73 Charger, nothing to frown about by any means.
"One day I noticed a '68 Charger sitting in a guy's driveway and it didn't seem to ever move. I inquired about it and it turned out that it had a blown 318 so it was parked. I managed to buy it for $500 and then bought a used 318 for $100 from a local junkyard to get it running and mobile again. I drove the car throughout high school and eventually sold my '73 Charger to pay for a paint job for the '68," says Troy. He continues to say, "Back then, I wasn't concerned about original colors and such; in fact I didn't even know paint codes or any information like that."
After driving the '68 daily for some time and taking it to shows, young Troy discovered the higher performance Mopar muscle cars such as Charger R/Ts, GTXs and the likewise. Being a Charger guy, he decided he wanted to get an original Charger R/T and set out on his quest for one. Around 1984, he purchased his first R/T, a '70 R/T factory V-Code 440 Six Pack car. "I didn't realize the rarity at the time, I just thought it was a cool car. It was a complete car that I bought out of the Knoxville, TN area for $1,800" says Troy. Eventually, he sold the '68 to pay for a paint job for the '70 (sound familiar?). The '70 turned into his next daily driver and around this time, he started to understand and get into OEM restorations and such. The '70 was even featured in MuscleCar Review back in 1986!
In 1987, Troy joined the U.S Air Force Active Duty and drove the '70 to Texas for his first assignment. After driving the car for a couple of years, he purchased a '69 Road Runner for $1,000 and retired the '70 R/T from daily driver duties, instead using the Road Runner for that. Troy tells us, "I did quite a bit of work to the Road Runner over the time I had it. Not too long after I completed the restoration on it, I found a white loaded dealer demonstrator '71 Charger R/T survivor for sale for $4,400 around 1989. Since I couldn't have them all, I sold the Road Runner and the '71 Charger R/T became my next daily driver. Keep in mind, during all of this, I still had the quest for a '69 Daytona in the back of my mind".
Around this time, the first of the series known as "Troy-Trades" also happened. He traded the '70 Six Pack Charger R/T straight across for an original J-Code '68 Hemi Charger R/T. The '70 Six Pack R/T would eventually end up in Finland. Before leaving active duty in 1991, Troy had the '68 Hemi R/T, the survivor '71 R/T and a '79 Lil' Red Express truck that he had purchased to take over daily driver duties from the '71 R/T."
Years went by and Troy eventually graduated college and bought his first new vehicle, a '98 Ram SS/T that would take over daily driver responsibilities for the next 18 years. Soon after, Troy picked up his first Aero car, a T7 Bronze '69 Charger 500 with a 440 Magnum 4-speed that he affectionately named "Dana." "I had that car many years, it was a great car. I got rid of the Lil' Red and eventually had just the three Chargers and my Ram. Then I got married and had to sell the '71 R/T to pay off student loans for my degree which was a bummer. That car ended up getting passed through various hands and recently popped up again," shares Troy.
One day, Troy got a call about a '70 'Cuda that a friend of his had found and thought he'd pass on knowing that Troy would probably be interested in it. Upon checking it out, Troy discovered that while it was missing the engine, transmission and fender tag, it was a factory V-Code 440 Six Barrel Shaker hood car! Jumping on the deal, Troy brought home the V-Code 'Cudas for a whopping $1,350! Five weeks later, he managed to sell the car for $10,000 and then took the money and bought another white '70 Charger R/T V-Code Six-Pack project, bringing his Charger count back to three.
Troy says, "In 2007, during my 2nd deployment to Iraq, I discovered a very cool '69 Daytona on eBay. I tried to work out a possible Troy-Trade since I didn't have anywhere near the sort of money required to buy it outright. However, the car sold. A few months later, a similar Daytona showed up on eBay and it turned out that it was the same car but with different wheels. Again, I tried to do a Troy-Trade. The new owner was game but he wanted all three of my cars for the Daytona and I just couldn't justify that."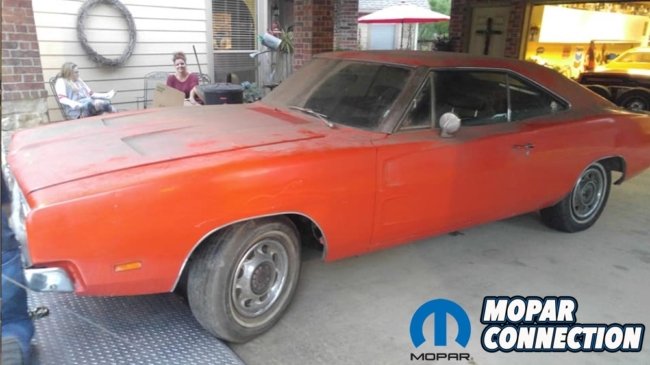 He continues to say, "All the while, I was pressing forward with the restoration of the '68 Hemi R/T. It was a beautiful LL1 Dark Turquoise Metallic with white interior; an absolutely stunning combo. As I finished one thing after another on the '68, I would send emails with pictures describing what I had accomplished on the '68 to that point. Eventually, the day came that the owner of the Daytona decided that he would take the 500 and the '68 Hemi R/T in a straight trade for the Daytona. I finally owned a real Daytona!" [Look for a feature coming soon on the Daytona -Ed.]
Continuing with the Troy-Trade trend, the '70 Six-Pack R/T project was traded straight up for Troy's second '69 Charger 500, a Y2 Yellow 440 automatic 4.10 Dana car. After a couple of years of ownership, he decided he didn't want to tackle restoring the 500 so he Troy-Traded it and some cash for a beautifully done '69 Daytona Charger replica, which by the way was an original triple black '69 Charger R/T SE. After the novelty of that car wore off, Troy sold it for a "very large profit" and bought a Top Banana '70 Challenger T/A.
"It turns out that I'm not much of an E-body guy, so I sold it to get a '70 Superbird project, Now I had both types of winged Mopars! Unfortunately, my Superbird ownership experience was quickly ruined by a body-shop-story-from-Hell and I just didn't want to deal with it any more. Based on my past Troy-Trades and sales, I had hardly any cash tied up in the Superbird so when I sold the Superbird, I got back all of my money I bought it back for plus the money spent on the body work to that point. With that money, I then bought my 3rd '69 Charger 500 (another T7 Bronze car) and a black '70 Road Runner project," shares Troy.
About a year later, Troy heard about a factory '69 Hemi Charger 500 that could be bought. '69 Charger 500 enthusiast Danny Liebrandt connected Troy with the owner Tom who had owned the 500 for over 30 years. It was discovered the Charger was actually #5 built of the original six pilot '69 Charger 500s built for Press Release.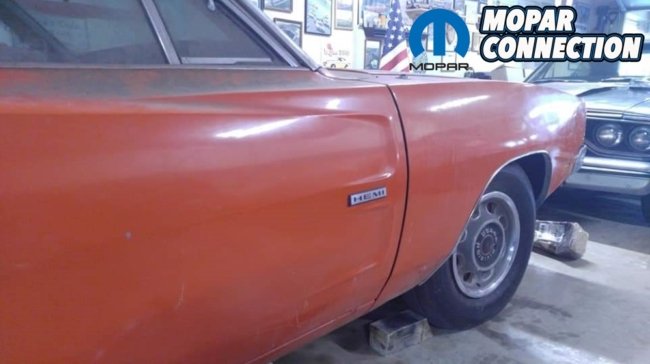 It rolled out of the factory painted R4 Red with a black vinyl and cloth insert bucket seat interior. Options included a heavy duty 727 Torqueflite Automatic transmission, A01 Light Package, power front disc brakes, center console, tinted glass, power windows and an AM/FM radio. Over the years, it had luckily retained it's original 426 Hemi. This particular car is actually believed to be the one used in the famous Bud Lindemann Road Test video!
Knowing he had to have it, Troy sold the T7 Bronze '69 Charger 500 and brought home the Hemi 500. Soon after, the '70 Road Runner was sold so the funds could go towards the restoration of the 500. Since getting it home, Troy has been working on acquiring as many NOS parts as possible. With the help of Galen Govier, he was also able to reunite the original broadcast sheet with the car. It turns out it was found in 500 #1. The car will soon be heading to a shop for body and paint before it comes home for Troy to assemble.