Whether your an avid off-roader or not, you may have seen a few Easter Jeep Safari posts while scrolling through social media or of course, our massive recap we published earlier this week. This year was the best yet, with awesome concepts vehicles from Jeep focusing on the long awaited Jeep Gladiator JT. Along with the killer Jeep concepts was a special announcement by Silver Sport Transmissions.
The Easter Jeep Safari started over 50 years ago to help attract more visitors to Moab, Utah. In 1967, the Moab Chamber of Commerce organized the event. It was scheduled the Saturday before Easter which gave way to the event title, Easter Jeep Safari. 
The chamber leaders acted as tour guides and led participants through trails. In the early years the Easter Jeep Safari was only one day long and was free to participants. Everyone was treated to ice cream packages that were delivered by airplane during the groups lunch break. 
In 1982 as the tradition kept on, new rules and regulations were being enforced. There would be permits and other documentation required for the Easter Jeep Safari moving forward. A group called the Red Rock 4 Wheelers stepped up to help keep the tradition alive. 
Since then, the Red Rock 4 Wheelers have expanded the event to a 9 day excursion through Moab. With more than 125 trail options and over 2000 vehicles in attendance, the Easter Jeep Safari is the largest off-roading event of the year. 
Each year Jeep shows up to the Easter Jeep Safari with concept vehicles. They normally display some accessories or platforms that are coming out in the near future. With the release of the Jeep Gladiator, Jeep solely focused on the truck platform the year. 
They showed up with six unique pickup concepts. They ranged from a Hellcat powered 1968 M-715 to a fully off-road capable Gladiator that you can camp out of. Each Jeep truck concept was incredible to see and each had a style of their own.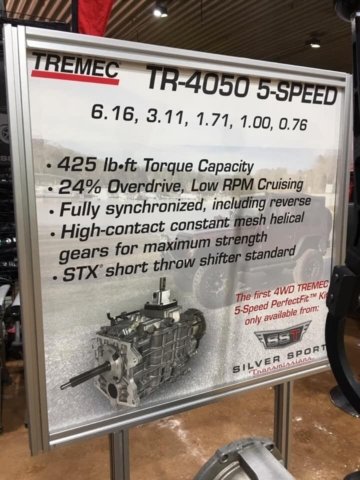 Silver Sport Transmissions was also in attendance at the 2019 Easter Jeep Safari. You might be asking why a leader in overdrive transmissions for classic muscle cars would be attending an off-road Jeep event. Well, Silver Sport Transmissions released their TREMEC exclusive TR-4050 5 speed 4wd transmission.
For years Silver Sport Transmissions did not have a solution for the off-road community looking for an aftermarket 5 speed transmission that could adapt to a transfer case. The current TREMEC offering of 5/6 speed transmissions had no provisions for adapting a transfer case. Even if you could the gearing in the current transmissions would not pair well with tall tires and off-road obstacles. 
Advance Adapters and Quickdraw Brand have stepped in and are working with Silver Sport Transmissions with engineering bellhousings and transfer case adapters for many popular platforms. For the Mopar off-roaders Silver Sport Transmissions can currently adapt the TR-4050 to Cummins B series, AMC V8 and I6. 
As we speak Silver Sport Transmissions, Advance Adapters and Quickdraw Brand are working franticly on making the TR-4050 work with Mopar's Pentastar 3.6 V6. This would allow most Jeep JK owners a bulletproof alternative to the NSG370. As soon as a solution for the Pentastar V6 is complete, they are moving straight to Mopar's 3.8 V6 for the rest of the Jeep JK owners. Then they are moving on to Mopar small block/Gen III Hemi.
This may sound great but you might be wondering where did this TR-4050 transmission come from and why have you not heard about it anywhere else? Well, this is a Silver Sport Transmission exclusive TREMEC transmission that you cannot get anywhere else. 
The reason that this is a Silver Sport Transmissions exclusive is because CEO Jack Silver discovered the transmission during a visit to TREMEC headquarters. The transmission was not released in the states and Jack pushed TREMEC for years to make the transmission available here. He knew it would be a perfect fit for the off-road community and allow Silver Sport Transmission to offer another solution for enthusiasts.
The TREMEC TR-4050 is not new to TREMEC's long line of transmissions. The TR-40550 has been in use in the South America market for many years in the RAM 4000. You can read all about the truck here but the big takeaway is the TR-4050 has been OE validated. 
For OE validation on the TR-4050 it had to be certified for a minimum 150,000 mile duty cycle under the intended use specifications. In this case, it means a GCVW of around 20,000 pounds at 425 torque input. VP of Sales, Jeff Kauffman told us, "In our world of 3-8000lb off road vehicles, that torque rating would be much greater. It's strong, proven and reliable."

Along with the TR-4050 being strong, it is also very pleasant to shift unlike other 4wd manual transmissions like the popular NV4500. This is achieved by the TR-4050's double cone synchronizer design with reduces shift effort. All the gears, including reverse, are fully synchronized. 
Long throws and sloppy gear boxes are a thing of the past. Like all other TREMEC transmissions, the TR-4050 offers short and precise shifting. With the standard STX shifter installed with every TR-4050, you will think you are in a sports car.
The TR-4050 is specifically designed for off-road vehicles. Although the final drive is 0.76 to allow for low RPM cruising, the rest of the gear ratio are designed for big tires and low gear ratios. You cannot expect to swap an overdrive transmission out of a car into a big truck or Jeep with oversized tires to work properly. The TR-4050 utilizes the following gear ratios, 6.16, 3.11, 1.71, 1.00, 0.76 for the best all around performance on and off the road.
Silver Sport Transmissions is very excited to finally have a solution for Jeep/4wd enthusiasts. They have been working closely with TREMEC for over 2 years to release it in the US. Now that it is here, Silver Sport Transmissions will continue to expand the compatibility of the TR-4050 platforms. If you have further questions, want more info or looking to order yourself a TR-4050, give Silver Sport Transmissions a call today.