There is a lot of debate in the Jeep community about what mods should be done first, especially lights vs lockers. The issue arrises that everyone uses their Jeep differently. Some people are completely content mall crawling whereas others are hitting the trail every weekend. It all circles back to where you place value on the parts for your Jeep.
Above Left: Our SS3 pod lights, amber covers and wiring harnesses. Above Right: SAE compliant and assembled right here in the USA. 
When we bought Project Trail 'n Thrash (TnT) we really had no idea what we wanted to do, and still don't. We knew that Trail 'n Thrash would serve as our primary mode of transportation and that was about it. Once it was in our possession we started dreaming of the possibilities. We pictured ourselves running the Rubicon Trail and a plethora of other trails out west. Then reality kicked in and realized that 90% of the time TnT is going to be on pavement.
Understand, we still have a goal that someday TnT will be capable of completing the Rubicon Trail along with many others. We know that will not happen overnight and need to strategically choose our upgrades wisely and ones that will benefit us sooner than later.
Above Left: Premium packaging for a premium product. Above Center: The lights and accessories were packaged very well and safe. Above Right: No need to worry about these lights being damage during shipment.
Since the majority of where we drive does not require locked differentials or massive 40" tires, we chose to upgrade some of our lighting to help us navigate the dirt roads and trails at night. Yes, we chose lights over lockers and are very happy with the results. The stock Jeep JKU headlights are horrible. We upgraded to some LED bulbs that helped some but was still far from the standard of the majority of today's vehicles. We reached out to Diode Dynamics to help cure our poor lighting at night.
Diode Dynamics have been around creating lighting solutions since 2006. Many of their products are made right here in the USA in St. Louis, Missouri. This allows them to keep a close eye on the quality of their products. They focus heavy on the end user and how to suit them the best with quality products.
Above: A close up of the different SS3 optics we choose for Project TnT. Left to right; SS3 Combo, Flood and Driving.
Choosing where to add lights to our Jeep was the tough part. There are a multitude of options from windshield light bars, bumper mounted, pillar pod lights, fog lights, rock lights and more. We wanted to keep the lights to a minimum while maximizing the lighting performance. We decided that TnT would benefit the most from new fog lamps, bumper mounted lights and some pillar/ditch lights.
Choosing the location was only part of the equation. The type of light you choose to place on the bumper vs the pillar can make or break performance. There is a big difference between a spot light and a flood light. Placing either of them in the wrong area, you will receive poor results. Diode Dynamics offers multiple beam options for their LED Pods.
Above: All stainless steel hardware and brackets to mount the SS3 lights were included.
Diode Dynamics has four different size LED Pods including the Stage Series C1, Stage Series 2", Stage Series 3" and Stage Series 5". We chose to go with all Stage Series 3" (SS3) LED Pods, but still needed to decide on what type of beam pattern would be best for each area. The Stage Series 3" can be optioned with Flood, SAE Driving, Combo, SAE Fog and Spot patterns. You read that correctly, Diode Dynamics offers SAE certified Fog and Driving LED Pods that are legal to use on road.
Let's break down some of the differences of the light patterns for the SS3 LED Pods. A flood light will essentially floods an area with light. Some companies will use a diffused spot light and call it their "flood" pattern. Diode Dynamics has designed a specific flood lens by the use of pillow optics on the outer lens surface. This provides a true optically designed spread, for even illumination throughout.
Above Left: You can see the optic difference between the top and bottom of the Combo SS3. Above Right: We snapped on our amber cover to help the light cut through snow and dust. 
Flood lights shine a very short distance but projects a very wide pattern. The 60×60 degree spread makes Diode Dynamics SS3 Flood LED Pods an ideal choice for backup lights, attached up high on a roof rack as campsite lighting or anywhere that you need a ton of light close to the Jeep. They are also a good option if you do a lot of late night rock crawling where you are moving slowly and need to light up the ground around you.
On the other end of the spectrum is the Spot pattern. This pattern is the farthest shining light with a 6 degree spread of light. Although the spread is small, the 3" SS3 LED Pods Spot will shoot the beam a half-mile away. Spot pattern is best used for high speed driving and illuminating a long distance away.
Above Left: We had previously had some pillar lights installed but was not satisfied with them. Above Center: We used a little bit of anti-seize on the bolts to help prevent rusting or seizing down the road.
Similar to the Flood is the SAE Fog pattern. You will find that a lot of other brands will not offer both flood and fog patterns. Diode Dynamics tweaked the flood pattern for a farther 80 degree beam spread vs the 60 degree flood.
They have also went through extensive testing to achieve an SAE rating for their SS3 Fog LED Pods. This means that you can legally replace your factory fog lamps with the SS3 Fog LED Pods from Diode Dynamics without worry of braking laws when the lights are in use on or off-road.
Above Left: Our Raxiom Switch Pod made wiring a breeze. Switches already on the interior and just had to connect the positive and negative to the control box under the hood. Above Right: We strung the wiring across the firewall and up underneath the cowl for the pillar lights. 
Another option is their SAE Driving pattern. It was designed for supplementing your high beams and illuminating the road ahead. The driving beam shines in a 18×8 degree pattern which is just wide enough to illuminate the road ahead at high speeds. It is also a great choice for general illumination also.
Lastly, we come to the Combo pattern which combines the Driving and Flood optics into one lens. Looking at the lens of the Combo SS3 you can see both flood and driving optics on the lens. This combination results into a 65×25 degree beam pattern. The combo pattern creates a very versatile beam that does well in a lot of situations.
Above Left: We angled the SS3 Combo light at about a 45 degrees to light up the ditch. Above Right: We opted to leave the amber covers on to help protect the lens and the yellowish light cuts through dust, snow and rain better than white light. 
We knew we wanted to replace our fog lights with something better. The Fog SS3 was an easy choice to replace our current fog lights. We are using a Deegan 38 front bumper from Extreme Terrain and the square SS3 fit right into the bumper. If you have a factory bumper or round hole, Diode Dynamics offers brackets to install the SS3 into a round hole.
The other two spots that we wanted to add more auxiliary lighting was on the bull bar and at the pillars. The tough part was deciding on the best beam patterns for those spots. Diode Dynamics eases that difficulty be allowing you to purchase new optic lenses for your SS3 pod lights. This can save you money by utilizing the same pod but being able to change the beam pattern.
Above Left: Mounting the SS3 SAE Driving lights to the bumper was very easy. We did however run a 4′ level across the front of both lights to make sure they were straight. Above Right: Once the lights were adjusted, we snapped on the amber covers to complete the installation. 
For the pillar lights we chose the Combo SS3. We drive a lot of country dirt roads and when it gets dark, it gets dark. Country driving at night is always scary with wildlife on the move. The combo beam would help illuminate the ditch and beyond to help spot wildlife before they are crossing the road.
Moving to the front bumper we chose to go with the SAE Driving SS3. Along with dirt roads, we are around a lot of state routes at night and driving fast. The SAE Driving pattern would supplement our high beams during late night driving. We insisted on the SAE Driving over the spot since it was wider spread. We knew if we wanted to change to a Spot pattern we could just buy new lenses.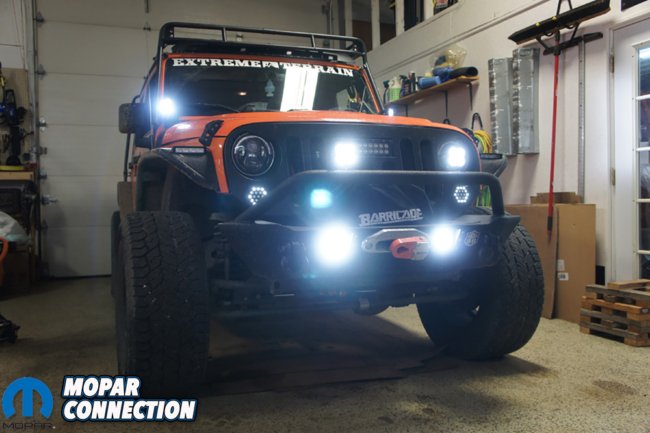 Above: With the pillar, bumper and fog lights replaced, we snapped a quick photo of the the lights on without the amber covers. 
The installation of the SS3s were very straight forward and took us a weekend. The most difficult part was fishing wires around stuff to keep them tucked away. Be sure to leave the wire going into the SS3 pods a little loose. You don't want it too tight and the connector to come apart or the wire rubbing a bare spot because of vibration.
Once we got all the lights in place and wired, we adjusted them with a large piece of cardboard and angel finder. That might sound silly but we wanted to make sure all the lights were angled in the same direction. Unlike headlights, adjusting additional pod lights might take a few tries after you drive a couple of times.
Above Left: You can see all the lights turned on Project Train 'n Thrash. Above Right: We decided to leave the amber covers off of the fog lights since we use them more often than the pillar or bumper SS3 pods.  
We were overly impressed with the SS3 lights. With all the lights installed and properly adjusted, we could see a whole new world at night. Turning the SS3s off at night almost seemed as if we did not have any lights on at all. We are still in disbelief that there is so much light projecting from just 3 pair of 3" LED pod lights.
When ordering the SS3 lights, we also ordered amber covers for all the lights. We have opted to use the amber covers on the pillar and bumper lights at this time. The amber light it projects is wonderful and really cuts through the rain and snow at night. We have not had a chance to test the amber lens in dust but assume it will work just as well.
Above: We are super impressed with the performance of Diode Dynamics SS3 LED Pod lights. 
All in all this has been an incredible upgrade for Project Trail n' Thrash. We knew that new lights would help some at night, we had no idea that Diode Dynamics SS3 LED Pods would give us 100% or more improvement at night. If you are looking for a weekend project that can really transform your night vision, head over to Extreme Terrain and grab yourself some Diode Dynamic SS3s or any of the Stage Series lights for your ride. You can get lockers later and the SS3 Pods can always be moved to your next vehicle unlike those lockers.