Whether your car has been sitting for 20 years or you're converting to EFI, Holley with Sniper has the fuel tank for you. Don't let that old varnish gas plug up your carbs or be surprised when fuel pours out the rust holes when filling up. Stock fuel tanks are now available for your 1970-76 Plymouth Duster/Valiant/Scamp/Darts.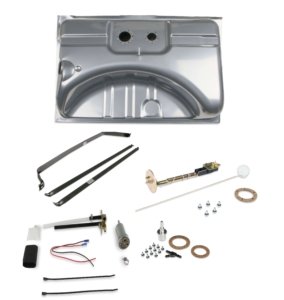 Now let say you're dropping in that Gen3 Hemi or big cubic inch fuel injected motor, and need a good fuel system for the EFI, well Holley has that too. The EFI tanks are available for '70-'76 A-Bodies and have multiple fuel pump options, from 255LPH and 550 horsepower to 400LHP, 750 horsepower capability.
The fuel pump sets in the tank on its own hanger with baffling around it so fuel does not run away under hard acceleration and cornering. With the pump in the tank, it also stays cool and quiet.
These tanks still operate the factory gauges with the ohm range senders. The senders have ¼" NPT supply and return line ports. The tank is notched so the sending unit will not stick out too far, so no modifications to the floor are needed.
All tanks are coated galvanized steel then powder coated silver for total corrosion protection. The tanks come with new straps so it fits and looks like an OE tank when installed. With raising gas prices, don't waist a drop and order your new fuel tank at Holley today.