Back in the 1960's and 70's, the United States Auto Club (USAC) Stock Car Division provided some of the most competitive racing in America. Throughout the 60's, drivers such as Norm Nelson, Paul Goldsmith, Parnelli Jones, Don White, A. J. Foyt and Roger McCluskey ruled the series. But as they looked over their shoulders a new star was coming, and he would rule the USAC Stock Car Division for most of the early and mid-70's.
Larry "Butch" Hartman was born into racing. Born in 1940 in Zanesville, Ohio, his dad Dick started racing Sprint Cars in 1949 and by 1951 was racing two cars and had posted an amazing 126 wins. By the age of seven, Butch was helping his dad warm up cars in his dad's auto repair shop. By age nine Butch and his brother were given a car to drive around the family property as long as they kept it running.
So, it wasn't a surprise that after putting in a four-year stint in the Marine Corps, Butch started his own racing career. In 1964, racing for his dad he raced stock cars up to five times in a weekend. "When we had time, we'd stop and sleep for a couple hours in a ditch alongside the road." Hartman was quoted as saying.
In 1966, Butch and his dad went ARCA racing. On May 1 at Toledo, Butch drove his 1965 Dodge #75 to a fourth-place finish. Two weeks later at the Music City Motorplex he posted a fifth. On June 5 at the famed Salem Highbanks in Indiana set fast time, started on the pole and won the 100-lap event posting his first major win. It was time to go USAC Stock Car racing.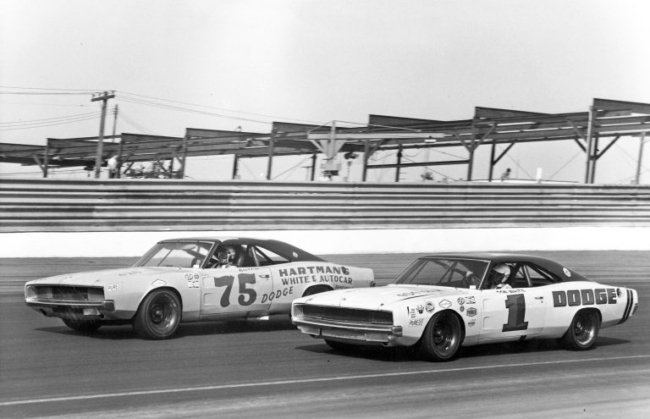 The team made their USAC debut at the Indiana State Fairgrounds in the Sesquicentennial Classic and posted a great third place finish behind the Mopar's of Norm Nelson and Don White. They ran a number of USAC Stock Car events in 1966 but third was their best finish. They ventured down to Charlotte and ran the National 500 Cup race and finished 14th.
In 1967, the Hartmans ran several USAC Stock Car races with their best finish being a second at DuQuoin. In 1968, they not only raced a number of USAC events but also competed in five NASCAR Cup races. They came very close to winning in USAC, posting four runner-up finishes (two at the Milwaukee Mile, one at the Indiana State Fairgrounds and one at the Terre Haute Action track. They were competitive in NASCAR as well posting 10th place finishes at Atlanta and Rockingham and an 11th at Charlotte.
In 1969, the Hartmans decided to concentrate on the USAC Stock Car Series and even though they entered only 19 of the 22 races they finished sixth in series points, posting two wins and seven Top 5's. The wins came on June 1st at the Wisconsin International Raceway where Butch started 21st in the field and took his first win in the 200-lap race. 50 cars had entered the event. On August 17, he backed that win up with a win on the mile dirt oval at the Illinois State Fairgrounds in Springfield taking the win after starting 14th in the 100-miler.
In 1970, Hartman continued to run the USAC Stock Car Series competing in 16 of the 20 races held. He finished eighth in series points and picked up a win on June 13th at the New York State Fairgrounds in a scheduled 100-miler that was called on lap 69 because of a seven-car accident. The official order of the race reverted back to the end of lap 68 and Hartman (who had led 37 laps) was the leader at the time and declared the race winner.
1971 was the year that Hartman finally broke through and won the first of five straight USAC Stock Car Championships. He kicked off the season on May 1st by winning the 100-lap feature on the dirt at the legendary Knoxville Raceway in Iowa despite 44-degree temperatures. Later in the season he would win the Pennsylvania 500 at the 2.5-mile asphalt tri-oval at the Pocono Raceway in Pennsylvania. Along the way in addition to his two wins he posted eight top fives and 12 Top 10s, racing in 17 of USAC's scheduled 19 events to nail down the championship.
1972 saw Hartman repeat as the USAC Stock Car Champion despite not winning a race. He competed in 17 of USAC's 19 races posting nine Top 5s and 14 Top 10s and led just 154 laps put it was enough to claim the championships once again. He finished second at Pocono in July to Roger McCluskey in Norm Nelson's Plymouth, then second in August at Springfield and second at DuQuoin in September.
If 1972 was the year Hartman won the championship with consistency, 1973 was the year he dominated. He ran all 16 USAC Stock Car races winning eight times with 13 Top 5s and led 801 laps. In June he won at the Indiana State Fairgrounds leading 70 of the 100 laps and leading a parade of five Dodges across the finish line. He beat Don White to win at the LaCrosse Fairgrounds the following race. Then he made it three in a row by winning at Milwaukee over Roger McCluskey.
In August back at Milwaukee, he won over three other Mopar cars. Three days later he dominated at Milwaukee then in September he won three more races in a row. First at DuQuoin where he led 98 of 100 laps and again led a parade of five Mopar's the checkers, then back at Milwaukee where he led 241 of 250 laps in the annual Governor's Cup race and then finally Hawkeye Downs in Cedar Rapid, Iowa where he led the entire 100 laps in another Mopar parade.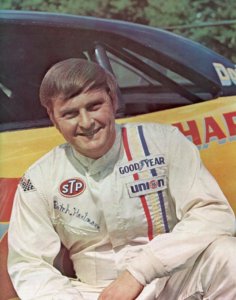 The Hartman parade continued in 1974 with Butch making all 19 USAC races and once again winning eight while posting 13 top fives and leading 823 laps. The season kicked off in April at Pocono and he dominated the action leading 124 of the 200 laps before clutch failure relegated him to a third-place finish in a four car Mopar parade.
Action returned on May 24 in Knoxville, Iowa where Butch won the 100-miler. In June back at the Indianapolis mile Butch led a parade of seven Mopars to the finish line leading 78 laps. A week later he won at Hartford, Michigan leading 68 laps. On July 14th he once again conquered the Milwaukee Mile leading 132 of the 200 laps in the Miller 200.
On September 1st, Butch started a three-race win streak. First, he won again at the dirt mile at Duquoin, then a week later he dominated again in Milwaukee leading 178 of the 250 laps of the Governor's Cup 250. Finally, six days later it was the Iowa State Fairgrounds in Des Moines where he led 44 of the 150 laps of the Bulldog 150 leading a parade of six Mopars to the finish line.
1975 saw fellow Mopar driver Ramo Stott edge out Butch for the USAC Championship 2,360 to 2,295 despite Butch winning five times and Ramo just once. In addition to his five wins, 11 Top 5s in the 15 USAC events and led 664 laps.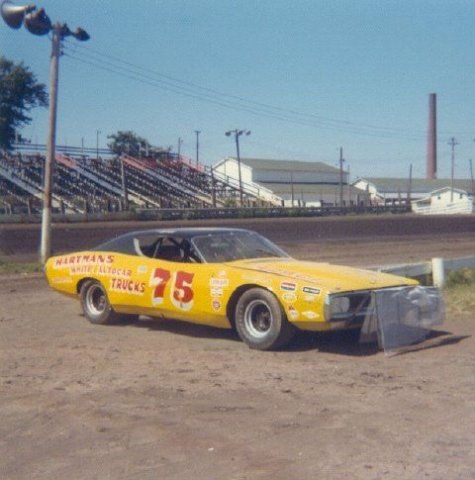 Butch kicked off his wins by taking a 100-lap feature on the half-mile dirt track at Champaign, Illinois. The following week he led 149 of 150 laps at the half-mile asphalt track of I-70 Speedway east of Kansas City to pick up the win. He returned to I-70 on August 3rd and posted another win leading 92 of 150 laps.
In August, Butch posted back-to-back wins at the Illinois mile track just a week apart. First, he won the 100-miler at Springfield leading 28 of 100 laps and then at DuQuoin leading 67 of 100 laps as Mopars finished in the first seven spots.
In 1976, Butch regained the top spot in USAC racing in all 12 events he posted three wins and nine Top 5s, while leading 526 laps. He started the season with a win at Tri-City Speedway in Ohio in an ARCA race. Unfortunately, with Mopar's downsizing it racing he was forced to race another brand.
His three wins in USAC came first at the Mid-America Road Course in Wentzville, Missouri where he led 54 of the 91 laps. The following week he led 111 of 200 laps in Milwaukee to score another win in the Miller 200 and then he returned to Milwaukee to win the State Fair 150. Hartman recaptured the championship by posting 2,060 points to Ramo Stott's 1825.
1976 was the last year Hartman competed regularly in USAC. He ran off and on from 1977 through 1981 racing in just 14 events. According to Butch's son Bart, "In 1977 Dad stopped running USAC and decided to run the local dirt tracks. It was a business decision. Dad's motto was if it took more than a tank of gas to get there, it wasn't worth going."
It was during these years that Butch struck up a friendly, yet intense rivalry with the late Jim Dunn. It may have been the most fun Butch every had in his racing career. Unfortunately, Butch passed away to early on December 21st, 1994. But he left behind a legacy that included five USAC National Stock Car Championships.