Top fuel racer Clay Millican partnered with multi-time Drag Week winner Jeff Lutz to put together a project that is near and dear to Millican's heart. Back in 2015, Millican's teenage son, Dalton was killed in a motorcycle crash. In an interview with OnAllCylinders in 2018, Millican shared, "If I was feeling down or thinking about him I'd go open the garage door, hop in the truck, turn his big booming stereo up, and take a ride," Millican said. "I'd cruise around for a while and just think about him."
This experience helped create "Project Dentley" wherein Millican – in partnership with Lutz – plans on transforming Dalton's '04 Dodge Ram crew cab, that was supposed to have gotten "just a quick few upgrades," into a potential Drag Week-winning contender. Powering Dentley is a 6.1 Gen3 Hemi stroked out to a 426ci with the help from Arrington Automotive. The motor has ported heads and all Comp Cams goodies inside.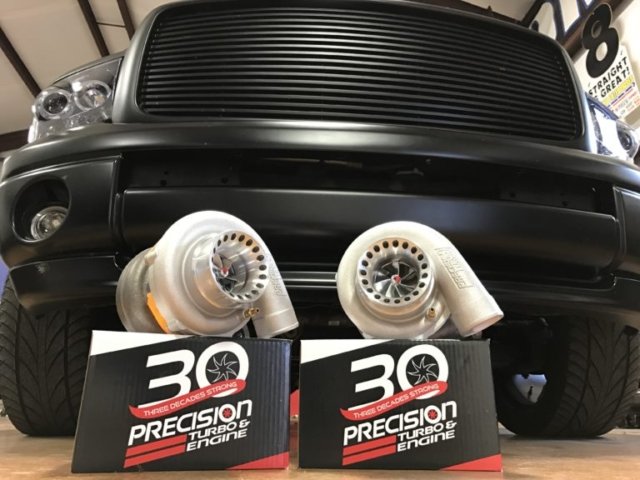 A FAST standalone system controls the fuel system and the Aeromotive fuel cell (with an A1000-fuel pump) feeds the motor. Steve at Wire Care made the wire harness a quick and easy install with quick disconnects to make working on the truck easier. MSD ignition system makes sure all 16 spark plugs fire off. Stainless Works exhaust kit was installed with clean bends and side exits out the bed.
Two 62mm Precision turbochargers push air in this beast. A custom ice box hangs out front to keep the charged air cool. A BeCool Radiator is keeping this Hemi from overheating while driving down the street or when making a pass. A turbo 400 TCI transmission is behind the Hemi, with a Gear Vendor behind that. The Gear Vendor allows Clay to drive down the highway without wear and tear on the engine by keeping the RPM's down.
Dynamic Driveline has built a drive shaft strong enough to supply power to the rear differential. The truck has a Moser 9inch axle that looks like something from Clay's top fuel car. For rear suspension, the frame was cut off just behind the cab and a Rick Jones 4-link was installed, that was basically "plug and play," according to Lutz. Front suspension is all factory other than the drop spindles. Sticking the power to the ground are massive Mickey Tompsons 34×18.5×16 DOT tires.
For safety, the roll cage is 8.50 certified for now but, looking at it you think it is a jungle gym with bars filling the crew cab. You can tell Lutz took safety very seriously when building the cage. Even the drive shaft loop is built into the cage. Millican will drive and race this truck in comfort with leather seats, air conditioning, and power steering. Dentley weighs up to the 5,000-pound range. This would definitely be an awesome steel body truck to see win a drag week event, or maybe at a cruise night.