When it comes to selling top quality Mopars, Mecum Auctions is one of the best in the business. We always get excited for their auctions as they usually feature some of the best that the Mopar world has to offer. Their Indianapolis auction is just around the corner, taking place from May 14th-22nd, 2021 and is absolutely packed full of some killer Mopars.
LOT R259: 1971 Plymouth Hemi 'Cuda Convertible
As the main attraction of the auction, it really doesn't get any better than this! When you think of the term "muscle car"; the 1971 Hemi 'Cuda naturally comes to mind right away. Originally exported to France, this original Hemi 'Cuda convertible is 1 of 12 produced for 1971 and the only one painted Winchester Gray. In 1993, it returned to the United States where it's lived its life since.
Being an export car, it came equipped with a special 240-kilometer speedometer that shows 98,553 kilometers (around 60,000 miles). This incredible 'Cuda still retains its numbers matching drivetrain along with three broadcast sheets. Factory options included power windows, power top and a six-way driver's seat but interestingly enough, it was ordered as a radio delete!
LOT R260: 1971 Plymouth 'Cuda Convertible
Another jaw dropping 'Cuda convertible rolling across the auction block is this factory EV2 Tor-Red V-Code 440 Six Barrel 4-speed example. Sold new to Ken Brown Racing in Detroit, Michigan, it was then shipped to Washington State where it was converted to race form and campaigned by factory-backed racer Dave Wren. Remaining with the same owner since 1988, this well documented 'Cuda is accented by a white convertible top, white billboards and black interior.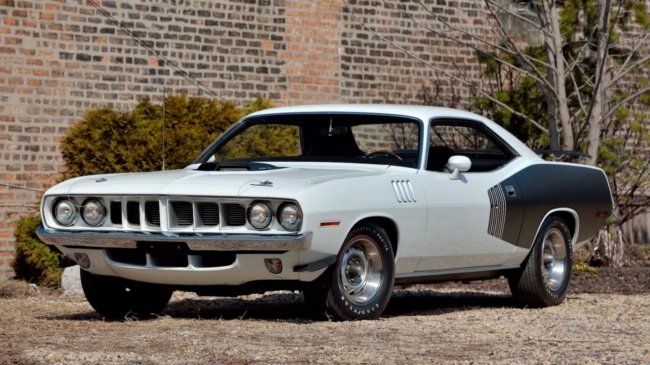 LOT R261: 1971 Plymouth Hemi 'Cuda
When you think of a 1971 E-Body, you instantly think of the Hi-Impact colors such as Curious Yellow, In-Violet and Sassy Grass Green. However, it's amazing how simple but striking GW3 Sno White is on them, especially accented with black billboards.
This well documented 'Cuda is 1 of only 59 Hemi 'Cuda hardtops produced with a 4-speed and comes with two broadcast sheets. With only 25,200 original miles on the clock, this 'Cuda retains its original drivetrain and sheet metal and came optioned with the A34 Super Track Pak, black leather interior and rear Gull Wing.
LOT R522.1: 1971 Plymouth Hemi 'Cuda
It's incredible how well FE5 Rallye Red works on a 1971 'Cuda. Something about the red paint combined with black billboards and a black vinyl top is just pure perfection. This 'Cuda is just one of 108 Hemi 'Cuda hardtops produced in 1971 and came equipped from the factory with a 4-speed transmission, 3:54 geared Dana 60 rear end, rear Go Wing, rear window louvers, black leather interior, Music Master AM/FM radio, cassette player with a microphone, tinted glass, elastomeric bumpers and dual color-matched mirrors.
LOT F41: 1970 Plymouth 'Cuda
If you're looking for a super nice 'Cuda to drive but don't need a 100% restored to OE car that you'd be afraid to drive, this is the one for you! Retaining its original broadcast sheet and fender tag, this FE5 Rallye Red 340 powered 'Cuda has been tastefully upgraded with Edelbrock Performer aluminum heads and intake manifold. Featuring factory air conditioning, power steering and disc brakes, you'd have one perfect cruiser!
LOT F90: 1970 Plymouth Hemi 'Cuda
In our opinion, B7 Jamaica Blue is one of the most underrated Mopar colors and this factory Hemi 'Cuda shows just how stunning it is! To make things even better, this 'Cuda is totally unrestored; retaining its original paint, interior, engine, broadcast sheet and warranty booklet. It was garage kept for 43 years, has only 16,870 original miles and it truly shows!
LOT R205: 1970 Plymouth 'Cuda Convertible
E-Bodies painted in FE5 Rallye Red seem to be a popular item at this auction but this droptop 'Cuda is accented beautifully by a white leather interior and convertible top. With only 38,500 miles on the clock, this 'Cuda is 1 of only 63 produced in 1970 with a 340 engine and Pistol Grip 4-speed transmission.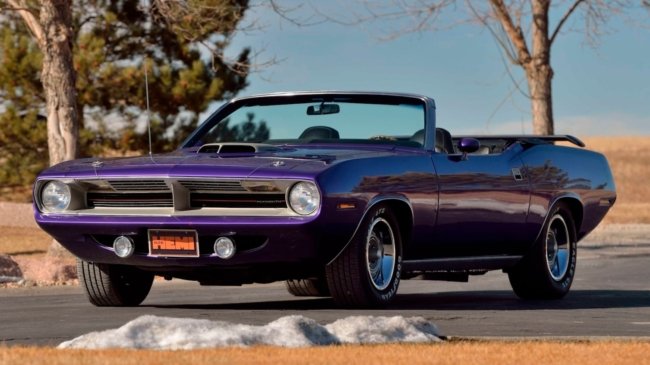 LOT R428: 1970 Plymouth 'Cuda Convertible
Originally equipped with a 383 Magnum, this factory FC7 In-Violet Shaker 'Cuda convertible was rotisserie restored with a Ray Barton Hemi and Pistol Grip 4-speed transmission. Equipped with a front elastomeric bumper, rear Go Wing and black leather interior; this 'Cuda is the perfect combination of show and go! It's the ideal car for someone looking for a Hemi 'Cuda convertible without paying the high dollars for a real one.
LOT F94: 1970 Plymouth AAR 'Cuda
When it comes to AAR 'Cudas, one of our favorite colors on them is FJ5 Limelight. Retaining its numbers matching 340 Six Barrel engine, this factory automatic car has been swapped to a 4-speed at some point in its life. This AAR is truly striking with its rear window louvers and comes with its original broadcast sheet, window sticker, fender tag and warranty booklet.
LOT R513: 1970 Plymouth AAR 'Cuda
Sold new at H.L Moore Chrysler Plymouth in Albany, California, this unrestored FY1 Lemon Twist AAR comes with a documented history and quite the pedigree. With only 34,500 original miles, it was previously a part of the Ray Evernham collection and comes with the original fender tag, broadcast sheet, window sticker and previous titles. Under the hood is an unstamped dealer-installed warranty replacement block backed by the original Pistol Grip 4-speed transmission.
LOT R12: 1970 Dodge Challenger T/A
This beautiful EK2 Go Mango T/A is one of the original 2,399 produced. Featuring only 29,000 miles on the odometer, it was treated to a fresh restoration to OEM specifications recently. Under the hood is the T/A's standard 340 Six Pack engine backed by a 727 Torqueflite automatic transmission.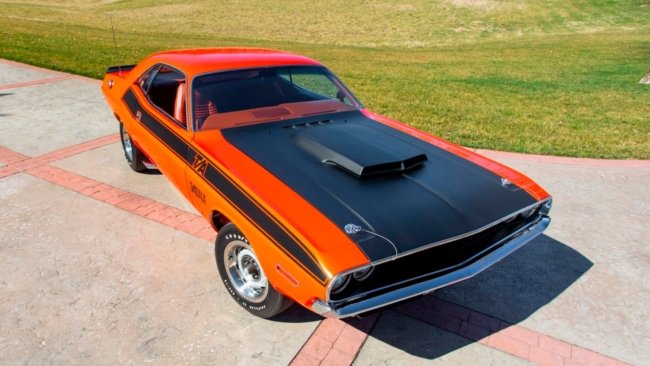 LOT F78: 1970 Dodge Challenger T/A
Coming from the Moonshiner Collection is this stunning EK2 Go Mango T/A with matching burnt orange interior. An A833 Pistol Grip 4-speed manual transmission backs the 340 Six Pack under the hood. Based on the separate transmission picture on the listing, we'd assume it originally an automatic car converted to a 4-speed.
LOT R514: 1970 Dodge Challenger T/A
With only 36,042 original miles, this unrestored 4-speed Challenger T/A is 1 of only 43 produced for the Canadian market. Sold new at Theberge Auto Ltee in St-Jean, Quebec, this EK2 Go Mango T/A is absolutely jaw dropping. It still retains its original paint, interior, glass and drivetrain along with two original broadcast sheets and dealership paperwork. It's truly a time capsule!
LOT F97: 1970 Dodge Challenger R/T
One of the most striking combinations out there is FC7 Plum Crazy Purple with white and this Challenger suits it perfectly! Under the hood is the original numbers matching U-Code 440 Magnum engine and 727 Torqueflite auto. A Six Pack set-up has been added but the original four barrel equipment comes included. This Challenger is highly optioned including leather bucket seats, power windows and air conditioning.
LOT S61: 1970 Dodge Challenger R/T
Painted FE5 Rallye Red with a black interior and black vinyl top, this factory V-Code Challenger R/T was optioned with the 4:10 geared Dana 60 Super Track Pak. It comes with great documentation such as the original broadcast sheets and original quality control punch cards. Although it has a black bumblebee stripe on it now, it was originally optioned with a white bumblebee stripe which we think would have looked very sharp!
LOT R511: 1970 Dodge Hemi Challenger R/T
Sold new at Doak Dodge in Wood River, Illinois, this incredible 426 Hemi 4-speed Challenger R/T is 1 of only 136 produced in 1970. Painted in EV2 Hemi Orange with a white interior, vinyl top and longitudinal stripes, it still features its original numbers matching engine, window sticker, broadcast sheet and warranty pamphlet. On top of it, it only has 30,275 original miles on the clock!
LOT R262: 1971 Dodge Hemi Challenger R/T
It's no secret that Hemi powered Mopars were driven hard and put away wet. Because of that, not many survived without some decent wear and tear. Many would go through numerous engines and various different paint jobs. This unrestored 1971 Hemi Challenger R/T is an exception though! Rolling out of the factory painted B5 Bright Blue Metallic with a black interior and black stripes, this beautifully optioned Challenger retains its original drivetrain and paint among everything else. You don't see that very often!