GRIDLIFE Midwest Festival returned in full force to Gingerman Raceway in South Haven, Michigan for four days of music, camping, racing, and unique car culture. GRIDLIFE is not your average car show or race. GRIDLIFE is open to all makes and models with focus on drifting and time attack racing. They do put on a show and shine for anyone wanting to show off their ride. We try to attend every year, GRIDLIFE never disappoints.
The music scene at GRIDLIFE is crazy. You could go and just enjoy the music all weekend and never even watch any racing, but we were there for the racing. They had some big names this year like Kaskada, Joyride, Kavinsky, and Grabbitz. After the concerts stop at night, there is a silent disco where a DJ can play music through head phones for anyone who wants to keep jamming without keeping up the whole campground all night.
When it comes to drifting, GRIDLIFE only brings out the most talented drifters with their teams. We got to watch drifters such as Chris Forsberg, Ryan Tuerck, Vaughn Gittin Jr, and Team Falken shredding tires around the 2.1 miles road course. Drifting might not be your thing, but you have to acknowledge the precision and pure power these cars have burning tires around a whole road course.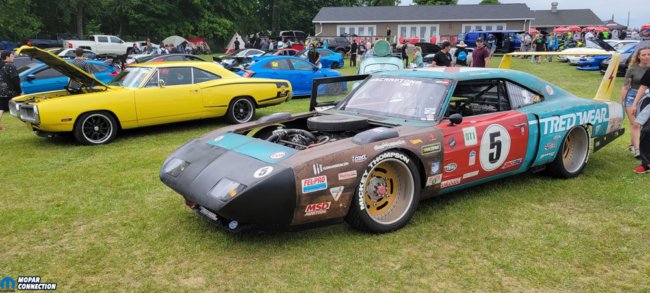 We enjoyed bumper to bumper racing all weekend long. GRIDLIFE keeps the track hot from sun up to sun down. With classes like track battles, time attack, and even regular track day timed run sessions, there is plenty of racing to enjoy all four days.
Only at GRIDLIFE will you find Hondas racing beside Hellcats. You never know what make and model or custom built car might be competing. We got to see Wesley Motorsport running their Hellcat Redeye with limited mods like headers and a roll cage. The car still had stock suspension with Hoosier 335/25/20 tires on all four corners. The Redeye ran an impressive 1.4 minute lap time.
We spoke to the Wesley Motorsports team a few times over the weekend and they commented that this event was great preparation for the Pikes Peak event. In past years there have been multiple Dodge Challengers and Vipers running the course. We did not get to see too many Mopars running around the track, but we did get to see some cool Mopars in the car show.
You never know what will pop up in the show and shine area. We drove our 1970 Super Bee to the event but did not race it this year. We happen to park next to the famous Tread Wear built Scraptona. If you do not know, Scraptona is a cloned Dodge Daytona, built on a circle track chassis with a Richard Petty R5-P7 Winston Cup race engine. We also caught an insane Nissan 350z with a Viper motor shoved under the hood.
The Camping area could have been a car show by itself. With people camping out of SRT8 Challengers, SRT-4 Neon, Jeeps, and Ram trucks, there were plenty of cool rides to see just walking around camp.
This is a family friendly event with kid specific areas. There was an arcade area for adults with simulators and classic arcade games. They also have showers, food trucks, and a general store on site. GRIDLIFE has everything you and your family might need. We can not wait till next year's GRIDLIFE, maybe we will see you there.