Now with our 1969 Dodge Charger R/T project "Brazen" running strong and the to-do list on the dry erase board hanging in our garage dwindling down to a handful of lines, we can finally catch up on several of the changes and upgrades we've made over the past two years (it's crazy to think that it's been over two since driving the car). The biggest of these upgrades was stepping up to a pair of Doug's ceramic coated full-length headers.
Admittedly, we cut quite a few corners when it come to our Charger – primarily when it came to spending the right amount of money in the places it mattered. Our previous headers were of the slip-together variety and fought us at nearly every step. We also burned through a couple of sets of gaskets as the modular design was particularly leaky. Shortchanging ourselves even further, our previous headers were painted, which chipped and flaked off almost instantly.
The sectioned flange was a bit of a bear to align and was to blame for a few of those failed gaskets to boot. And since we're running a pair of Edelbrock RPM Performers, the angled spark plugs were almost intentionally colliding with each exhaust tube (resulting in quite a few beatings with the ball peen hammer). Again, these headers served their purpose and definitely fit our budget early on, but it was time to step up our game now that we could.
We gravitated towards Doug's metallic ceramic-coated Mopar B-Body big block 62-72 headers for a multitude of reasons. First, Doug's headers are all made with CNC mandrel bent 16-gauge tubes that have been precision-formed into long transition collectors. Each header is then finished with a Metallic Ceramic Thermal Barrier Coating that is polished to a brilliant mirror-like appearance protecting it from corrosion and heat resistance up to 1400-degrees.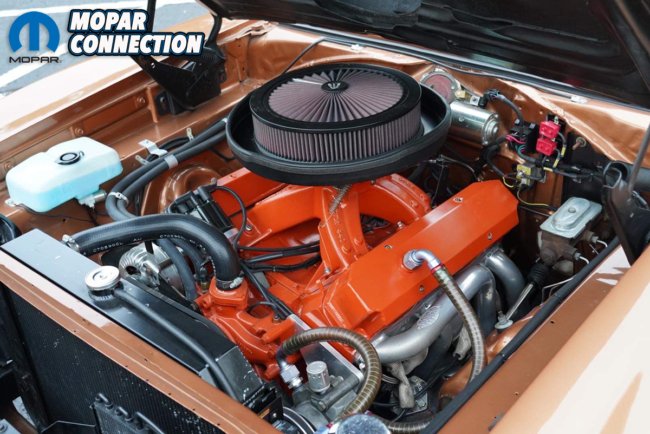 Unlike previous headers we've used, Doug's smooth-flowing, long tube design has given our Charger its most accurate fitment – even with those cockeyed Edelbrock spark plugs, even with the Doug's single-piece 3/8-inch thick flange. The overall quality of the ceramic coating has been impressive, particularly considering the times we've handled them with less care that we ought to. Our only regret is not being able to order ours with the necessary O2 bung our EFI system requires, so we moved it further back past the 3 1/2-inch collector.
If you can afford a quality pair of headers, learn from our prior mistake and definitely consider Doug's Headers for your next pair. At $746.99 they're definitely outside of the budget of the entry-level builder or tuner, but aren't the most expensive option out there either. Doug's has been around a very long time in the Mopar community and the jigs they've developed over the years and commitment to quality they maintain shows in the final product.