Everybody remembers their first car, whether they are a car enthusiast or not. While most people have stories of less than stellar first cars or just downright embarrassing ones such as a rusty old Hyundai Pony or a beat-up Ford Ranger with mismatched body panels, Dale Cole of Alberta, Canada had one awesome first car. It was 1979 and Dale was just 16 years old when he purchased his 1971 Dodge Challenger R/T for $1,500.
With a screaming small block 340 under the hood, Dale drove the Challenger throughout high school. He tells us, "I was young and I would beat the tar out of it ripping down gravel roads in rural Alberta. I drove it year-round, including the harsh and cold winters. It really did take a pounding. If I had known back then that I would restore it one day, I would have probably taken a lot better care of it."
Dale would drive the Challenger only for a relatively short amount of time before parking it on the family farm for the next couple of years. Around 1984, his friend's older brother expressed interest in restoring the Challenger so Dale decided to give him the car free of charge rather than see it sit and rot. By this point, the car was pretty beat up and was showing its age for sure.
Over the next 23 years, Dale would continue on with his life and own other various Mopars. In 2007, during a casual conversation with a friend, Dale's old '71 Challenger came up in discussion. The friend informed Dale that the same gentleman who he gave it to back in 1984 still owned the car and never did anything with it. As it turns out, the gentleman parked the car right after he got it from Dale, tossed a cover on it and there it sat untouched.
After reaching out to the current owner and expressing interest in owning the car again, the gentleman decided that he wasn't going to do anything with it so he gave it back to Dale for the same price he got it for; free of charge. Upon seeing the Challenger again, Dale was instantly brought back to 1984. He says, "Besides being in rougher shape from sitting for 23 more years after I last saw it, it was basically the same as when I gave it to him".
Upon getting it home, the restoration begun almost immediately. From the factory, Dale's Challenger is very unique. It rolled out of the Dodge Main plant in Hamtramck, Michigan in March 1971 painted GY8 Gold Metallic with a black vinyl top, black R/T stripes and a jaw dropping green plaid cloth and vinyl bucket seat interior. Under the hood was the optional 340 small block backed by a 727 Torqueflite automatic transmission and SureGrip 8 ¾ rear end with 3.23 gears.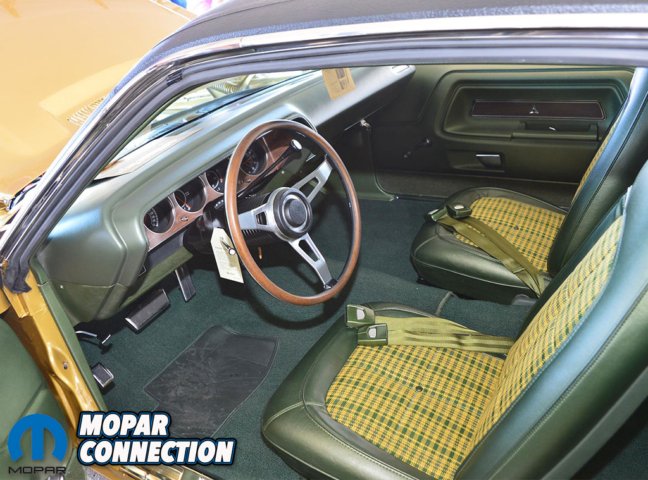 From the factory, it was optioned with the A01 Light Package, B51 Power Brakes, G15 Tinted Windshield, H31 Rear Window Defogger, J25 Three Speed Wipers, J45 Hood Pins, J54 Sport Hood (standard Rallye hood), N42 Dual Exhaust Tips, N85 Tachometer, W21 15×7 Rallye wheels and a 26 inch radiator.
Since the Challenger was optioned so uniquely, Dale decided he wanted to put it back to OE condition as it rolled out of the factory. The car was sent to Mopar restoration guru Kori Alexander at Show & Go Restoration in Red Deer, Alberta for disassembly. Once everything was disassembled, it was sent to Rob Polson at Prairiefire Paint in Consort, Alberta for the body and paint work.
Rob got to work tackling the metal work utilizing replacement metal from AMD (Auto Metal Direct), Goodmark and some NOS pieces. Once the metal and body work was completed, it was sprayed its original GY8 Gold Metallic. The body and paint work completed by Prairiefire is truly incredible!
While the body was being worked on, Kori and Dale sent various parts out to get restored. Just Dashes restored the dash assembly, Jules D'Addio restored the instrument cluster, Classic Car Ranch restored the door panels, grille, rear tail panel and tail light lenses and "The Steering Wheel Guy" Doug Lepak restored the Rimblow steering wheel to perfection.
The 340 is a warranty replacement block that was fully rebuilt to stock specifications by AR Performance in Red Deer. It features a Mopar Performance hydraulic camshaft, factory Carter 750CFM Thermoquad carburetor and the exhaust is from Accurate Exhaust Systems.
Kori rebuilt the transmission, rear differential and other various parts; re-finishing them correctly and detailing them to exactly how they would have looked when they left the factory. The steering was rebuilt with a Firm Feel Stage 2 power steering box. It rides on restored factory 15×7 Rallye wheels wrapped in E60-15 Goodyear Polyglas GT tires on all four corners. After the body was painted, it returned to Kori's shop for assembly. A goal was set to reveal the car at the 2012 Mopars at the Strip show in Las Vegas on the weekend of April 12th.
The goal would be tough to meet as lots had to be done still and time was tight. Dale says, "It was like an episode of Overhaulin'. It truly took every minute we had to complete the car. We had to leave Alberta no later than April 10th to make it in time for the show. We managed to finish the final details by 2 AM on the 10th. Talk about cutting it close! The car was immediately loaded up and we make the two-day journey to Las Vegas.
The Challenger was revealed at the show as planned where it entered and won the "World's Ultimate Mopar Stock Class"; the highest honor at the show. The hard work by everyone involved truly shows in the end result. Dale shares, "The restoration took 5 years to complete from start to finish. My advice to someone starting or in the middle of a restoration is don't get discouraged or give up. The first few years of my restoration seemed like a lot of money going out with little progress but when the final product all came together, it was well worth it."