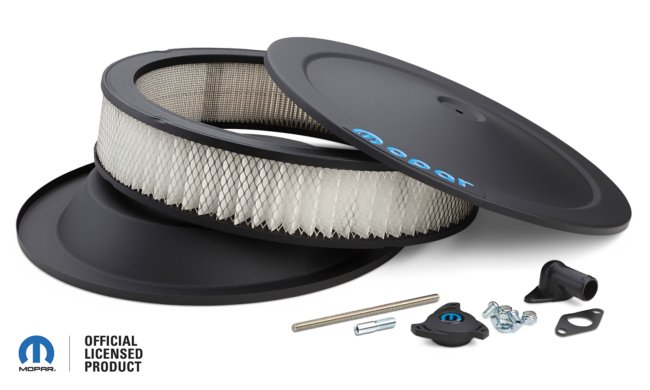 Circa 1975, it wouldn't have been uncommon to pop the hood of an air shock-equipped Road Runner or Super Bee to find a sea of chrome flooding the engine bay. At the time, Direct Connection was still in full swing and any ol' shade tree mechanic could install their engine dress-up parts on a leisurely Sunday afternoon. Chrome air cleaners, valve covers, and timing covers were the hot ticket and, unsurprisingly, still are today.
While the vintage Direct Connection stuff is getting more expensive and harder to find, Mopar officially-licensed dress-up kits have just recently become available to fill the void. Small block packages are available in chrome (P/N 440-900) and black crinkle (P/N 440-758) finishes. Both feature blue embossed Mopar lettering that provides some extra pop. Valve covers, wing nuts, grommets, a push-in breather, and an air cleaner are included.
Big block beautification kits include valve covers, wing nuts, grommets, an air cleaner, a push-in breather, and timing chain cover. Similar to the small block versions, they're available in chrome (P/N 440-814) or black crinkle (P/N 440-812) as well. Small block valve covers are 3.25" tall and the big blocks measure in at 3.625", so they should clear many aftermarket rocker systems.
While the old "chrome won't get you home" adage might be true, a boring set of painted valve covers aren't much help either. Why not throw on some of the shiny stuff, give those fuzzy dice a pull, and spin a set of way-too-wide Cragars to the nearest Saturday night cruise-in?