Standing next to a collection of new Charger Widebody models in a paddock at Sonoma Raceway, Mark Trostle, head of exterior design for FCA North America, explained how his team's mission differs from that of a typical automaker. "You hear a lot of designers talk about their cars using terms like harmony, modernity, and how they made it look like it's going fast while it's standing still. And yeah – those are all things that designers try to do. But the coolest thing about being a designer at Dodge and SRT is that my main goal was to make our cars badass. They may scare some people when the cars pull up next to them on the road, and we're totally okay with that."
Sporting a 3.5-inch-wider stance than the standard car and outfitted with an array of scoops, vents, and aero bits, the Charger Widebody is not a sedan that you would have a hard time spotting in a parking lot. But in the five years since the launch of the Hellcat and Scat Pack models, Dodge has proven that its four-door muscle car is more than just a pretty face.
While the passenger car market continues to shrink, as consumers flock to high-riding crossovers and SUVs, Dodge's Charger and Challenger – continue to buck industry trends. The Charger Scat Pack set an all-time sales record in August of this year, the Challenger posted its best sales year ever in 2018, even out-selling both the Chevrolet Camaro and the Ford Mustang in the third quarter of 2019 by a significant margin.
Clearly, FCA is doing something right. As Jeff Strauss tells it – Dodge and SRT's Senior Manager of Sales Operations – part of it comes down to simply learning from customer feedback. "We have a very vocal, very engaged customer base out there – we love it, and we listen to them. And if there's one thing we heard loud and clear from them recently, it was that we were giving more love to the Challenger than the Charger."
So after its debut on the limited-production, 840 horsepower Challenger SRT Demon and then migrating over to the Challenger Hellcat and Scat Pack models as an option package the following year, the Widebody treatment now finds a home in the Charger stable as well. The Widebody upgrades are now standard issue for the Charger SRT Hellcat and optional on the Scat Pack, and they bring with them a lot more than just bolstered curb appeal. To find out exactly what that entails, we headed out on the back roads outside of Petaluma, California and later strapped on helmets and hunted for apexes on Sonoma Raceway's road course. All in a day's work, you know?
You might be tempted to assume that the Widebody package boils down to fender flares and a bigger footprint, but that doesn't tell the whole story. Sure, these cars do indeed ride on 20x-11-inch wheels wrapped in 305mm Pirelli P Zero tires – up from a 20×9.5-inch wheel and a 275mm-wide tire – and flares have been integrated into the bodywork to accommodate the additional rubber, but there's some important stuff going on behind the scenes, too.
For starters, unlike their Challenger counterparts, the Charger Widebody models get unique front and rear fascias that integrate the flares directly into their design, rather than simply adding them on top of already-existing bodywork. That may seem trivial, but it makes the Widebody package look like much less of an afterthought on the Charger, and subtle improvements like that tend to be lumped into those "intangible" elements of visual attraction.
To complement the increased contact patch, engineers also went through the suspension, giving both the Hellcat and Scat Pack unique tunes versus their narrow-body counterparts. The SRT scores new front springs that are now 32% stiffer, the sway bars have been beefed up from 32mm to 34mm up front and from 19mm to 22mm in the rear, while the three-mode Bilstein adaptive dampers get revised valving all around.
Scat Packs see a similar array of tweaks, with 27% stiffer springs up front, a larger 22mm sway bar at the rear (up from 19mm), and revised damper valving. Both also get a new electrically-assisted power steering rack, which offers three distinct levels of steering weight to choose from. Stopping power on both models is provided by a big, six-piston Brembo setup up front that clamps down a 15.4-inch two-piece discs up front, while a four-piston system is installed at the rear.
Powertrain stats remain unchanged from 2019, but few will find much to complain about, with the naturally aspirated 6.4-liter Hemi V8 delivering 485 horsepower and 475 pound-feet of torque in the Scat Pack, while the SRT's now-legendary 6.2-liter supercharged Hemi dishes out 707 hp and 650 lb-ft, yielding a sprint to 60 mph in 3.6 seconds on the way to a quarter mile time of 10.96 seconds and a top speed of 196 mph. Both models send the power to the rear wheels through an eight-speed automatic gearbox with steering wheel-mounted paddle shifters.
Also debuting alongside the standard Charger SRT Hellcat Widebody is the Daytona 50th Anniversary edition. Limited to 501 examples in total, the Daytona boasts some visual tweaks to commemorate the occasion as well as a new engine calibration that bumps the blown Hemi's output to 717 horsepower at 6100 RPM.
Like its coupe brethren, the Charger Widebody cuts an imposing figure. Stretching the width by three and a half inches takes an already-big car and adds another dose of muscularity to the equation, but the proportions seem more balanced, and the additional fender real estate allowed Dodge to design some sharp-looking deep dish wheels for the job.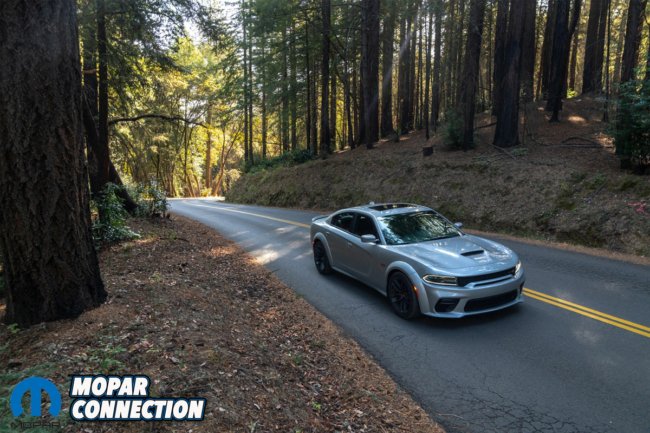 By now the cabin feels very familiar – incremental updates have been the name of the game since the heavily revised car debuted for the 2015 model year. While the touchscreen display in the center stack has been an 8.4-inch unit ever since then, the hardware powering it has been updated several times over the past few years, with each iteration bumping up the computational horsepower. Offering snappy response, a robust feature set, and a sensible menu layout, Uconnect remains one of the best infotainment systems on the market today. Near-flawless Apple CarPlay and Android Auto integration is a big bonus as well, as are the seriously bangin' optional audio systems, like the Harmon Kardon setup outfitted to our test car.
As expected, the boosted Hemi roars to life with authority, settling into a bassy, menacing rumble. It's never mellows out to what most would consider quiet, and honestly, a car like this probably shouldn't anyway.
Even with 30mm of additional rubber meeting the road at all four corners, the Hellcat will absolutely roast the tires should you decide to mat the throttle at anything under freeway speeds. And while the increase in tire width predictably equates to a higher handling threshold, fast grand touring is still the Charger's primary talent.
Dodge engineers were well aware of that, dialing in a tire spec and suspension setup that would provide admirable capability in the twisties while ensuring that the Charger Widebody would still be something that folks would be happy to drive every day of the year. And despite the significant increases in spring and sway bar stiffness, the Widebody is still fairly compliant in the suspension's Street setting. Sport dials the firmness up accordingly, and that keeps body motions in check should you decide to increase the pace. As with its predecessors, Track mode is very firm, and not particularly useful out on the street – mid-corner bumps can and will upset the rear end if you're pushing it, ostensibly slowing the pace, so choose your settings wisely.
Wide footprints tend to introduce compromise not only in ride quality, but also in the car's tendency to "wander" in cracks and cuts in the tarmac, and the constant need for correction to keep the car headed down the intended parth can make for a less-than-relaxing drive. Hop behind the wheel of a Mustang GT350R and that compromise will make itself clear in the first five miles of urban driving. Yet the Charger exhibits none of this, tracking straight – even on less-than-perfect roads – with the same confidence as its narrow-bodied counterparts.
After our stint tearing around Petaluma, we headed back to Sonoma Raceway for some lap time on the road course. Sonoma is one of the few tracks that plays host to NASCAR road course races, and for good reason – most of the course is wide, there's lots of elevation change, and there's plenty of fast sections. Those characteristics tend to play to the strengths of big, high horsepower cars, so the Charger Widebody is in its element here.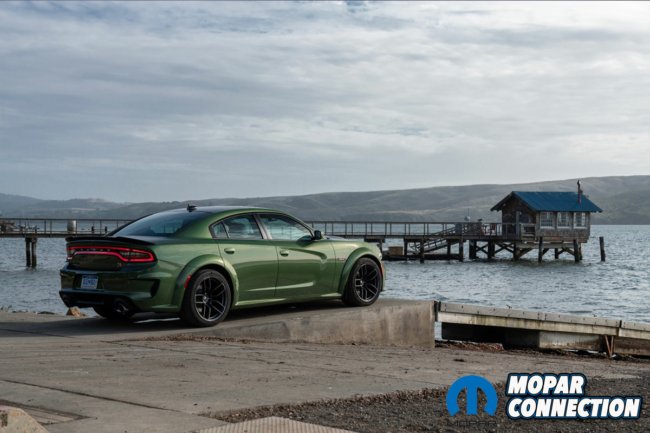 Dodge says that the Widebody package reduced lap times for the Hellcat by 2.1 seconds – or 13 car lengths – per lap on FCA's 2.1-mile test track, and yielded lateral skid pad numbers of .96 g, up from .90 g in its narrow-bodied predecessor. Any way you slice it, those are significant improvements.
The changes are indeed noticeable out on track; the revised suspension yields more immediacy on turn-in, while the additional grip allows you to dive deeper into braking zones and get on the throttle earlier on corner exit. But you're not likely to confuse the Charger SRT Hellcat Widebody for a Porsche Cayman. This is still very much a car that – when pushed to its dynamic limits – encourages you to steer with the throttle. And while that might not be the fastest way around a track, it's certainly one of the most entertaining.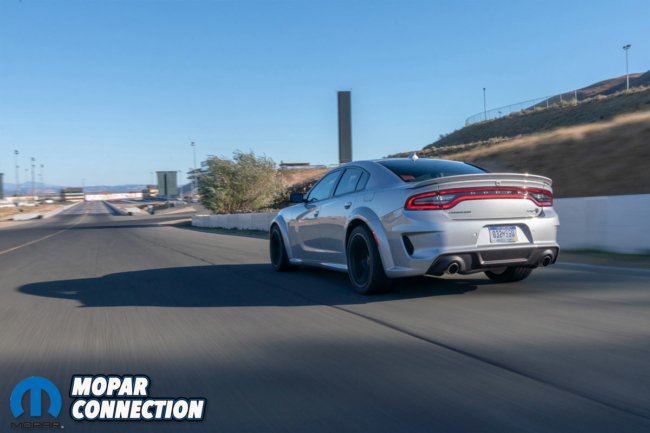 Although the Widebody upgrades don't fundamentally change the Charger, they provide a nice shot in the arm for the visual aesthetic while also delivering real-world improvements in essentially all measurable aspects of the car's performance.
Fourteen years after the sixth-generation Charger debuted, these cars are undeniably getting a bit long in the tooth. But like a fine wine, they only seem to get better with age.