From the young age of 14, Chet Biggers dreamt of owning a 1970 Plymouth AAR 'Cuda. He shares, "I saw my first AAR when I was at a car show with my Dad around 1978. It was a FY1 Lemon Twist Yellow car. It wasn't in the show but was sitting around some parts for sale in the swap meet area of the show. The black strobe stripes and blacked out hood were eye grabbing. I never forgot it and ever since that day, I'd always hoped to get one when the time was right."
The years would pass but Chet's desire to own an AAR would never fade. One day while driving to his daughter's house back in 2013, out of nowhere he saw a yellow AAR driving down a country road. Chet quickly flagged the owner down who pulled over and was more than willing to show Chet the car. By this point, it had been nearly 40 years since he had seen his first AAR at that car show and his excitement was fresh all over again. Checking out this AAR got him excited to the point where he decided it was time to get one of his own.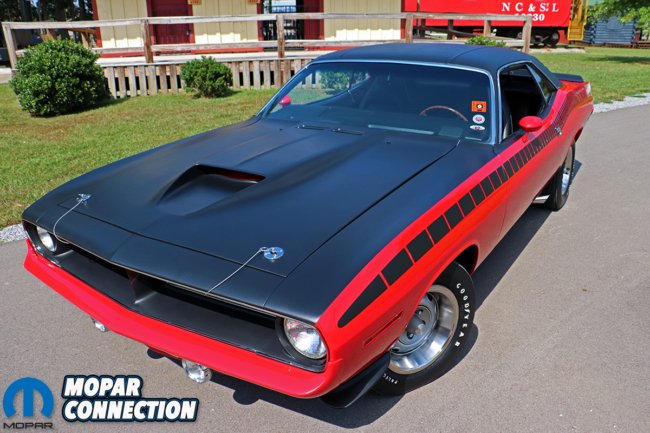 Finally, at the age of 49, Chet would get his AAR after quite a bit of searching. "A friend of mine told me about it. After speaking to the owner several times, I decided to fly down to south Florida where it was located to take a look. After I determined that it was legit and in good enough shape for me to restore, I left a deposit and went down a bit later with a trailer to bring it home to Tennessee."
According to the seller, he had got the AAR from his brother who was the original owner. It was sold new in Florida so it had spent its entire life in the State until Chet bought it. Oddly enough, around 1978, it was taken off the road as evident by an inspection sticker dated such on the windshield. Over the years, it had been stored in a warehouse out of the elements which is especially important in Florida with all of the salty air.
Chet says, "In my search for an AAR, I needed to find one that didn't need panel replacement because I was taking on the restoration myself and my body work skills just weren't advanced enough to handle rust repair and panel replacement." Since it had been stored away out of the elements, the body on the AAR was in great shape aside from a ding or two here and there. All of the original body panels were in great shape with only the trunk pan needing replacement.
The seller had told Chet that he had planned to restore the car at some point but never got around to it as time got away from him. He had gotten as far as removing the stripes and beginning some of the body work before putting it away into storage. Once Chet got the AAR home, he began the restoration. Since most of the original parts were still intact to the car from the factory, Chet made sure to correctly document everything while taking the car apart for the first time in its life. He would take the car down to the bare shell in-order to properly do a full concourse restoration on it.
Once it was stripped down, Chet spent the next 4 ½ years working on the car in his garage, slowly obtaining the tools needed to properly do the restoration. Growing up, Chet worked in his dad's shop, Paul's Custom Enterprises in Arkansas. His dad's shop was well known in the area for putting out top notch work. As a kid, Chet hung around the shop quite a lot as a kid and slowly learned how to do various tasks.
Chet says if it wasn't for this, he wouldn't have ever got the AAR as he couldn't afford to pay someone to do it. "My dad used to own a number of Mopars including a '71 'Cuda 383, '70 'Cuda 440-6bbl and a '64 426 Max Wedge Savoy that he used to race in the early '70s. Growing up, he taught me early on about learning patience while working on these cars," he shares.
Over the next while, Chet worked hard doing the body work. Once the body work was complete, his father Paul came up from Arkansas and painted the AAR in a fresh coat of factory FE5 Rallye Red in a borrowed paint booth. From there, the proper AAR "Organosol" black-out treatment was painted and fresh black AAR strobe stripes were installed. The exterior of the car also features factory A22 coded elastomeric bumpers and the very cool J68 coded rear backlight louvers.
During the early negotiations with the purchase of the car, the seller had told Chet that the T/A engine that came with it wasn't the original. On top of that, at some point someone had put block filler in it. For those that don't know, block filler, used mainly in drag racing, is a substance installed into an engine to improve cooling and cylinder strength. Since Chet didn't feel comfortable using the engine block full of block filler for his street car, he set out to find another proper T/A engine.
While on his way home from Florida with the car while staying at a hotel overnight, he found one on Craigslist only 2 ½ hours from his house. Once he got the car home and unloaded, he went to go look at the engine. He says, "I ended up purchasing it. It was a warranty block that came out of an AAR that had caught fire and was parted out."
Eventually he would send the engine to a local engine builder named Chuck Vaughn to have it built along with the transmission and rear end. Overall, it's a fairly stock 340-6bbl build running 10.5:1 compression and features a COMP camshaft. It's running the factory Edelbrock aluminum six-barrel intake with three Holley two-barrel carburetors. Stock T/A cylinder heads and stock HP exhaust manifolds complete the engine build. Everything breathes through a reproduction factory style AAR side-exit exhaust system from Accurate Exhaust.
Backing the 340-6bbl is a rebuilt A833 4-speed manual transmission with the legendary Hurst Pistol Grip shifter. The clutch has been upgraded with a RAM brand unit. Out back is the factory 8 ¾ Sure Grip rear end fitted with 3:55 gears. The entire suspension front and back has been totally restored back to original specification as well as the brake system. Up front are power disc brakes with drum brakes out back. Steering is power assisted and the power steering box has been upgraded with Firm Feel parts. It rides on factory 15×7 Rallye wheels with staggered Goodyear Polyglas tires (E60 up front and G60 out back).
The black vinyl bucket seat interior of Chet's AAR has been completely restored by Chet using original and reproduction parts such as a full carpet kit from Legendary. The factory R22 coded AM/8-Track player was restored and re-installed as well.
Since finishing the restoration, Chet and his wife Tracy along with the rest of their family enjoy taking the AAR to shows. He shares, "Owning the car has brought us into a culture that I had stepped away from years ago and sometimes we feel that we have an extended family because of this. Car people are cool.
Although this is a self-restored car, there are many people that helped tremendously to get it where it is today such as my Dad, Chuck Vaughn and Mopar Connection's own Technical Editor Mike Wilkins who stepped in a few crucial times to help with things that I had never done. I will always appreciate all of the help everyone gave to make the car what it is today."