For many, their first Mopar experience occurred seated in front of the television enthralled by an orange "01" adorned '69 Charger. At the time, the Charger was nothing more than a cool ten-year-old car, and not the classic it is considered today. Back in 1967, with the freshly restyled '68 Charger, the Chrysler brass expected sales of 35,000 units. However, once the youth car buyers caught a glimpse of the "Coke bottle" inspired shape, the all-new Charger exceeded Chrysler's sales forecast by over 60,000 units.
Dodge attempted to reprise the 1968 sales success with the '69, and it nearly did with almost 90,000 Chargers hitting the pavement. Everyone that purchased a '69 Charger received a sporty divided grille and virtually wall-to-wall recessed rectangular taillights wrapped in a black inset. The Chrysler engineers could not have known it at the time, but they had developed one of the most popular and beautiful vehicles of the muscle car era.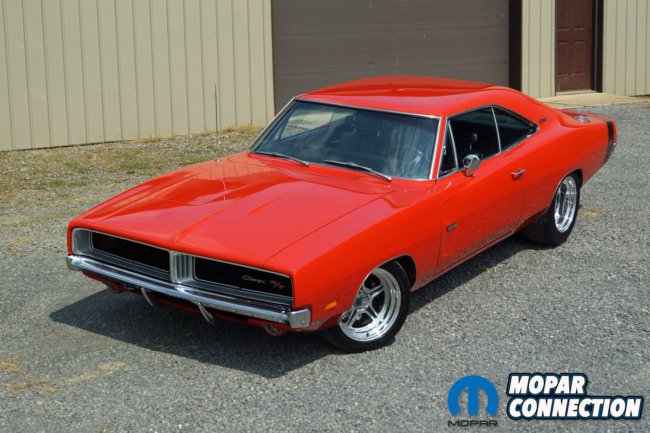 Loren Bruckhart, of Turbotville, PA, is fortunate to have one of those '69 Chargers. It all started at the age of 14 when Bruckhart acquired his first project, a '73 Chevrolet pickup in which he swapped the engine. He traded the truck for a '74 Plymouth Duster, and that Duster was his springboard into the world of Mopar. Bruckhart completed high school and attended a local community college, earning a degree in body collision technology. After college, Bruckhart worked at a Dodge dealership where he mended late-model Mopars during the day, and after he clocked out, he would work on whatever Mopar A- or B-body he or his friends owned at that time.
As the years passed, Bruckhart's desire to own a Hemi car became harder to resist. By December of 2016, he had been a college professor for several years, teaching collision and restoration technology. As it turns out, a fellow instructor had a '69 Hemi Charger R/T that he was considering selling. Bruckhart consulted with his wife, Dana (he loves everything Mopar related), and a purchase was made.
Bruckhart's Charger was an original R/T that had been equipped with a 440. However, a Hemi now fills the void between the fenders. To be more specific, the Charger has a Ray Barton Racing Engines prepared World block Hemi that displaces 528 cubes with aluminum Stage V cylinder heads. A Holley HP sequential EFI system conducts the fueling duties with a 2000 cubic feet per minute (CFM) throttle body fitted to a Ray Barton manifold.
The spent hydrocarbons exit the cylinder heads via a pair of TTI headers with 2 1/8-inch primary pipes and a pair of 3 ½-inch collectors. The 3-inch exhaust consists of a TTI X-pipe and over the axle tubing, Dynomax mufflers, and factory-appearing exhaust tips. A Be Cool radiator handles the Hemi's cooling requirements, and the accessory belt spins Billet Specialties Tru-Trac pulleys. Lastly, air conditioning from Classic Auto Air keeps the interior cool on those hot, humid Pennsylvania days.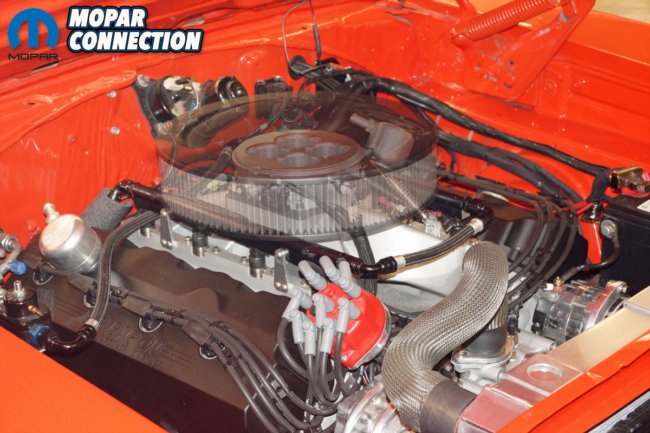 At the time of the purchase, the Charger still had a New Process 833 4-speed transmission and a Dana 60 with a Strange 4.10 geared Sure-Grip and 35-spline axles. Bruckhart added a Reilly MotorSports (RMS) Street Lynx Triangulated four-link suspension that rides on coil-over Ride Tech shocks. He also installed a coordinating RMS AlterKtion k-frame and the matching Ride Tech coil-over shocks. Controlling the steering is a Flaming River rack and pinion actuated by a modified factory steering shaft.
For the braking chores, Wilwood front and rear brakes and master cylinder are utilized. Bruckhart added a pair of BF Goodrich 245/45R17 front tires, and 325/45R17 M&H Racemaster cheater slicks outback, all riding on Billet Specialties wheels. There is a stark difference between the highly-modified powertrain and the original exterior and interior appearance. The exterior has been repainted in 1969 Charger Red, and factory emblems, including the Hemi insignia, are placed on the surface in the factory locations. The interior is stock apart from AutoMeter instrumentation, an aftermarket radio, and 3-inch lap belts.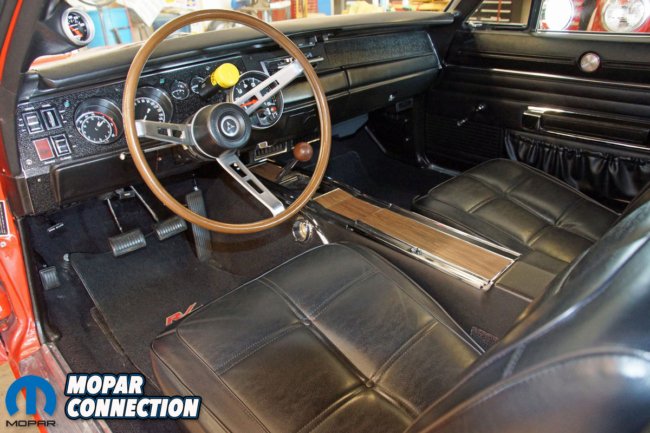 From day one, while cruising the Charger, Bruckhart felt the Hemi was not happy with the EFI tune. After tapping on a laptop fiddling with the EFI calibration, Bruckhart was still not pleased with the performance. The Charger was taken to Jensen's Performance Center, and it was strapped onto a chassis dyno. The EFI was dialed in under various conditions, which ranged from idle to wide-open throttle.
With a better EFI calibration, Bruckhart finally put some miles on the Hemi, but now, he was annoyed by a dripping rear main seal. The seal was replaced, and the PCV system was reworked to reduce the buildup of crankcase pressures, which likely contributed to the oil leak.
Once back on the street and no longer dripping oil, Bruckhart and his wife enjoyed driving the Charger to car events. As the 2018 car show season ended, Bruckhart pulled the Hemi because it had started smoking excessively. The Hemi was sent to Shady Dell Speed Shop for a thorough analysis. Shady Dell employee, Ryan Johnson, noticed a couple of scuffed pistons and many damaged valve guides. Once the machine work was completed, Bruckhart reassembled the Hemi, dropped it into the engine bay, and successfully broke it in. Finally, the Hemi met Bruckhart's high expectations; it ran well without oil leaks or engine smoke.
The Charger's odometer has rolled over more than 2500 trouble-free miles since the Hemi's rebuild. During Bruckhart's ownership of the Charger, it has earned several first-place awards, including a couple at the Carlisle Chrysler Nationals. In 2019, Bruckhart showed the Charger under the awning at the RMS display at Carlisle. It is nice to be able to drive a well-tuned, award-winning vehicle, but as Bruckhart discovered, having a legendary Charger R/T equipped with a Ray Barton Hemi and manual transmission makes that drive even sweeter.