One of the most common things in the automotive world is the hunt for more power. For John Gaddy of Wisconsin, his hunt for horsepower has stood the test of time, lasting some 20 plus years. Over the years, John has owned a fleet of high performance Mopars which included a factory 1968 M-Code Dart, 1967 Dart GT, 1999 Dakota R/T, Procharged 2009 Challenger R/T, 2012 Challenger SRT8 and a 2015 Challenger SRT Hellcat. It's safe to say John loves his horsepower!
While cars have come and gone over the years, one that has stayed close to John's heart and remained a staple in his garage is his 1968 Plymouth GTX. Back in 1992 at the young age of 16, John was out searching for his first car when he stumbled across a GTX for sale that really peaked his interest. "I ended up having to choose between two cars to buy. It was either the GTX or a 1970 AMC Rebel Machine. I decided on the GTX and made it mine for $850. It needed a distributor and didn't run so my dad and I pushed it home and got to work on it", recalls John.
Whoever placed the order on John's GTX back in the day must have really loved blue as it came from the factory wearing blue paint with blue interior and the rare Peacock Blue side stripes. Under the hood was the GTX's standard Super Commando 440 backed by a column shift 727 Torqueflite automatic transmission. Out back was an 8 ¾ rear end with 3:23 gears; pretty typical equipment for a GTX. It wasn't long before John got the old GTX running and put it to daily driver use. "I would take it racing when I was in high school. With the original stock 440 and 3:23 gears, I ran a 13.90 quarter mile," says John.
In 1995, the camshaft wiped itself out so John decided to pull the entire car apart for a refresh. Everything was completed and back together by 1998 and John started putting miles back on the GTX. His hunt for more horsepower continued though over the years as the GTX's drive train changed from time to time. John tells us, "I wanted more power; plain and simple. To get more power out of the 440, I slapped a big Procharger on it. I eventually changed the automatic to a TKO 5-speed." Even with the Procharger on it, the 440 still didn't have enough power for John.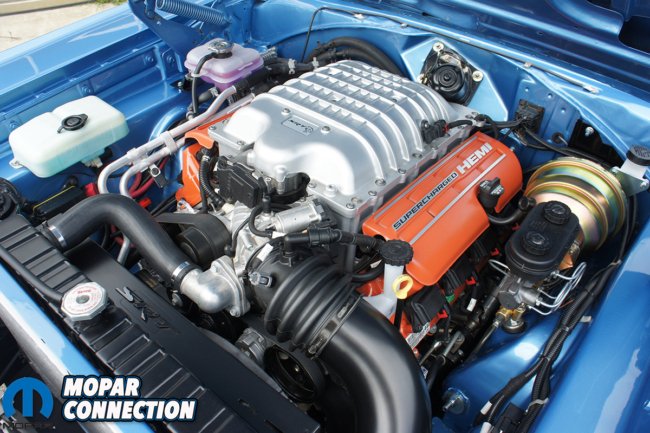 A few years back, when FCA announced the release of the Hellcat Charger and Challenger, we wondered how long before Mopar would make a Hellcat crate engine that could be dropped into the classic Mopars. Well, Mopar listened and around this time last year, they announced their basically plug-n-play "Hellcrate" kit. The kit included everything needed to bolt a Hellcat 6.2L Supercharged Hemi into practically whatever you wanted. Having owned a 2015 Challenger Hellcat, John knew the powerplant had plenty of punch. When John heard about the release of the Hellcrate, he knew his search for power was over so he ordered one right away for the GTX.
While installing the Hellcat engine into the GTX took some modifications such as fabricating a new transmission tunnel and recessing a section of the firewall to get the engine to sit where he wanted with that giant blower, John says the install was relatively painless. To stiffen up the body to handle the power, John installed a US Car Tool stiffening kit which included sub-frame connectors and torque boxes. All 707 horsepower of supercharged Hellcat goodness is controlled through a Mopar standalone engine controller and fuel is supplied by a Tanks Inc. fuel tank, a Walbro fuel pump, Fragola lines and an Aeromotive fuel pressure regulator. The Hemi breathes through a pair of TTI headers that feed into a custom 3-inch system fabricated by John with Dynomax Super Turbo mufflers and an X-pipe.
To put the power to the ground, John went to the fine folks at Silver Sport Transmissions and picked up one of their fantastic Tremec T56 Magnum 6-speed manual transmissions. The transmission was fitted with a McLeod RXT clutch, McLeod billet flywheel and a Wilwood hydraulic system. Shifting is done with a Silver Sport Transmissions shifter that features a custom Hellcat logo shift ball. Out back, you'll find a Strange S60 rear end that has been upgraded with an Eaton Truetrac, 3:54 rear gears and Strange 35-spline axles.
To make sure the GTX would stop as well as it goes, John upgraded the brake system to 11" power disc brakes on all four corners using a factory '73-'76 A-body set-up on the front and a SSBC system on the rear. Now of course when you upgrade the drivetrain and brake system, you need to do the suspension too. The GTX's suspension has been fully redone while maintaining the factory torsion bar suspension (the bars are sized at .960 respectively). Out front, John installed QA1 upper control arms, boxed lower control arms, QA1 strut rods and a Hellwig 1 3/8-inch front sway bar. Out back, the leaf springs have been upgraded to Mopar Super Stock versions and a Hellwig 7/8-inch sway bar was installed. Bilstein shocks can be found on all four corners.
While the GTX came from the factory with power steering, John upgraded it as well with a Borgeson steering box for the best quality steering money can buy. John's GTX rides on 17" Cragar 61C S/S wheels (17×7 front and 17×9 rear) wrapped in Firestone Indy 500 tires (225/50/17) up front and M&H Racemaster drag radials (275/50/17) in the back for traction.
John performed the body and paint tasks by himself and sprayed the car in Sikkens Plymouth B3 Blue paint. White side stripes were installed rather than the original Peacock Blue ones. A 1969 Air Grabber hood was installed and the only hint of the supercharged Hemi on the exterior is the small Hellcat logo on the bottom of the fender (and of course, the rear plate frame). On the inside, John restored the interior himself and converted the original blue interior to black using a Legendary Rallye seat kit and other Legendary parts. The carpet kit came from ACC and the gauges are Autometer pieces.
Let it be assured that John's GTX is no trailer queen and he has no intentions of that happening. "I've both raced it and shown it. I drive it over 5,000 miles a year to work, run errands, car shows, cruising; you name it!"